The Time Bryan Voltaggio Ruined Thanksgiving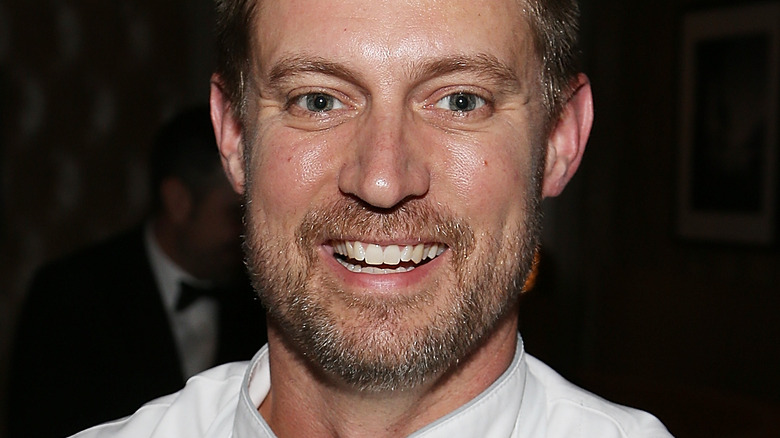 Paul Morigi/Getty Images
Food plays a significant role in any holiday, though probably none more so than Thanksgiving. Sure, the true meaning of the November celebration is to give thanks for all that you have, but where do people gather to honor and express that gratitude? Around the dinner table, where a massive feast of turkey, mashed potatoes, green bean casserole, and pumpkin pie await them. As chef Bryan Voltaggio explained to The Oregonian in 2015, "Thanksgiving is the ultimate food holiday. For anyone who loves food, it's special. Getting the chance to make people a delicious meal is one of the things I'm thankful for."
The "Top Chef" alum knows a lot about whipping up tasty food for others, as he currently owns a total of four restaurants, including one with his brother and fellow celeb chef Michael Voltaggio. However, you won't find him at any one of his eateries when a major holiday comes around. "I'm not home a lot because I'm generally cooking for people in my restaurants. But special days like Thanksgiving, Christmas, and New Year's Day, I take them off so I can cook at home," he said (via The Oregonian).
The luxury is one that Voltaggio didn't always have, especially when he first got started in the restaurant biz. In fact, there's one particular Thanksgiving the cookbook author worked on during his teenage years that stands out in his mind — though not for the reason you may expect.
Bryan Voltaggio called his Turkey Day mishap his 'worst cooking disaster'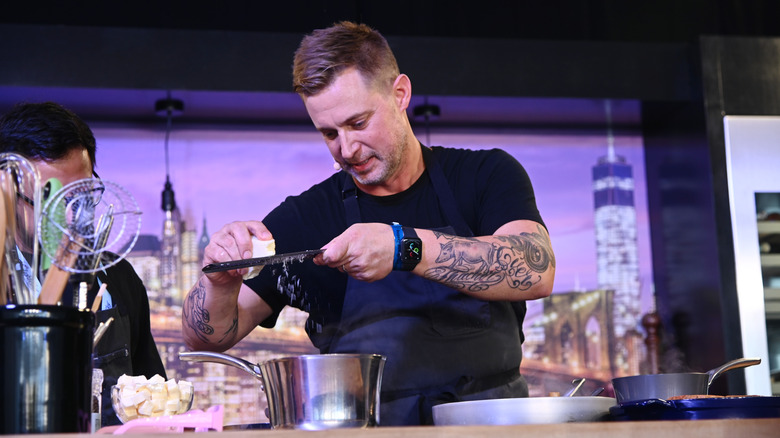 Dave Kotinsky/Getty Images
With culinary school, cooking competitions, and several years of restaurant experience under his belt, we don't think it would be wrong to assume that Bryan Voltaggio knows how to pull off a successful Thanksgiving meal. However, that wasn't always the case. When the chef was just 16 years old and working at a Holiday Inn in his hometown of Frederick, Maryland, he accidentally committed a major blunder in the kitchen that, to this day, is still the worst cooking disaster he's ever had.
"It was my job to load the turkeys the night before for Thanksgiving," Voltaggio explained to Food Network. "There's called an Alto Shaam, it's a slow cooker that cooks overnight. I put in all the turkeys for the next day and I forgot to hit the hold setting. Came in the next day and all the turkeys basically were rotten." While the mishap didn't get the restaurateur fired, he told Esquire it was the "biggest lesson in the kitchen. Ever."
In the years since it appears that Voltaggio has perfected the main course of his Turkey day feast — which, by the way, mayonnaise is his secret ingredient for (via the Cooking Channel). As for side dishes, Voltaggio explained to The Baltimore Sun that he uses a custard base in his stuffing. When it comes to dessert, he enjoys something simple, such as apple cobbler and vanilla ice cream, to cap off his meal.