Stovetop Black-Eyed Peas Recipe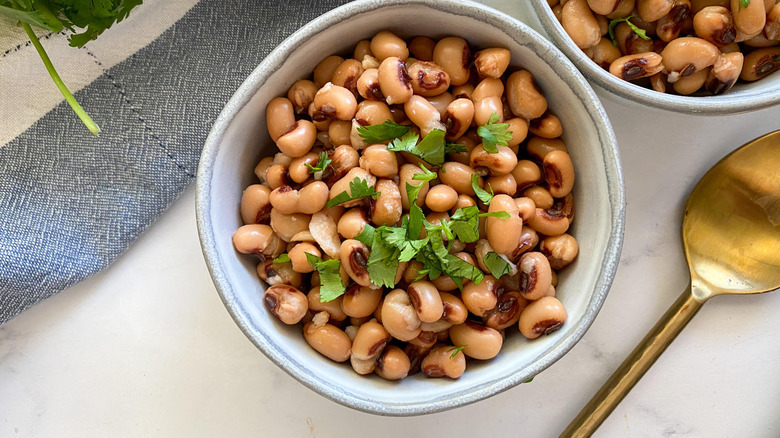 Miriam Hahn/Mashed
Black-eyed peas — the food, not the band that goes "Boom Boom Pow" — are perhaps best known as something you eat on New Year's Day to bring good luck. But, they're also included in a number of other recipes like hoppin' John, cowboy caviar, and a street food from Ghana called waakye. While canned black-eyed peas are very convenient, recipe developer Miriam Hahn prefers to start from dried as she's a firm believer that "Anything made at home is always a little healthier and fresher."
One ingredient you may not expect to see in a recipe for preparing dried peas is kombu, a trendy type of seaweed. Hahn says the reason she uses it is because "it contains natural mineral salts that act as a flavor enhancer and tenderizer," adding that it also helps with digestion. As she notes, legumes can be hard to digest and, as a result, can have some extremely malodorous aftereffects. Anything that helps to reduce those gaseous emissions is a good thing to include in a recipe for beans. Should you not have any of this seaweed readily available, Hahn does say "You can omit the kombu if you don't have it."
Gather the ingredients for stovetop black-eyed peas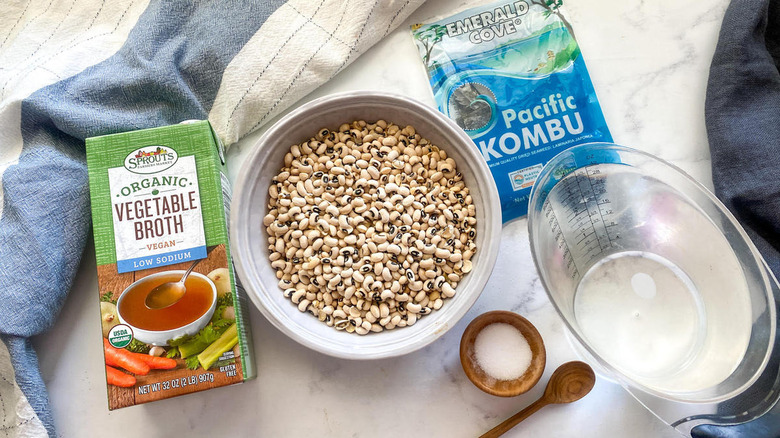 Miriam Hahn/Mashed
This recipe starts with dried black-eyed peas, but to cook them you'll also need water and broth. Hahn uses vegetable broth, but chicken would also work if you're not aiming for a vegan dish. As Hahn tells us, "You can use any type of broth, or even omit [the] broth and use more water when making the [peas]." To season the peas, you'll need a bit of salt, plus the kombu.
Rinse the peas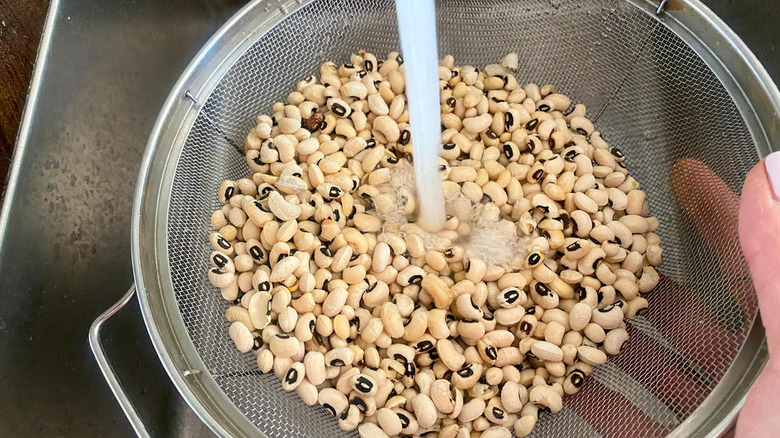 Miriam Hahn/Mashed
While you don't need to pre-soak the peas if you're using the kombu to combat flatulence, it is a good idea to rinse them and look them over a bit to make sure there's no dirt, tiny pebbles, or other all-natural but inedible components you don't want in your meal. Just open the bag of peas over a colander, put the colander in the sink, and run some water over them. As you do, give them a quick inspection and remove anything that doesn't look like a black-eyed pea.
Cook the peas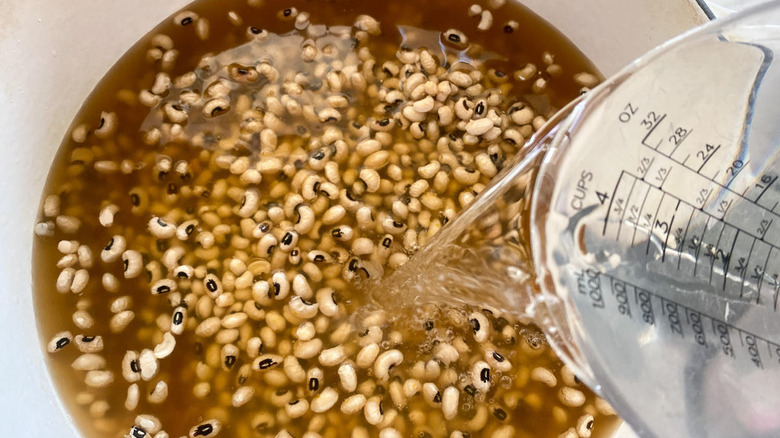 Miriam Hahn/Mashed
Combine all of the ingredients in a pot and bring them to a boil, then turn the heat down and cover the pot. Simmer the peas for 25-35 minutes, until they are done. Hahn tells us "You want them firm, but not crunchy, for salads and dips," but adds "If you are using [them] for a savory-type side dish, you might need to cook [them] up to 45 minutes so they are a little softer."
Put the peas to use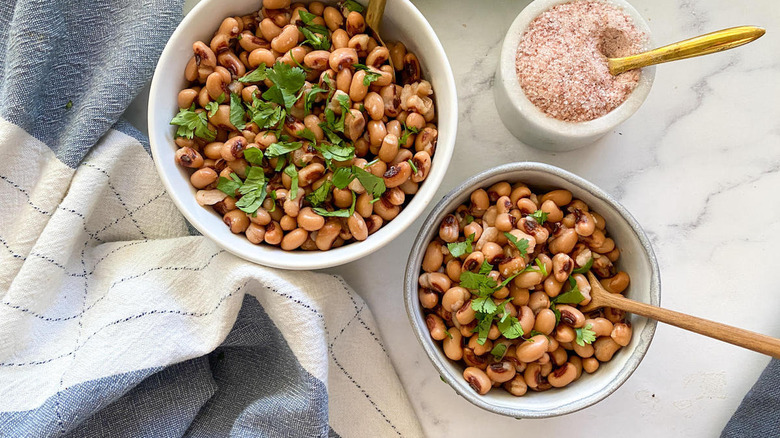 Miriam Hahn/Mashed
Once the peas are done, take the kombu out of the pot and drain them. You can eat the black-eyed peas plain, or as Hahn suggests, garnish them with some cilantro. You may also incorporate them into a different dish. Hahn suggests mixing them into salads and other dishes throughout the week, or perhaps "add them to a tortilla along with guacamole, tomato, and cheese for a quick meal."
Stovetop Black-Eyed Peas Recipe
Black-eyed peas are most commonly eaten on New Year's Day for good luck, but this easy recipe for the legume is perfect to eat year-round.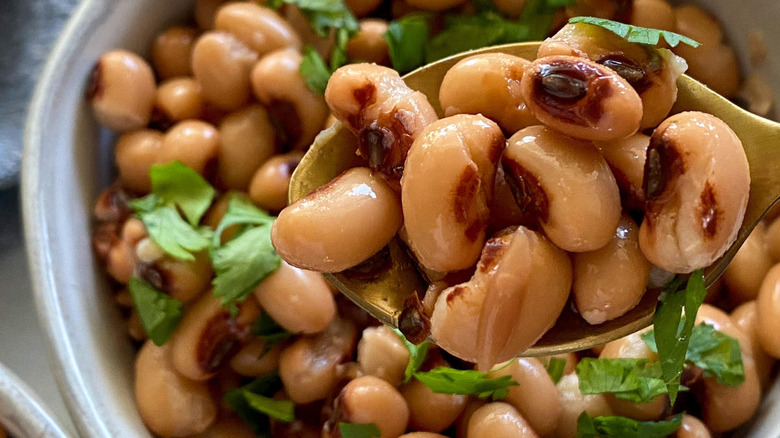 Ingredients
1 pound dried black-eyed peas
4 cups vegetable broth
4 cups water
1 teaspoon salt
1 strip Pacific kombu (3-4 inches in length)
Optional Ingredients
Directions
Rinse the black-eyed peas in a colander.
Combine peas with broth, water, salt, and kombu and heat to a boil.
Lower the heat, then cover the peas and simmer them for 25-35 minutes.
When the peas are cooked, remove and discard the kombu.
Drain the peas and serve, as desired.
Nutrition
| | |
| --- | --- |
| Calories per Serving | 71 |
| Total Fat | 0.3 g |
| Saturated Fat | 0.1 g |
| Trans Fat | 0.0 g |
| Cholesterol | 0.0 mg |
| | |
| --- | --- |
| Total Carbohydrates | 14.7 g |
| Dietary Fiber | 3.9 g |
| Total Sugars | 2.4 g |
| Sodium | 426.7 mg |
| Protein | 2.3 g |