How Queen Elizabeth's Death Caused A Bump In Marmalade Sales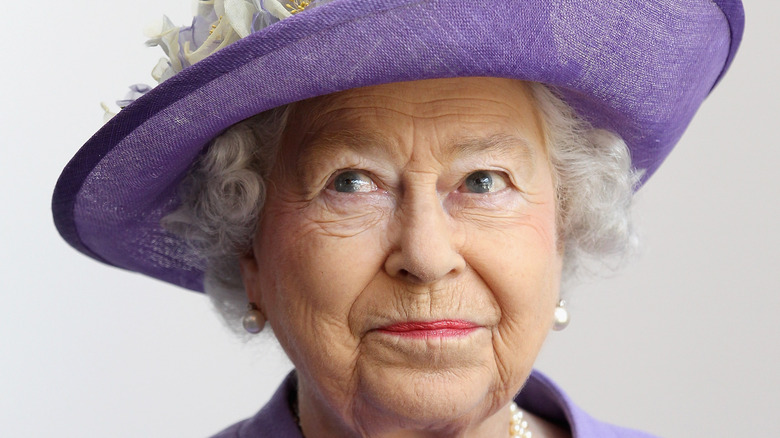 Chris Jackson/Getty Images
Fans of the royal family might remember that when Platinum Jubilee celebrations took place for Queen Elizabeth II earlier this year, a special concert held in front of Buckingham Palace in her honor kicked off with a video of the queen and a special guest for tea — Paddington Bear — which both stunned and delighted both Prince George and Princess Charlotte, per Independent. The video had the queen reveal that, like Paddington, she kept marmalade sandwiches hidden in her signature Launer handbags "for later," per YouTube. 
The clip, as well as a previous revelation that the late monarch enjoyed her toast and marmalade, per HuffPost, inspired those who sought to pay tribute to her memory by leaving sandwiches at the designated memorial site in Green Park, per The Daily Mail. Little Paddington Bear dolls were also left among the flowers by younger subjects to pay tribute to the only monarch they knew. A number of the sandwiches had been marked "for later."
Mourners are now being asked to stop leaving marmalade sandwiches
While the sandwich tributes made for moving images, the edible treats, along with other creative tributes for Queen Elizabeth II, including toys, balloons, or lit candles, aren't being very well received by the body entrusted to manage the sites where the tributes are being laid. Royal Parks has now asked people seeking to honor the monarch of 70 years to only leave flowers with no plastic wrappers since, per Sky News, authorities are now struggling to deal with ways to dispose of non-compostable items.
To clarify, Royal Parks has gone online to ask the public "to remove all wrapping from floral tributes and place these in the bins provided. Removing the wrapping will aid the longevity of the flowers and will assist in subsequent composting which will start between one week and a fortnight after the date of the funeral," per Royal Central. Royal Parks has asked mourners not to bring sandwiches and Paddington bear dolls. Perhaps they can honor her memory by enjoying the queen's favorite cake at home.