Instagram Has Serious FOMO Over Bobby Flay's Lobster Brunch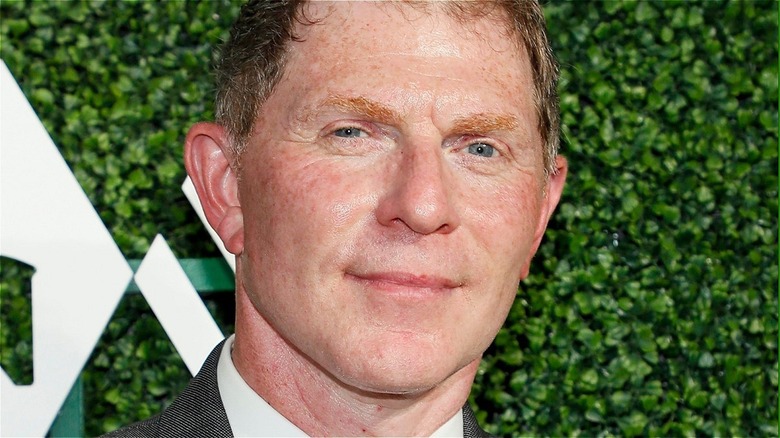 Paul Morigi/Getty
The history of brunch may go back to the 1890s, per Parade, but we have a feeling some of the culinary experiments and boozy concoctions served at brunch these days would be almost unrecognizable to the brunchers of the past. From the massive Bloody Marys served in Wisconsin (often with a beer chaser, according to On Milwaukee) to Taco Bell's drag brunch tour, this late-morning meal has seen some serious innovations over the years.
People are even putting spins on old brunch classics, like eggs benedict. Some chefs switch up the bread, like this recipe on YouTube that calls for squid ink English muffins. Others have somehow come up with vegan versions of a dish that's mostly made with egg, butter, and meat (via VeganHuggs). But it's a ritzier spin on this classic brunch dish that has Bobby Flay's Instagram fans drooling, and it involves a kind of pricy seafood that can make a meal tastier.
Bobby Flay's lobster benedict is next level
On Instagram, chef Bobby Flay shared a video of himself cooking Lobster Benedict. Flay replaces the Canadian bacon called for in the traditional eggs benedict recipe with a piece of lobster meat, but he didn't stop there. Instead, he also replaces the English muffins with crispy, golden-brown lobster cakes, which are then topped with a poached egg, smothered in Meyer lemon hollandaise sauce, and garnished with a spoonful of caviar.
"Hell yeah Chef," replied Michele Ragussis, a former "Food Network Star" contestant who also appeared on — and won — an episode of "Beat Bobby Flay." "We need the recipe!" said another commenter. Others were begging Flay for his recipe as well. And phyllis.ramirez tagged a fellow user, declaring, "[M]arry someone who will make you weekend brunches like this!!!"
There's no telling if Flay will share a recipe for his seafood-inspired take on eggs benedict. Will it appear in an upcoming cookbook he co-authored with his daughter Sophie? Or on the menu of his Caesars Palace restaurant, Amalfi? Only time will tell. But in the meantime, his Instagram video might give enough information for enterprising home cooks who want to give Flay's Lobster Benedict a try.