This State Was Home To The First Man V. Food Challenge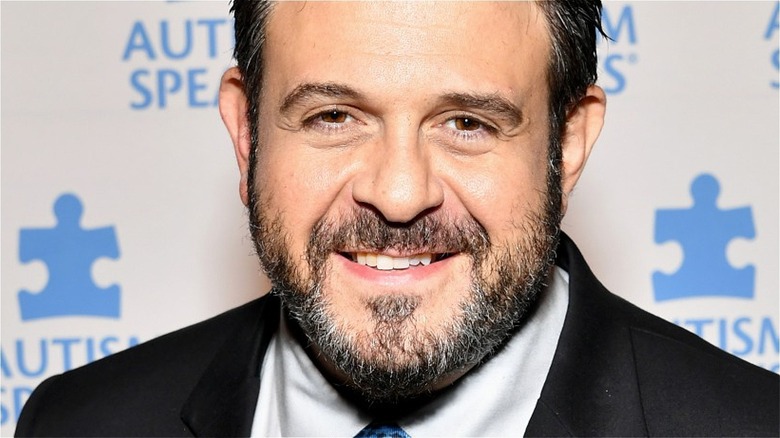 Slaven Vlasic/Getty
The show "Man v. Food" has taught us that, sometimes, gluttony has its rewards — and that besting food challenges can earn you a t-shirt and your photo on a restaurant's wall of fame–in addition to heartburn and an upset stomach. Casey Webb hosted the most recent iteration of the program, but the OG host was Adam Richman, who took on the challenges in its first four seasons (per IMDb).
His culinary 'battles of the bulge' entailed fighting off nuclear hot spicy foods on nearly a dozen separate occasions and having to tackle prodigious quantities of various fare from burgers and sandwiches to pizza and tacos. Richman presented himself as the everyman, not a professional eater a la the Joey Chestnuts of the world, but rather a regular guy with an enormous appetite.
Part of the appeal was that no matter the episode, you really had no idea whether Richman would win or lose. His eating escapades saw him travel all across the country, but his very first challenge brought him to the "Lone Star State."
Everything's Bigger in Texas
Danielle Beder/Shutterstock
The saying goes that "everything's bigger in Texas" and that appears to hold true for eating challenges as well. "Man v. Food's" inaugural contest happened in Amarillo, Texas, at a famous steakhouse located off the iconic Route 66 appropriately named The Big Texan.
Adam Richman's colossal task required finishing off a 72-ounce steak in under an hour, which is a monumental feat in itself, but that wasn't all that was on the menu. He also had to polish off several sides including a shrimp cocktail, baked potato, salad, and a buttered roll, along with his drink (per KDAF).
To participate in the "72-Ounce Steak Challenge," each contestant must pay a $72 fee upfront, a price that is refunded if you manage to slay the beefy beast and its henchmen. Richman kicks off his first episode with a bang, emerging triumphant, logging an early win for man. If you haven't seen it before or just want to relive the experience vicariously, you can glimpse a preview of it on this Travel Channel YouTube clip.