What You Need To Know About Starbucks' New NFT Platform, Odyssey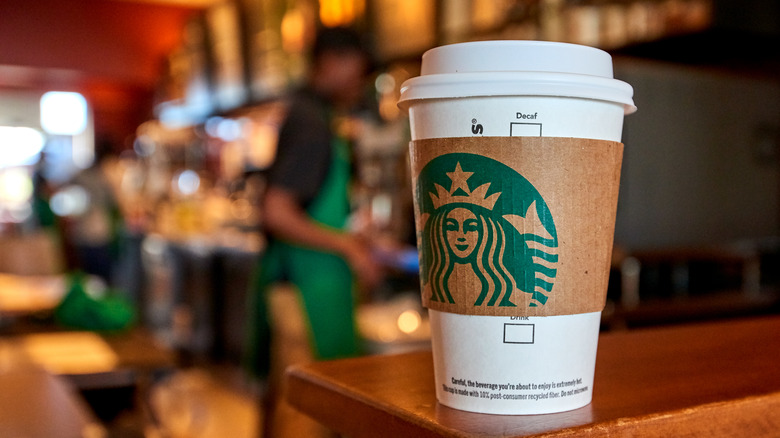 Harun Ozmen/Shutterstock
In the spring of 2021, it seemed like every fast-food chain in America was making its first foray into the metaverse: that shallowly charted world of virtual and/or augmented reality that some tech experts call "the future of the internet" (via Harvard Business Review). First, there was Taco Bell, which jumped on the NFT bandwagon with a small collection of artful taco-themed GIFs that functioned like baseball cards for your digital wallet. You could not eat these GIFs, nor could you physically touch them with your hands, but they still sold out in 30 minutes (per The Verge).
By the time Taco Bell unveiled its Web3 wedding package, it was already in good company with virtual worlds established by brands like Wendy's, Mcdonald's, Chipotle, and Panera (via Insider). One would think the largest coffee chain in the world would have joined this collective NFT cash-in months ago, but it held off on an announcement until this week. Starbucks' new digital community is set to take off later this year.
A digital community for Starbucks Rewards members
This week brought news of Starbucks Odyssey, the coffee giant's first NFT community and "blockchain-based loyalty platform" launching later this year (per TechCrunch). Unlike Wendyverse Town Square (Wendy's virtual community that might evoke memories of playing computer games on your family's dial-up system), Odyssey trades in the Y2K-video-game-inspired aesthetic of its counterparts for a world that favors the realism of, say, "Red Dead Redemption 2."
The platform caters to Starbucks Rewards members, who can go on virtual "journeys" peppered with games and challenges to unlock points that can be redeemed for free drinks, coffee classes, limited-edition merchandise, and other real-world perks. "The new experience combines the company's successful Starbucks Rewards loyalty program with an NFT platform, allowing its customers to both earn and purchase digital assets that unlock exclusive experiences and rewards," writes TechCrunch.
According to Starbucks CMO Brady Brewer, Starbucks Odyssey "intentionally [obscures] the nature of the technology underpinning the experience" in hopes of attracting consumers who might otherwise feel out of their element in a Web3 environment. Furthermore, Brewer tells TechCrunch that Odyssey's challenges and activities are "designed to deepen [customers'] knowledge of the Starbucks brand or coffee in general." Interested Rewards members can currently join a waitlist.