Giada De Laurentiis' Secret Weapon For The 'Perfect' Cake Texture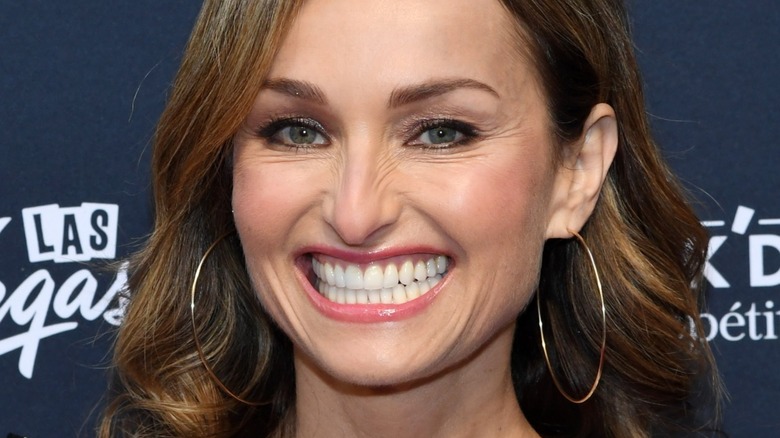 Ethan Miller/Getty
Cakes are a fun and delicious celebratory treat, but the truth is that behind every great cake, there's a lot of hard work. You can see the amount of skill and energy it takes to bake a good cake on television shows like "The Great British Bake Off, including utilizing math (via Maths Careers), and some bakers take cake decorating to the extreme — like a $30 million jewel-encrusted cake, per MarketWatch — in shows like "Cake Boss."
But baking at home is just as, if not, harder. Without professional training and equipment, baking at home is no joke. That's probably why so many people have figured out amazing things you can make with a box of cake mix — it can feel easier than starting from scratch. For those who do want to make showstopping cakes at home from scratch, thankfully pro bakers and celebrity chefs alike have shared dessert and baking hacks you'll wish you knew sooner. And sometimes, the best hacks are the simplest, like a tip Giada De Laurentiis recently shared about what makes her cakes so delicious.
Ricotta is her secret
Giada De Laurentiis is Italian, and most of her recipes have some sort of Italian twist. The Italian ingredient in the celebrity chef's lemon cake recipe is what she credits with the recipe's success: ricotta cheese. "The ricotta in this lemon ricotta pound cake gives it a moist, tender crumb," De Laurentiis explained in the caption of an Instagram video detailing the recipe being made. 
There are countless recipes online for ricotta cake (well, 38 million and counting, according to Google). What does ricotta add to a cake? It has protein, which adds structure (via Food Business News); water, which adds moisture; and fat, which creates a tender crumb (via the University of Illinois). If you don't feel up to the task of making De Laurentiis' lemon ricotta cake recipe from scratch, you'll be relieved to know you can also add ricotta to boxed cake mix (via Crayons and Cravings). Give it a try, and who knows — maybe soon you'll be calling ricotta cheese your secret ingredient for perfect cakes too.