Ferrero Rocher Just Turned Its Iconic Chocolate Into Bars
Ferrero Rocher chocolates look like decadent gifts but seem to be available in just about every grocery store across the U.S. And maybe they are everywhere, as the brand controlled almost 41% of the market share for chocolate gift boxes as of 2020 (via Candy Industry). The sight of them is likely so entrenched in our memories that many of us probably know exactly what the round candy in gold wrapping is before reading the name on the clear plastic box it comes in.
According to the Guardian, the founder, Michele Ferrero, was a devout Catholic and was said to have named the sweet treat after Rocher de Massabielle, a landmark in Lourdes, France, where the locals claimed the Virgin Mary appeared in the 1800s. Unlike many other chocolate brands, the Ferrero brand only has three main flavors in its repertoire. The Ferrero Rocher wraps a hazelnut in chocolate, wafer, and crumbled hazelnuts. Its siblings include Raffaello, an almond truffle with coconut, and Rondnoir for dark chocolate connoisseurs. And until recently, its collection of flavors didn't come in candy bar form. But Ferrero has changed that.
Ferrero Rocher wants to raise the bar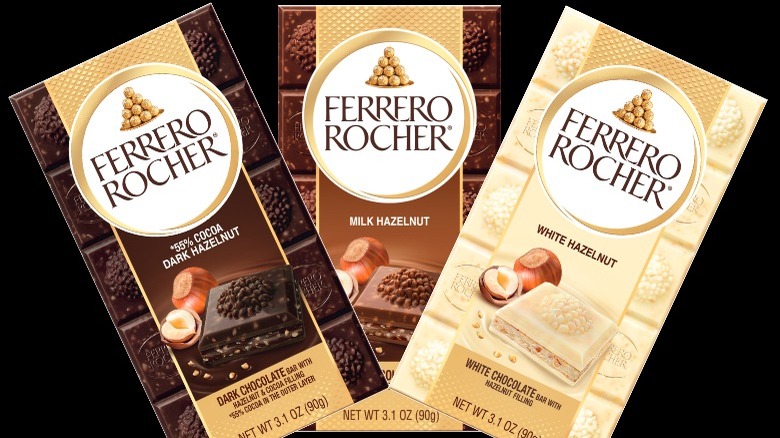 Ferrero Rocher
Ferrero Rocher has introduced four new chocolate bars, per a press release published by PR Newswire. They are made to replicate the same quality chocolate that you would usually find in the brand's truffles, and each has layers of texture. The Milk Hazelnut takes after the original Ferrero Rocher chocolate with its smooth milk chocolate, cream filling, and hazelnut pieces. Dark Hazelnut has a similar flavor profile to the Rondnoir. However, the White Hazelnut is not like the Raffaelo as you might expect, it's a white chocolate version of the classic.
The new flavor for the company is Milk Hazelnut and Almond, which is described as "a smooth filling with crunchy hazelnut pieces, delicately surrounded by rich milk & almond chocolate layers" on the Ferrero Rocher website.
These bars were released in the U.K. last year, and YouTube reviewer Maverick Baking praised the quality of the packaging, especially the gold foil wrapping, which she described as "a little bit posh ... and very Willy Wonka." First trying the Dark Hazelnut, she said, "It's stronger than milk chocolate but it's nothing too bitter" and suggested that people who don't like overly sweet chocolate may prefer this one. The Milk Hazelnut she described as smelling just like the classic candy and having a "proper heavenly hazelnut flavor." The White Hazelnut left the reviewer speechless for a few moments before she described it as "super creamy, super sweet, and [with a] nice little vanilla hit."