Instagram Is Loving Starbucks' Custom Fall Tea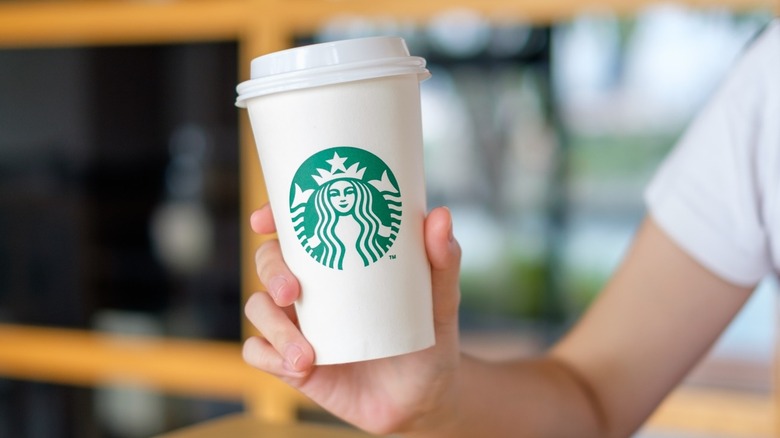 Tanoy1412/Shutterstock
Don't let the warm temperatures and summer weather fool you — fall is on the horizon. The time to cozy up around a fireplace with your favorite blanket and warm beverage may be in a few weeks in the distance, but there's no reason to delay a festive, flavorful celebration.
Grocery sales of products that come in the classic pumpkin spice flavor soared to over $500 million in 2018, according to Yahoo. Starbucks got an early start serving up its iconic Pumpkin Spice Latte this year with an August 30 return date. The popular beverage chain has sold around 31.5 million Pumpkin Spice Lattes every year since 2003. This year, the price went up 4% and now costs between $5.45-$5.95 per drink (via CNN).
Even though the PSL has been a popular seasonal drink in the fall for around two decades, a new combo from Starbucks has customers lining up for something different.
A fun flavor combo becomes Starbucks fall feature
Move over PSL, and hello possibility. Starbucks offers around 87,000 drink combinations, according to Capitol Counselor, and its latest fall Instagram feature could be your new go-to. Starbucks posted a new popular drink option on its Instagram account yesterday, and customers are going wild in the comment section.
The beverage is a Chai Latte finished with Pumpkin Creme Cold Foam on top. Neither of these flavors are new to the Starbucks arsenal, but the combination, comments say, is a winner. The Instagram post showcases the drink along with a fall color scheme and changing leaves. It has already amassed 32,900 likes and is filled with a barrage of comments. "Ooh I love the iced chai tea latte, so I definitely need to try this combo," wrote one commenter, while a slew of others left enthusiastic emojis in response. Another claims, "This is my go to." And Starbucks got in on the action, too, replying to one comment, "We hope you try this delicious and spicy take on fall!"