How Ree Drummond Upgrades Her Mashed Potatoes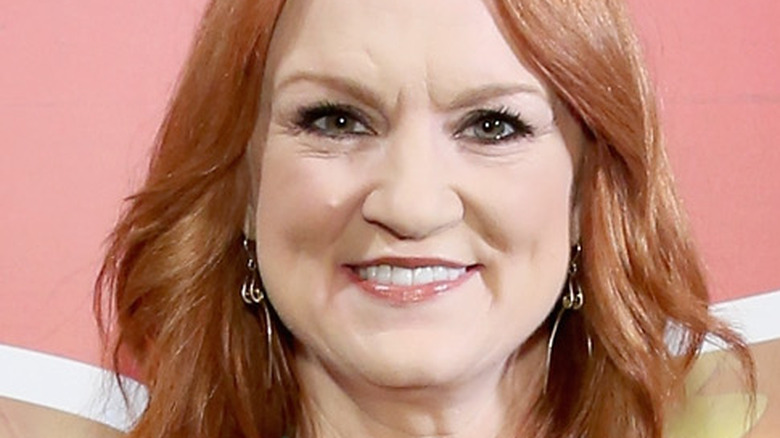 Monica Schipper/Getty Images
No one is clamoring to be the potato's PR person. After all, how can you polish the image of a common tuber that grows in dirt and is hawked in giant paper bags for next to nothing? Heck, it's practically the poster child for the anti-carb movement and it's the key ingredient in the indulgent french fry. The potato won't be winning any nutritional accolades any time soon, but surely this staple of American cuisine has some redeeming qualities. Of course, it does. Without this humble starchy veg, you wouldn't have latkes, shepherd's pie, homefries, or poutine. Yes, picnics would be devoid of potato salad, fish and chips would be chipless; loaded potato skins would be reduced to a messy pile of toppings. And the dish that holds your Thanksgiving mashed potatoes would be empty.
Despite the potato's lackluster image, Americans still managed to pack away an average of 29.3 pounds of them each in 2021 (via Statista). That's a heck of a big bowl of mashed spuds. Speaking of mashed potatoes, Zippia reports that several states (Alaska, Colorado, North Dakota, Oregon, Utah, Washington, and Wisconsin) claim this as their favorite way to eat the tuber. In fact, a Little Potato Co. survey in 2019 showed that with 30% of the votes, mashed potatoes reign supreme among U.S. citizens (per Potato Grower Magazine). 
Clearly, this beloved dish is important, but what if you've never quite mastered the art of making it? Ree Drummond, the Pioneer Woman, has an easy and indispensable solution.
The secret to great mashed potatoes is cream cheese
Do your dinner guests groan whenever you present your mashed potatoes? Are they a little dry, a tad bland, or riddled with lumps? Don't fret. If you want the key to making a stellar down-home dish (and it doesn't get more "down-home" than mashed potatoes), why not look to the queen of country cooking, herself? They don't call Ree Drummond the Pioneer Woman for nothing. If anyone can save your taters, it's her. 
The secret to the Pioneer Woman's mashed potatoes is cream cheese. Hold up. Cream cheese? In mashed potatoes? Yup, don't knock it until you've tried it. She adds an 8-ounce package of Philadelphia Cream Cheese to 5 pounds of potatoes. She also adds 1/2 a cup of half-and-half and 3/4 cup of butter. 
If you want to see the entire recipe in action, it's all in a video on Drummond's YouTube channel. When Taste of Home tried this recipe, they said, "The butter and cream cheese give these mashed potatoes a rich and super-creamy texture." And, as an added bonus, they maintain their creaminess after reheating. To that point, Wide Open Eats notes that you can make the potatoes up to two days in advance of serving them.
With Drummond's help, you can transform the ordinary potato into the star of your next holiday meal. Not only will it do wonders for the spud's public image, but it will turn those grumbly groans into enthusiastic "oohs and ahhs."