Is Dunkin' Open On Thanksgiving 2022?
Thanksgiving is a wonderful celebration of families coming together in appreciation for one another while dining on carefully prepared seasonal fare. Yet, oftentimes, the moments leading up to the main event can be overwhelming, stressful, and full of endless to-do lists. This is especially true for those hosting or traveling. According to The Vacationer's 2021 Holiday Travel Survey, more than 60% of Americans traveled for the late November celebration. With this year's holiday not too far off, what better way to cope with your Thanksgiving Day stress than by grabbing a coffee at Dunkin' on the way to grandma's house?
Not having to worry about your morning breakfast and coffee should be added to your long-running list of Thanksgiving Day hacks, but only if the popular coffee chain is open. With more than 8,500 restaurants nationwide, Dunkin' seems to be on every major street corner nowadays. However, Thanksgiving tends to be a holiday that's hit or miss when it comes to businesses deciding whether or not to keep their establishments up and running. With so much to think about as the late November holiday approaches, planning ahead would feel like a treat in itself. With that said, is Dunkin' open on Thanksgiving?
Dunkin' has your Thanksgiving coffee covered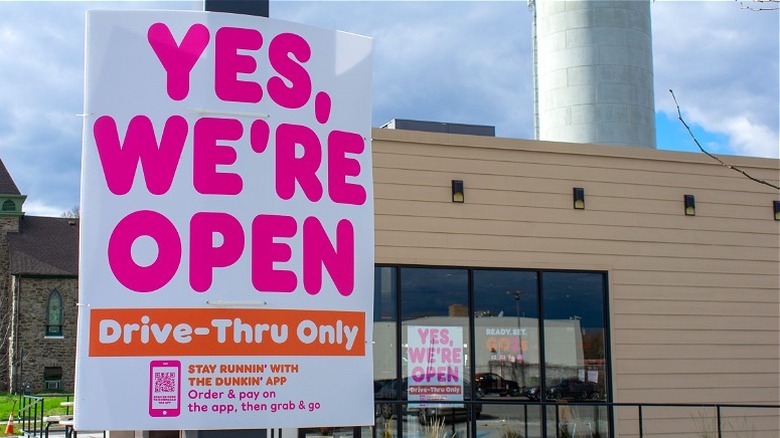 Brian P Hartnett Jr/Shutterstock
According to a recent list compiled by the world and then some, along with McDonald's and Starbucks, Dunkin' is one business that will be open on Thanksgiving Day for your early morning coffee and pastry needs. It was on our list of restaurants that were open for Thanksgiving in 2021, however, the outlet suggests checking with your local chain to verify their holiday hours since every location is different.
This has proven to be true in years past according to Reddit users, too. Just last year, some employees in the r/dunkindonuts subreddit claimed to be closed on Thanksgiving while others at different locations stated their stores were open "365 days a year." Along with the weird rules Dunkin' workers have to follow, they also don't get extra compensation for working on Thanksgiving, according to a holiday post from the same Dunkin' subreddit. Employees stated that even though their compensation wasn't increased for the November holiday, customers seemed to be more generous with tips on Thanksgiving Day. So if you happen to run by Dunkin' on your way out of town on November 24th, make sure you thank Dunkin's employees for helping make your holiday a little easier.