The Organic Food Company You Forgot King Charles Owned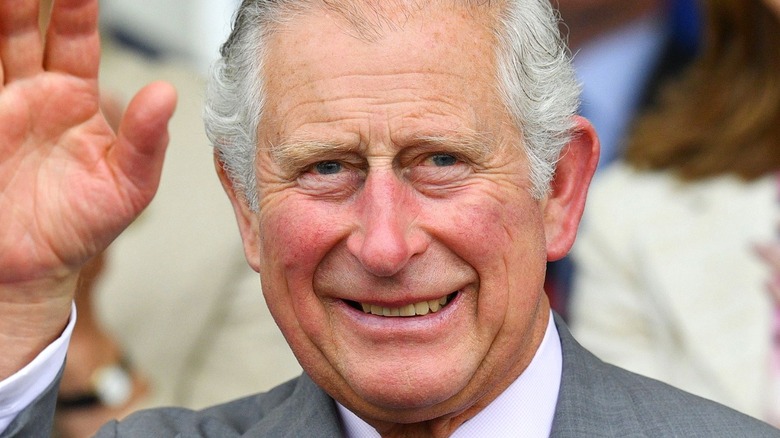 Wpa Pool/Getty Images
The recent loss of the longest-reigning Monarch in Great Britain's history, Queen Elizabeth II, signifies important changes in the royal hierarchy. However far removed we may be from the aristocracy, it's natural for shifts in the sophisticated family to breed our curiosity over the next Royal member to claim the throne: King Charles III.
King Charles III (formerly the Prince of Wales) amassed a lifelong list of achievements prior to assuming this new prestigious role. As the Prince of Wales, Charles founded over 20 charities including The Prince's Trust and The Prince of Wales's Charitable Fund (via USA Today). If his efforts within the humanities weren't enough, he is known to Tony Juniper, Chair of Natural England as "possibly the most significant environmentalist in history" (via Independent).
In fact, the new king cares so much for our natural world and the animals within it that he refuses to eat one of the most luxurious foods often served in Buckingham palace. Among the heir's many environmental efforts, apart from climate change, the newly appointed king believes we need to learn from indigenous cultures to understand how to take care of the Earth in a way that is sustainable for all living beings (per Thomas Reuters Foundation). The king's world philosophy was eventually parlayed into his interest in organic farming, leading him on a voyage into food company ownership.
King Charles III's success with Waitrose Duchy Organic
King Charles III was knee-deep in organic farming before the promise of profitability and high-tech marketing. He began an organic venture on The Duchy of Cornwall's Home Farm in 1985, turning it into a "completely organic farming system." In the early 1990s, he founded Duchy Originals to sell organic foods. According to Time, milk, carrots, oats, parsnips, and beets were among the items the farm provided to the company. So if you ever wondered what King Charles eats in a day, rest assured it's more than his famous Oaten Biscuits, the first and most popular product produced under the Duchy label (per NPR).
Yet, it wasn't all sunshine and cookies. Duchy Originals didn't prove successful until its merger with Waitrose in 2009. The former Prince of Wales also founded a shop called The Veg Shed to sell the misshapen produce grown on the royal estate. Unfortunately, its doors closed in 2013 (via BBC). However, with Waitrose's help, Dutchy Originals became a prestigious institution. With over 300 products available, in 2017, the brand made over $231 million dollars in sales (via CNN). It now spans 30 countries.
In 2020, King Charles did not renew the lease for Home Farm (per BBC) and with his new role as ruling monarch, he may be giving up more than just his public stature surrounding environmental activism (via Mirror). CNN speculates that he will eventually hand over the Duchy business to his son, Prince William.