TikTok Is Losing It Over A Barbecue Beer 'Gun'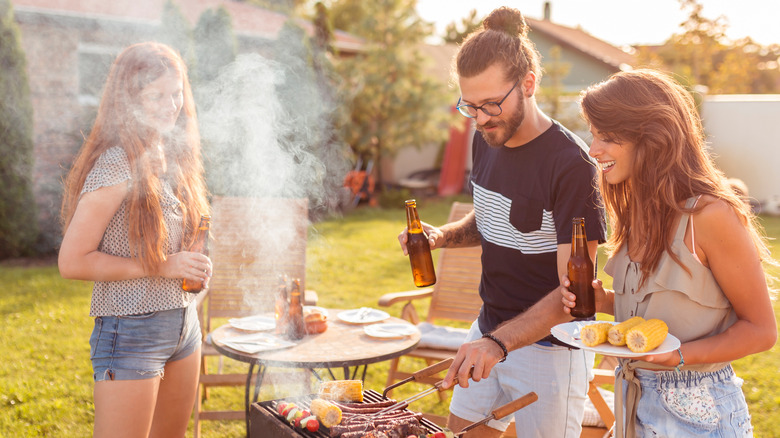 Impact Photography/Shutterstock
If you're a fan of yearly summer cookouts, an ice-cold beer in hand as you play the role of expert grill master tending to the flames of flavor, we've just found your new favorite toy. There are so many tasty ways for beer lovers to combine their favorite brews with the perfect cut of meat, turning an already flavorful bite into a mouth-watering feast you'll probably dream about later on. If you've been blessed with all the outdoor grilling, marinating, and food prep skills to give any juicy steak or saucy rack of ribs that magic touch, the sky's the limit for you, a connoisseur of your craft.
In all honesty, it can get pretty boring standing at your grill, overheating, and watching the world go by. That's why this unique gadget seen in a viral TikTok video will come in handy for those moments at social gatherings when you want to have a little more fun than everyone else. Not only is it perfect for grilling with beer, but you can also use it to liven up a house party, barbecue, or even your best friend's wedding if you're feeling wild. Wherever airborne alcoholic beverages are allowed is where you'll get to use the beer gun to your heart's content.
It was actually designed for champagne drinkers
Think of a water gun, except it's for adults. In the short TikTok video, posted by @koloawear, a full bottle of Corona can be seen without its cap. The beer drinker then proceeds to jam a yellow, lever-looking contraption into the bottle before making sure that it's sealed on tight. Grabbing the gadget by its handle and flipping the beer bottle upside down, they give it a little shake before releasing a steady stream of beer onto the food grilling beside him. The tasty-looking chicken wings, what looks like veggies, and the adjacent wall are doused in beer before the video ends. It's brilliant.
The comments are flooded with users exclaiming, "I need it!" and questions about where they can get one for themselves. A few people recognized the one-of-a-kind device from Shark Tank, and sure enough, the adult beverage gun can be bought for the adult price of $99. It's basically the world's fanciest Super Soaker. This beer "gun" is actually called the Bubbly Blaster, and it's marketed towards champagne drinkers who don't mind wasting a bottle, or five, at a lively special occasion. The official website says the Bubbly Blaster "even works as a bottle stopper when you're not using it, preserving your champagne to be enjoyed later on." It's fun to try at parties and at the beach, and is especially useful on the grill. All we can say is please use it responsibly.