The Best Ginger Beers For Moscow Mules And More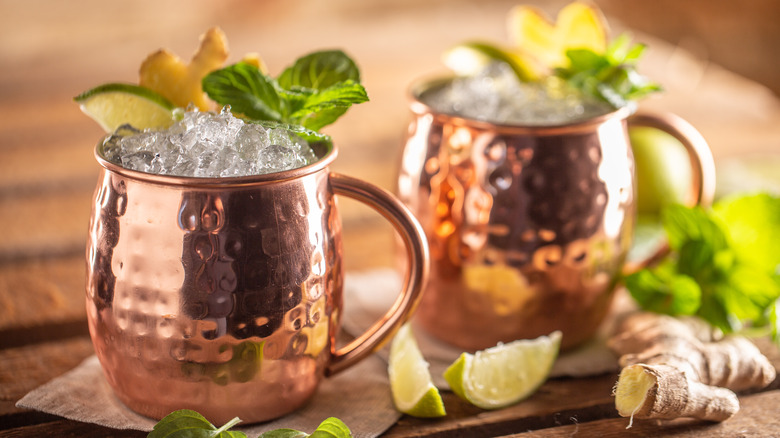 Marian Weyo/Shutterstock
The Moscow Mule is a simple, yet delectably effervescent adult beverage consisting of a mere three ingredients: fresh lime juice, vodka (alternatively tequila, gin, or mezcal), and of course, ginger beer. (And don't forget the copper cup.) With only a few components, it's rather important that they are all of higher quality (and that you're using the correct ingredients too).
You can't mess up the alcohol element — the Moscow Mule has multiple twists nowadays, so anything goes — and lime juice is, well, lime juice. That being said, the key ingredient that can make or break the Mule is the bubbly ginger beer. (Which is what you should be using.) As it turns out, ginger beer and ginger ale are not the same. 
Ginger ale, like Vernors, Canada Dry, and Schweppes, is a sweet soda made with carbonated water and sugary ginger syrup. Ginger beer is actually made with fermented ginger, a live starter culture (to get the fermentation process underway), water, and sugar (to feed the culture). Ginger beer is available as alcoholic or not, but for the purposes of finding the best one for mules and more, we're only going to focus on the dry version.
How we chose the following ginger beers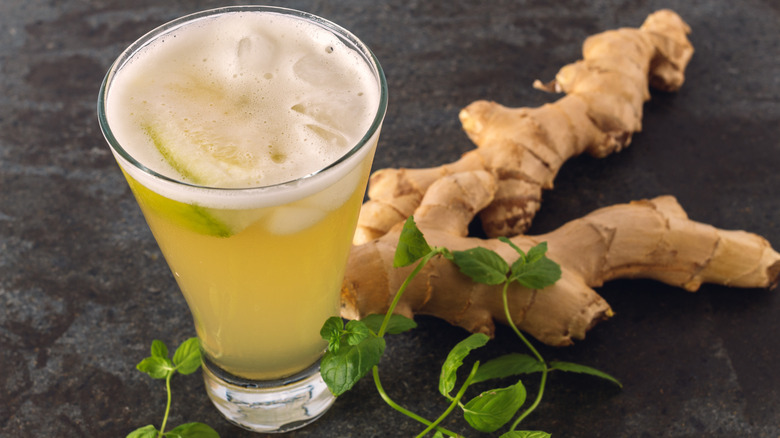 Daniele De Vivo/Shutterstock
Not all ginger beers are created equal, and multiple factors weighed heavily in choosing which ginger beers would make it to our list. We also had to take into consideration that the following fizzy mixers could be utilized in more than just a Moscow Mule. (There's also Pimm's Cup, Dark and Stormy, and Gin Ricky to name a select few.)
As usual, we always take into consideration reviews from reputable flavor tasters — both consumer and industry professionals — as well as big brand merchants (like Amazon) and independent review sites like Influenster, Spirits Review, BevNet, and other product discussion blogs. As for the ginger beer itself, factors such as spice level (some of these brews can pack a punch), the intensity of the ginger flavor, quality of the bubbles and effervescence, sweetness, complexity, flavor nuances, as well as the price and volume of the products all played a major role in determining what ultimately remained on our list.
Hopefully, you'll find something in our selection that sparks your palate and inspires you to embrace the wonderful world of ginger beer.
Best overall
Fever-Tree's ginger beer takes the best overall spot on this list for a number of reasons. Not only does the brand source the best all-natural ingredients, but it also contains no artificial additives. As for taste and aroma, Fever-Tree doesn't mess around. Its ginger beer contains three types of ginger sourced around the world, giving it a headier aroma as well as a clean, crisp, ginger-forward taste. 
Moon Platoon, an independent opinion blog, totes it as having the perfect amount of carbonation. This is echoed by multiple Amazon reviewers who also claim that it helps soothe upset stomachs. While its price leaves a bit to be desired — Spirits Review states that it's a bit pricier than generic options — it's a delicious option worth the cost. 
If you're looking for a refreshingly spicy ginger beer that can double as a soothing elixir when you're having stomach issues, pick up a 24-pack of Fever-Tree's ginger beer on Amazon, starting at $33.99 as of September 2022.
Best single serve
Q Mixers is known for concocting high-caliber single-use mixers using top-quality ingredients from around the globe. You can definitely taste it in the spicy, subtly sweet, and highly carbonated ginger beer. Amazon reviewers rave about its spice level because Q Mixers ginger beer also contains a hearty dose of chili peppers. Some versions of the product even have cardamom, cayenne, and coriander extract, so you're in for a treat. 
Many customers note that it also tastes great without alcohol and has just the right degree of subtle sweetness (which comes from organic agave, as opposed to bleached sugar or high-fructose corn syrup). The folks over at Tastings review blog note that it's a potent modern take on ginger beer, while reviews on Influenster praise its "refreshing taste." That being said, some individuals on Amazon think that Q Mixers' ginger beer could use more ginger, so you might want to opt for a different product if you prefer the root to be more pungent.
If you're not afraid of spice and prefer your mixers with less sweetness but more pow, you can purchase a 24-pack of Q Mixers ginger beer on Amazon, starting at $20.41 as of September 2022.
Best for beginners
This unique blending of pressed apple juice, ginger extract, vitamin C (for tartness and color preservation), and sparkling water makes this brew the most suitable choice for those who have limited experience with ginger beer. Cawston Press hails from England and focuses primarily on pressing fruit for drinks. Consequently, Moon Platoon notes that the ginger beer is more apple forward with a kick of gingery heat following suit. It's a drier soda but still retains a light fizz and crispness that makes it the number one contender for Moscow Mules, according to one Amazon reviewer. While another consumer warns that Cawston Press's ginger beer is not especially gingery, they prefer it above the competition because the ingredient list is so short.
A word of caution about Cawston Press in general: The company produces freshly squeezed products from across the pond, and there's no telling how long the ginger beer has been sitting on Amazon backroom shelves waiting to be packaged and shipped. So unsurprisingly, a few Amazon critics remarked that the taste was slightly more fermented than fresh.
That being said, if you're a newbie to the wonderful world of beer made with Zingiber officinale (that's ginger, by the way), buy Cawston Press ginger beer from a reputable seller on Amazon, starting at $43.99 for a 24-pack as of September 2022.
Best traditional
Coming straight from down under is our choice for the best traditional ginger beer: Bundaberg. This particular recipe has been passed down through generations and is brewed from scratch — the Bundaberg brewers make the wort (aka starter culture) using locally sourced Australian ginger, Queensland cane sugar, water, and a top secret yeast that pulls out a distinctive Aussie ginger taste. They let it ferment multiple times (adding more ginger along the way) until it's ready to be bottled and sold to ginger beer connoisseurs like yourselves. 
Influenster reviewers are all for using Bundaberg ginger beer to make the perfect Moscow Mule because it doesn't overpower the other two ingredients. Many Influensters also enjoy drinking it without added alcohol because it's not too sweet, not too gingery, and incredibly crisp and refreshing. That being said, taste is subjective and some Amazonians feel that Bundaberg's ginger beer is a bit too sweet.
If you're all about a well-balanced, traditionally brewed ginger beer that's prepared according to a family recipe spanning generations, you can purchase a 24-pack of Bundaberg ginger beer on Amazon for $46.08 as of September 2022.
Best craft
Straight from the land of aloha, Maui Brewing Company sources only the best fresh and local ingredients. Its Island ginger beer is free from high-fructose corn syrup and is sweetened with local cane sugar and honey instead. The Hawaiian ginger has a unique, sharp taste that is pleasantly balanced out by a subtle sweetness. One Amazon reviewer states that this particular brew is great for upset stomachs and "has a perfect ginger spice to honey sweet ratio."
According to Honolulu Magazine, Maui Brewing Company created its Island ginger beer (and a few other drinks) to satisfy everyone in the group with a refreshing drink after brewery tours. (It's all about the ohana, you know.) The Sodafry review blog totes it as bright, sharp, and spicy enough that they even choked a bit ... but in a good way.
If you're looking for artisanally crafted small batch ginger beer brewed with clean, local ingredients (and made with lots of aloha vibes), check out Amazon, where you can purchase a 4-pack of Maui Brewing Company's Island ginger beer starting at $9 as of September 2022.
Best all-natural
If you enjoy a good Dark and Stormy cocktail, then you can thank the Goslings for that (not the celebrity, though). This particular company was originally in the rum business and sealed its bottles with black wax, causing it to be known as "Black Seal Rum." In order to market it to the masses, the Goslings created the Dark and Stormy which required ginger beer. So this ginger beer was made with a specific purpose — to help market rum. (Hence the label image of a black seal wearing a life preserver that says "stormy" on it.)
Moon Platoon notes that it starts off rather sweet, but the more you sip, the more gingery it gets. It's ultimately a refreshing, well-balanced ginger beer that works well for its intended purpose, but is also refreshing minus the alcohol. Influensters note that it has the perfect level of spice and is also well-suited as a mixer for Moscow Mules. Some individuals on Amazon find it to be too syrupy (but still tasty), describing it as more of a ginger ale than a ginger beer.
If you want to try the product that's responsible for the creation of the infamous Dark and Stormy, you can find a 24-pack of Goslings ginger beer on Amazon for $49.99 as of September 2022.
Best organic
Maine Root's ginger brew earns the spot as the best organic option thanks to its numerous qualities. This company refrains from faux additives and sweetens its spicy concoctions using 100% fair trade certified sugar cane from Brazil. This eliminates the middleman and ensures that the farmers in question are paid a premium for their product. On top of that, the company also invests portions of its proceeds back into those farming communities, with a specific focus on schools and hospitals.
Independent review blog The Sodafry describes Maine Root's ginger beer as slightly earthy, clean, and heavy on the ginger. There's some notable acidity but not enough to make you pucker, thanks to the moderately sweet evaporated cane juice. One particular Influenster claims that it tastes like you're eating the actual root (which is a good thing, in this case) and that it works well in mixed drinks, like the Horse Feather. However, an Amazon customer describes it as weak and comments that it needs to be stronger. We know that palates vary, and this individual could very well be a competitive pepper eater.
If you're all about spicy, health-conscious, caffeine-free ginger beer that also does good by humanity, then order Maine Root ginger beer on Amazon, starting at $49.99 for a 12-pack as of September 2022.
Best low sugar
Brewed and fermented the traditional way (in small batches over a long period of time), the folks at Remedy have perfected the art of the low-calorie, sugar-free, probiotic good-for-your-gut tonic. This ginger brew is made with freshly pressed ginger juice and stevia in place of added sugar, which Honest Brand Review likens to kombucha (which they also make). Cocktail lovers on Amazon enjoy that it tastes great with or without alcohol — try it in a Dark and Stormy for a kick.
A fair warning to those who don't particularly like plant-based sugar substitutes — some Amazon reviewers comment that the aftertaste leaves much to be desired, while other consumers note that Remedy's ginger beer could do with a bit more ginger up front and center.
However, if you're following a low-sugar diet or are just seeking a healthier, more gut-friendly option, Remedy's ginger beer can be purchased on the almighty Amazon starting at $22.49 for a 12-pack as of September 2022.
Best for those who like it sweet
Royalty Ginger Beer can best be described as a gingery lemonade, according to Delicious Sparkling Temperance Drinks, a review blog devoted to all bubbly drinks. Reviewers on Amazon note that this particular ginger brew — which is brewed and bottled in England — has a nice and crisp ginger flavor. 
But what Royalty ginger beer is really noted for is an abrupt, no holds barred sweetness, which some Amazonians liken to ginger ale (read: soda) instead of ginger beer. Nonetheless, people still love this product, and one individual on Amazon comments that they like to use it as a mixer in a Dark and Stormy. So if your palate is geared toward sweeter ginger beers or even ginger ales, perhaps this particular ginger-based brew is meant for you. 
If you're all about the sweet and also enjoy trying beverages from far-off lands, you can buy a 24-pack of Royalty ginger beer on Amazon, starting at $38.56 as of September 2022.
Best for spice lovers
Barritts Bermuda Stone Ginger Beer is toted as the mixer that will lift your spirits. This family-owned and operated business has passed through five generations of Barritts and has been running since 1874. Amazon reviewers are believers when it comes to this spicy ginger brew, claiming that it is the best of the best, even if the price tag leaves much to be desired. According to the review blog Moon Platoon, the spice and flavor hit mid-tongue all at once with moderate effervescence. Barritts has some rather unorthodox ingredients, like neutral cloud — which gives the ginger beer a cloudy, freshly-squeezed look (via Reddit) — and soap tree bark, which is a natural color and flavor additive that Cocktail Safe asserts is totally safe. 
That being said, one of the ingredients (in the canned version) is high-fructose corn syrup, which some Amazonians are pretty turned off by. So if you're trying to opt for a low-sugar, low-calorie ginger beer, perhaps you should sit this one out. This brew is a sweet and spicy mixer with a flavor that hits all at once. If that's your drink MO — and if you're also all about family-run businesses that have been perfecting their craft for over a century, you'll want to get your hands on this.
Order Barritts Bermuda Stone ginger beer on Amazon, where you can buy a 12-pack starting at $28.15 as of September 2022.
Best for ginger lovers
Reed's Extra ginger beer is pretty much the perfect brew to drink with or without alcohol (or as a digestion aid), according to Amazon comments. Influenster tasters note that it really brightens up Dark and Stormy's and Moscow Mules, and makes a great addition to spice up a simple lemonade. Reed's extra ginger beer is quite potent and, according to one particular Influenster, really hits the back of your throat and adds "oomph" to your mixed drinks. While this particular ginger beer is one step up from Reed's original ginger beer, a ginger-loving Influenster states that it could use more ginger, more carbonation, and less sugar.
The lack of carbonation and need for more ginger was also echoed by a few Amazonians. That being said, if they were looking for a super gingery brew, then they should have purchased the big brother to Reed's extra ginger beer, which claims to have 200% more ginger. Perhaps the culprit is the addition of pineapple juice as a secondary ingredient, which some reviewers on the 'Zon disapprove of, claiming that it "dulls the ginger flavor."
Regardless, if you're looking for a refreshing and effervescent way to brighten up your cocktail or mocktail, check out Reed's extra ginger beer on Amazon, starting at $13.79 for a 4-pack as of September 2022.
Best unique flavor
Some individuals feel that straight ginger beer isn't good enough and are constantly on the quest to find something new, unusual, and exciting. If that sounds like you, then it's time to check out this pomegranate hibiscus ginger beer (ale) by Brooklyn-based company, Bruce Cost. Thirsty Dudes — a blog where thirsty bros review all sorts of different drinks — notes that the bottle states that "separation is normal" which to them, means high quality, real ingredients, and ultimately, a brew that does not disappoint. The outlet explains that while ginger is the prominent flavor, it plays well with the light fruity and floral background ingredients.
Bruce Cost's pomegranate hibiscus ginger ale makes a great mocktail, according to Influenster reviews, with an effervescence akin to Champagne that doesn't overpower as some bubbly drinks do. While some Amazon tasters are a little wary of the sugar content, they still prefer it over other bottled ginger ales or beers that contain artificial ingredients and additives. It's also worth mentioning that Amazonians note a bit of a lingering spice factor and comment that it also helps with stomach upset.
If you're interested in unique and uncommon flavor profiles and are looking for clean, real ingredients in your ginger beer, check out Bruce Cost's pomegranate hibiscus ginger ale on Amazon where you can buy a 12-pack for $49 as of September 2022.