Classic Moscow Mule Recipe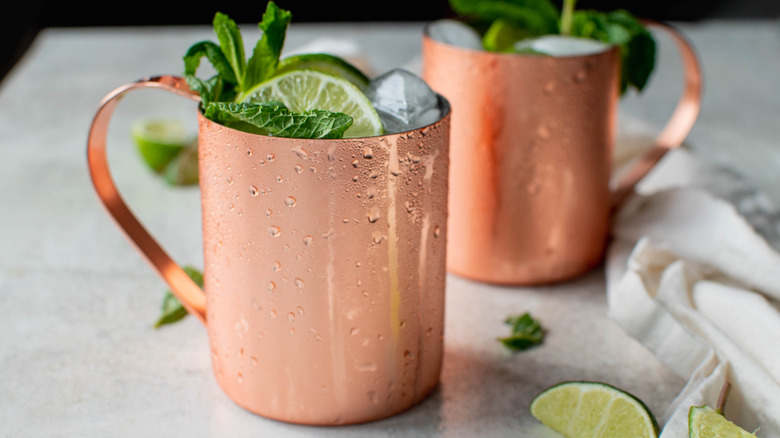 Michelle McGlinn/Mashed
If you're looking for a cocktail that's crisp and refreshing, sweet but not overbearingly so, and packs a little bite, you're in the right place with this classic Moscow Mule recipe. This cocktail is an American favorite both at bars and as a DIY drink, and it really couldn't be easier to throw it together at home, as you'll see thanks to this recipe from chef and recipe developer Michelle McGlinn. Despite the name hinting towards Russian origins, the Moscow mule was actually invented in the United States — though we do, of course, still thank Russia for the invention of vodka in general.
If you don't want to make a vodka-centric cocktail, don't write off Moscow Mules just yet! "If you swap in tequila, it's called a 'Mexican Mule' and with gin it would be a 'London Mule,'" says McGlinn, adding that "both versions are tasty alternatives if you prefer those spirits." Or, why not swap in some bourbon and make a Kentucky Mule? While a classic Moscow Mule is indeed made with vodka, we encourage creativity, so feel free to spice up this cocktail and throw in your favorite liquor.
Gather your ingredients for a classic Moscow Mule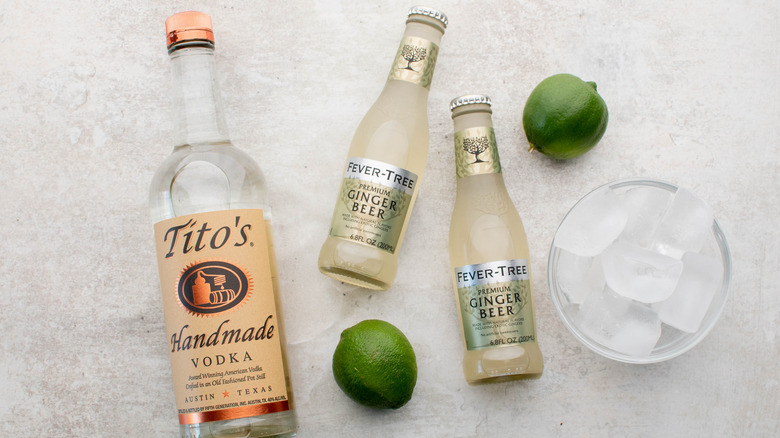 Michelle McGlinn/Mashed
It doesn't take much to make a fine drink. All you need for this one is fresh juice from a lime, a few large ice cubes, about 2 ounces of vodka (or tequila or gin), and about 6 ounces ginger beer, or enough to fill up the mug. You'd also be well advised to add another slice of lime and some sprigs of mint to the mug once it's mixed, by the way — after all, what cocktail is complete without a good garnish?
Build the cocktail, then enjoy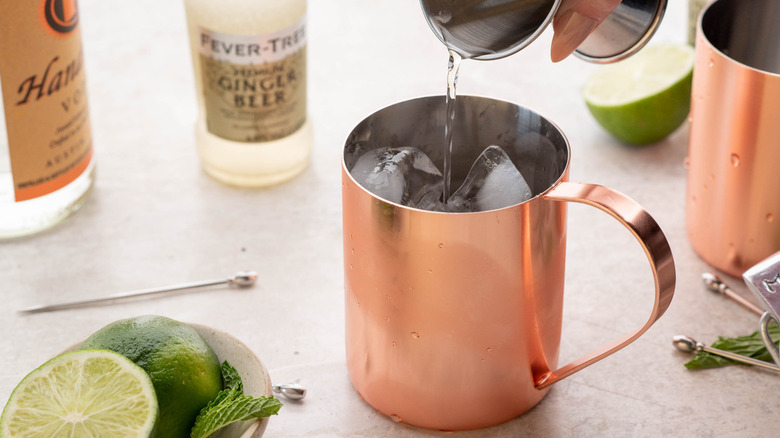 Michelle McGlinn/Mashed
First, squeeze out the lime juice and pour it into a copper "mule mug." (If possible, chill the mugs ahead of time in the fridge or even in the freezer.) Then add the ice into mug. Now pour the vodka over ice, then pour in ginger beer over the ice, adding it until the mug is nearly full. Next, stir gently to mix all of the ingredients, and finally garnish the drink with lime and mint, if desired, then enjoy!
Do you need to use a copper mug?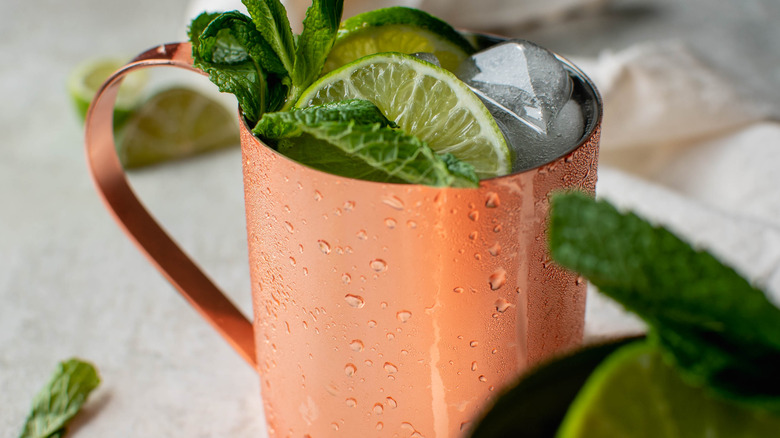 Michelle McGlinn/Mashed
Is that copper mug absolutely essential here? Well... no. Your Moscow Mule cocktail will still taste great in a regular glass, but it will be missing part of the allure. And it won't feel quite right in your hands or on the palate, either. "Copper is very responsive to temperature, so filling a copper mug with ice keeps the mug cold for a very, very long time, and thus keeps the drink perfectly sippable from start to finish," says McGlinn. "Copper is great for keeping its contents cold or hot for a long time."
But really, the real reason for the mugs is tradition. "The reason a Moscow Mule is famous for [copper] has more to do with its history: the inventors of the drink used copper mugs to serve, and used its distinctive look as a marketing tactic, eventually becoming iconic," explains McGlinn. It's pretty safe to say that their tactic worked — could you imagine drinking a Moscow Mule in anything but a copper mug? We certainly can't!
Classic Moscow Mule Recipe
There are fewer cocktails more tasty than a Moscow Mule, and with this recipe, you can make the classic beverage right at home!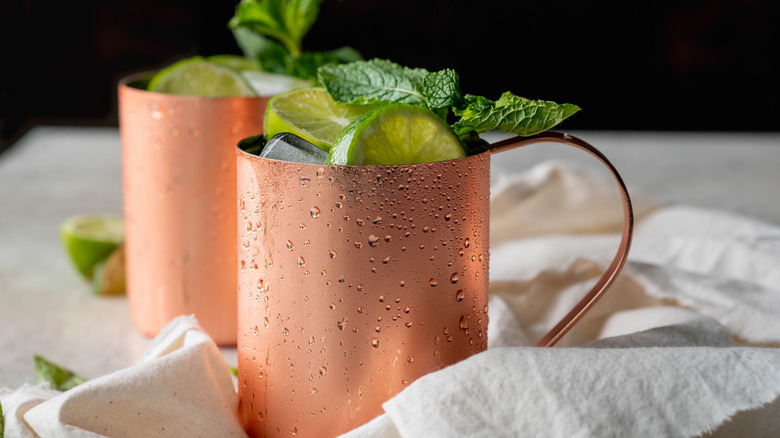 Ingredients
½ ounce fresh lime juice
5 large ice cubes
2 ounces vodka
6 ounces ginger beer, or enough to fill the mug
Directions
Squeeze the lime juice into a copper mule mug.
Add ice into mug. Pour the vodka over ice, then pour in the ginger beer until full. Gently stir to mix the ingredients.
Garnish the cocktail with lime and mint, if desired.