The Special Way Kraft Mac & Cheese Is Honoring Black Panther: Wakanda Forever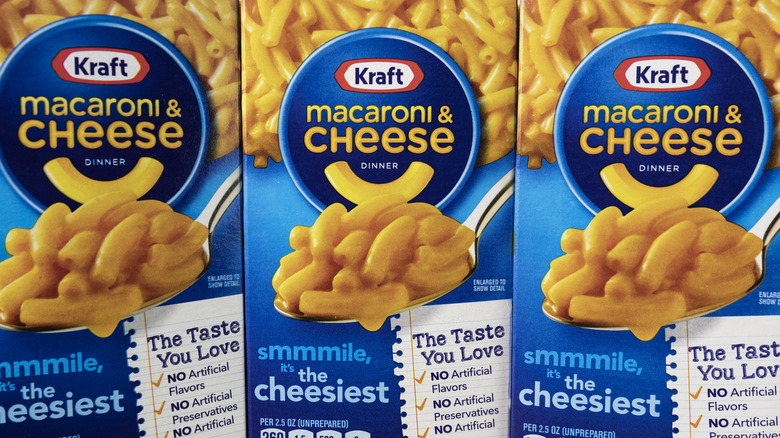 Jonathan Weiss/Shutterstock
Kraft macaroni and cheese is a brand that clearly loves entertainment and movies. Last year, the product got on board with one of the biggest big-screen events of the summer, "Space Jam: A New Legacy," by bringing a whimsical "Space Jam"-inspired macaroni and cheese to grocery store shelves. The kid-favorite comfort dinner transformed its classic elbows into basketball and bunny shapes, per AdAge. Kraft even unveiled Space Jammies pajamas for kids to wear to the table.
In another melding of film and product promotion, Kraft collaborated with actor Ryan Reynolds to market the Netflix film, "The Adam Project." This tie-in was a little different, with the young star of the movie, Walker Scobell, spewing one-liners written by adults in a laugh-worthy commercial for Kraft mac and cheese (via Fast Company).
Now, Kraft is embracing another collaboration with what is expected to be a major movie experience of the fall season, "Black Panther: Wakanda Forever."
These Kraft macaroni are shaped like Wakandan symbols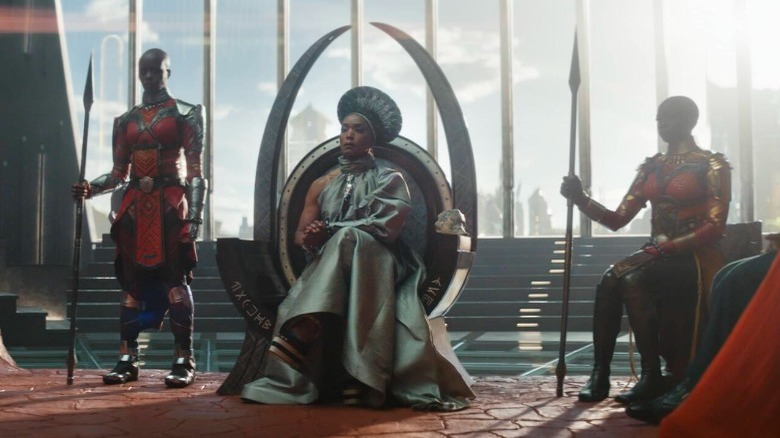 Ollie Millington/Getty Images
It seems like comic book and movie fans have been waiting, well, forever, for Marvel Studios' "Black Panther: Wakanda Forever" to drop — even cooking from a "Black Panther" cookbook to count down the days. The eagerly awaited sequel is scheduled to arrive in theaters nationwide on November 11. To celebrate the film, Kraft has announced the launch of limited-edition, "Black Panther"-themed packages of its iconic mac and cheese, says a press release shared with Mashed.
The celebration on the packaging is only the beginning. Inside, consumers will find "Black Panther"-themed macaroni shapes, including the Kimoyo blue bead bracelets worn by multiple characters in the movie and the highly effective and protective Wakandan shields. The limited-edition packages will be available this fall for as long as supplies last. The suggested retail price is $1.49.
As for the movie, "Black Panther: Wakanda Forever" finds the cast of characters, including Queen Ramonda (Angela Bassett), Shuri (Letitia Wright), M'Baku (Winston Duke), and Okoye (Danai Gurira), joining forces "to protect their nation from intervening world powers in the wake of King T'Challa's death," according to Marvel Studios.