Easy Cheese Fondue Recipe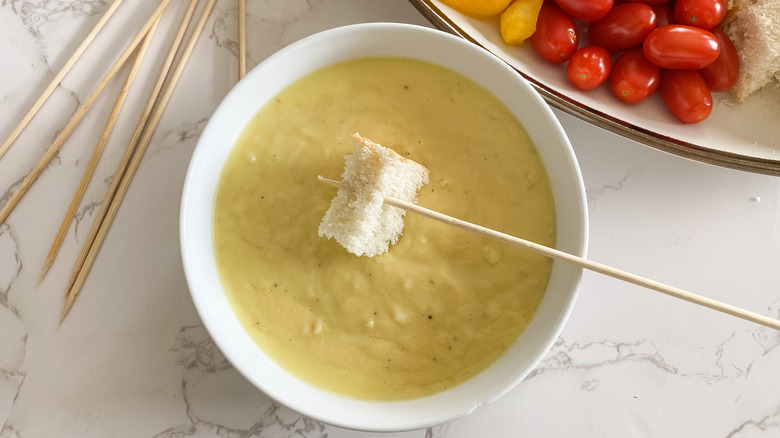 Kristen Carli/Mashed
Who knew you could make your own cheese fondue at home? This fun appetizer only requires a handful of ingredients and comes together in under 30 minutes, making it ideal for serving to party guests. This recipe utilizes both Swiss and Gouda cheeses for a pairing of both sharp and nutty flavors. Trust us, once you taste this homemade fondue, you'll never buy storebought again.
Recipe developer and registered dietitian nutritionist, Kristen Carli, MS, RD, brings us this recipe. Carli recommends using this fondue as a way to get children (and adults) to eat more veggies. Let's face it: Nothing tastes bad dipped in cheese. If you are trying to increase your vegetable consumption, cheese fondue is the ticket. Carli recommends serving this up with some sliced bell peppers, celery sticks, grape tomatoes, and cubed bread. Now, dive right in and follow our step-by-step guide to make this cheese fondue at home.
Gather your ingredients for this easy cheese fondue recipe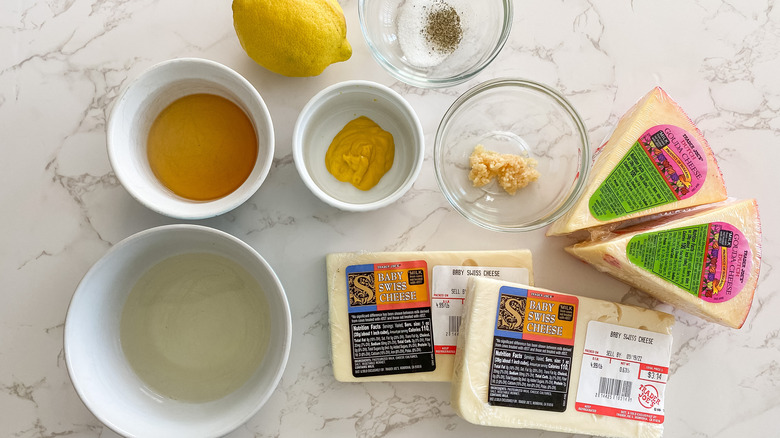 Kristen Carli/Mashed
To make this easy cheese fondue, you can start by gathering your ingredients. For this recipe, you will need Swiss cheese, Gouda cheese, salt, pepper, white wine, brandy, yellow mustard, minced garlic, and lemon juice.
Shred Swiss and Gouda cheese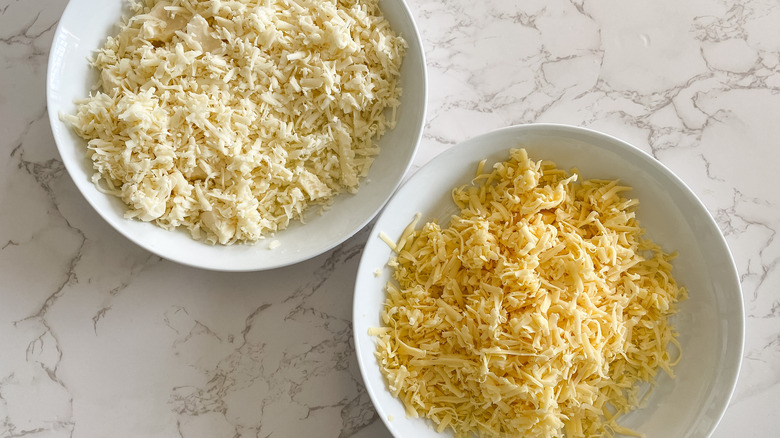 Kristen Carli/Mashed
The first step is a full-blown arm workout. You need to shred both the Swiss and the Gouda cheese with a cheese grater. While you could buy pre-shredded cheese, it is not recommended. Because the store-bought pre-shredded cheeses are a bit more difficult to melt, you will get better results if you shred them yourself.
Add wine, brandy, mustard, lemon juice, garlic, salt, and pepper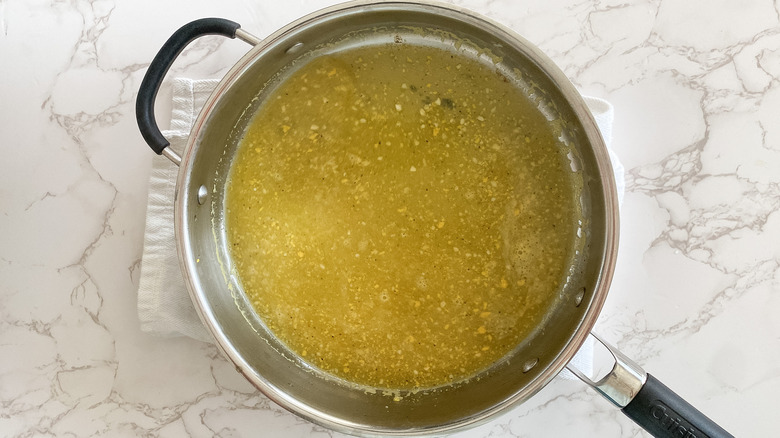 Kristen Carli/Mashed
Next, add the wine, brandy, mustard, lemon juice, garlic, salt, and pepper to a large pot. Place this pot on the stove top over high heat and bring it to a boil. Using a whisk, mix in the mustard so that it is combined. Once this mixture is boiling, you can proceed to the next step.
Gradually sprinkle in the cheeses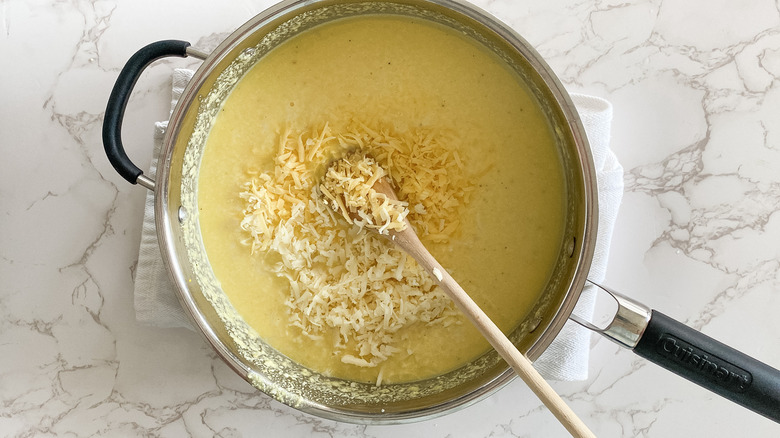 Kristen Carli/Mashed
Now, it is time to add the cheese. But before you go dumping in all of the cheese at once, it's best to add a handful at a time. Once the cheese is warm and melted, you can then add more cheese. This gradual process should take about 10 minutes until all of the cheese has been added and melted. Then, put the fondue in a serving dish and pair it with cubed bread and assorted vegetables for dipping.
Easy Cheese Fondue Recipe
Pair this easy cheese fondue recipe with your favorite vegetables and bread for a delicious snack that your friends and family will love to share with you.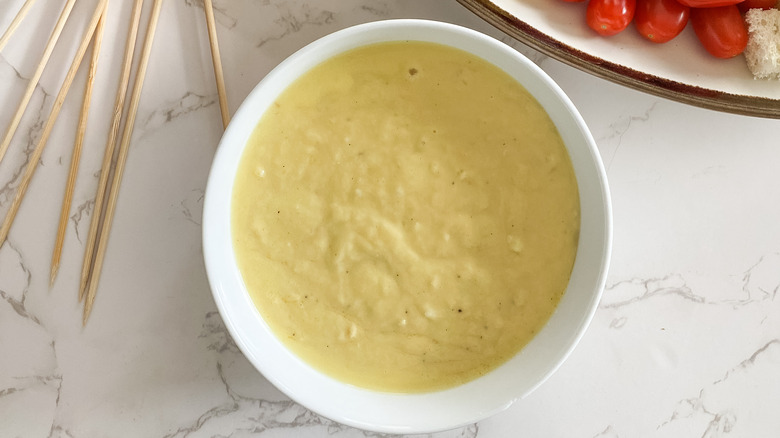 Ingredients
1 pound of Swiss cheese
1 pound Gouda cheese
1 teaspoon salt
½ teaspoon pepper
½ cup white wine
2 tablespoons brandy
2 tablespoons yellow mustard
1 tablespoon minced garlic
¼ cup lemon juice
Directions
Shred the cheeses.
In a large pot, add the wine, brandy, mustard, lemon juice, garlic, salt, and pepper.
Bring to a boil, whisking the mustard to incorporate.
Slowly add the cheeses, making sure to keep stirring. Once melted, add more cheese. Stir until melted, and repeat.
Once all the cheese is melted, pour it into a serving dish. Serve with skewers, cubed bread, and assorted veggies for dipping.
Nutrition
| | |
| --- | --- |
| Calories per Serving | 355 |
| Total Fat | 25.2 g |
| Saturated Fat | 16.1 g |
| Trans Fat | 0.0 g |
| Cholesterol | 93.4 mg |
| | |
| --- | --- |
| Total Carbohydrates | 4.7 g |
| Dietary Fiber | 0.2 g |
| Total Sugars | 1.9 g |
| Sodium | 438.5 mg |
| Protein | 23.7 g |