Long John Silver's Just Made It Onto An Unexpected Barstool Sports List
Long John Silver's hasn't had the easiest time establishing its position in the world of fast food. According to Eat This! Not That, the business has switched ownership three times in the last few decades and closed half of its stores — down to 701 from 1,500 since 1989. Just 10 years before, Long John Silver's had been at its peak; it once boasted a two-thirds ownership of the fast food market share.
However, the casual fish chain's luck started to change in early 2019. Unlike the case with many other businesses, the pandemic actually helped revive the restaurant due to factors implemented the year before: Long John Silvers' business had been simplified, it began working with third-party delivery services, and by saving money on marketing, profits started to increase. "We didn't have to spend on advertising," CEO Blain Shortreed told QSR. "We didn't have too many forward buys. We could actually put our advertising on hold." In 2021, the company saw a positive growth of 20%, and recently, it landed another interesting success with Barstool Sports.
Long John Silver's has boosted its online sales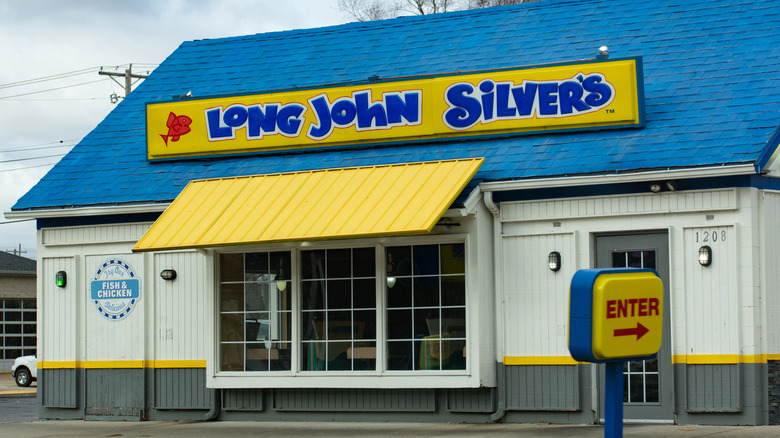 Subitus/Shutterstock
It seems as if the changes Long John Silver's has been making in the last few years have paid off. According to a tweet by Barstool Sports and data collected by Curve USA, Long John Silver's landed number six on the list of "Top 10 Online Shopping Sites in 2022." The fast food chain was preceded by Amazon, OnlyFans, eBay, Target, and Best Buy, and followed by Home Depot, Walmart, Etsy, and Kohl's. Understandably, many Twitter users were intrigued by this revelation. "Long John Silver's with the upset," one comment read. Another user joked, "My hush puppy addiction keeping them rolling in green."
Long John Silvers' Twitter account is also celebrating its success. The company changed its bio to "Ranked 2022 Top 10 Online Shopping Site by @barstoolsports," and replied to comments from the original post. Replying to a comment that read "Long John Silver's [t]he biggest Cinderella story of 2022," the restaurant said, "We traded in our eye patch for glass slippers." Perhaps the chain will continue to rise until it lands a spot higher than 46 on Newsweek's "50 Most Popular Chain Restaurants in America."