The Trader Joe's Fall Treat Shoppers Have Been Waiting For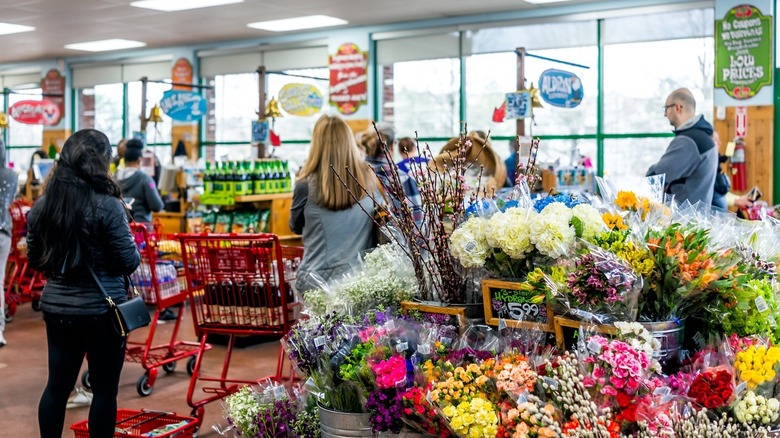 Kristi Blokhin/Shutterstock
In case you don't shop at Trader Joe's yourself, and therefore haven't heard about the chain's drama-filled pandemic lines or read the many Reddit threads devoted to the store, it has an incredibly loyal customer base. One of the many reasons is Trader Joes' sheer variety of private label and seasonal offerings, which make the store feel like a voyage of culinary discovery, minus the airfare. This is true year-round, but it's especially noticeable as favorite fall flavors make the rounds. 
For one, Trader Joe's knows how to work the pumpkin to the max, and the chain carries a vast array of pumpkin-themed items — from pumpkin cream cheese to pumpkin butter to pumpkin gnocchi to pumpkin spice toffee cake — eliciting tremendous enthusiasm each year.
But even for diehard pumpkin spice lovers (and definitely for the haters out there) the obsession can get a little old. Pumpkins aren't the only thing in season at this time of year, after all. Plus, there are foods and fragrances that "feel" autumnal even if they're not truly seasonal. Those who live near lots of maple trees know that maple tapping season isn't until the spring — and yet, maple syrup has that rich, natural flavor that makes it fit right in with other fall flavors.
Fans have been eagerly anticipating maple kettle corn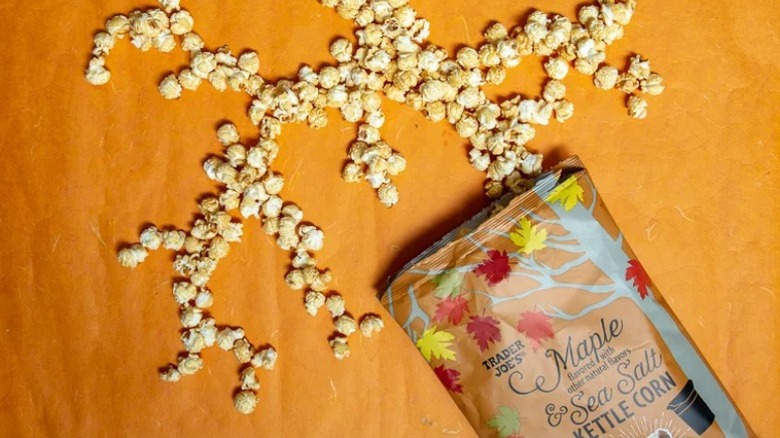 Trader Joe's
Trader Joe's fans likely know that the chain also carries its share of maple-flavored autumnal items, including maple-roasted almonds, salted maple ice cream, and Dutch breakfast treats called poffertjes in a maple flavor, per the TJ's website. But since the grocer announced the return of its maple sea salt kettle corn, it's had fans kicking through the proverbial door to share their enthusiasm for the comeback corn on Instagram. 
One fan said they literally "squeaked out loud" when they saw @traderjoeslist's post about the product on social media — they always buys multiple bags of the stuff, they explained — while another commented on what a "dangerous item" it is to have at home. Numerous followers mentioned someone in their household finishing a whole bag in one sitting, which explains why several users are planning on "stocking up this year."
At least one fan was disappointed in the announcement, wondering why @traderjoeslist had to be so public about the whole thing. Clearly, they have their own best interests in mind, jokingly asking, "Why do you post this???? Shhhh, this is supposed to be a secret." The shopper's fears seem to be reasonable, as multiple commenters said they've hoarded four or more bags of maple kettle corn after "waiting all year" for its return.