Green Ghost Cocktail Recipe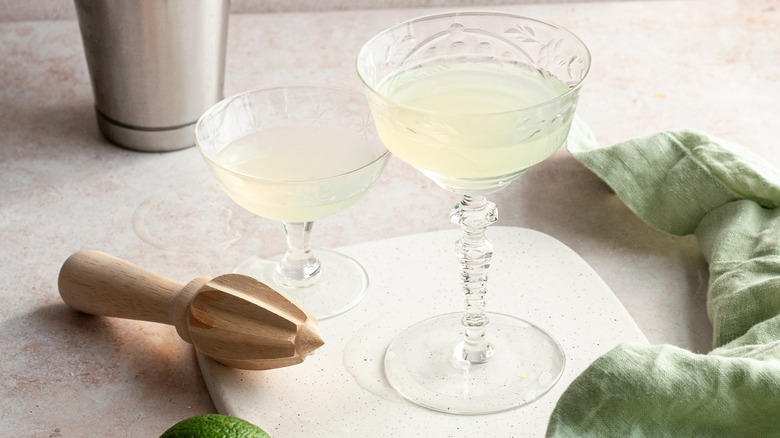 Christina Musgrave/Mashed
Despite its name, the Green Ghost was not actually created as a Halloween-themed drink. Instead, the drink dates back to at least 1937, when it appeared in the "Café Royal Cocktail Book."
Recipe developer Christina Musgrave describes the gin-based Green Ghost as "an easy and delicious citrusy classic cocktail," one which derives much of its flavor — as well as its color — from the liqueur known as green chartreuse. Musgrave describes it as "relatively sweet," although it's also somewhat on the bitter side due to the secret blend of herbs from which it's made. If you've only ever tried chartreuse in its paler, yellower form, then you should be aware that the green variety, as Musgrave tells us, "is higher in alcohol and stronger in taste." If you're already a chartreuse fan, however, you'll want to add the Green Ghost drink to your cocktail repertoire, whether it's that spooky time of year or not.
The Green Ghost requires just 3 ingredients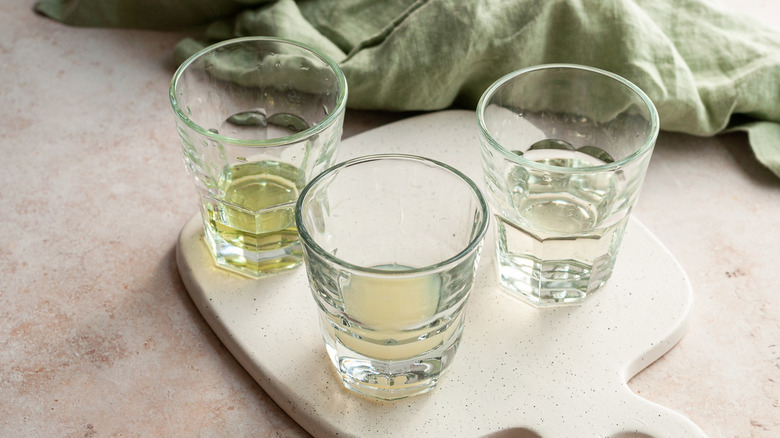 Christina Musgrave/Mashed
The green chartreuse is probably going to be the hardest item on your shopping list to locate, but any larger liquor store might have it in stock. Gin is readily available, however, and you shouldn't have any trouble procuring a lime. Add a few ice cubes to chill the drink, and you'll be all set as far as ingredients go.
It's best to squeeze the lime juice yourself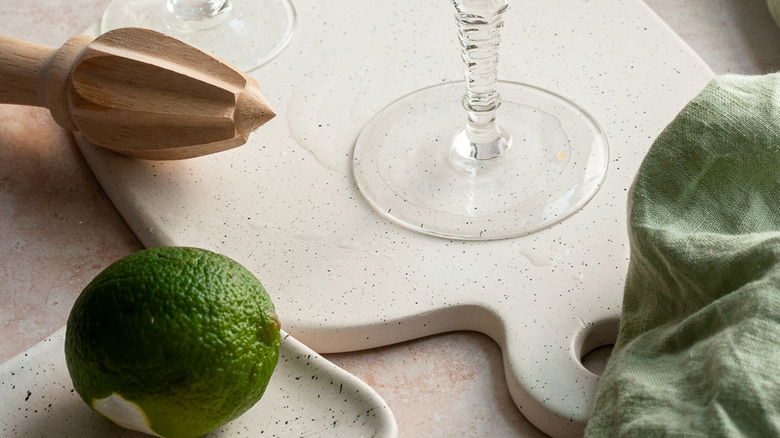 Christina Musgrave/Mashed
The first step in making this drink involves squeezing a lime to get some fresh juice. While various types of bottled lime juice are available for purchase, both sweetened and unsweetened, fresh lime juice really is the best kind to use for the Green Ghost — or any other lime-based cocktail like a margarita or gimlet, for that matter. The reason is that lime juice that comes straight from the fruit is the only kind where you can be guaranteed of not having any "off" flavors from preservatives or other additives.
As you are only using a tablespoon of lime juice here (1 fluid ounce = 2 tablespoons), you'll probably be able to get that much from a single lime, and you may even have leftover fruit to cut into wedges for a garnish, should you so desire.
The Green Ghost is shaken, not stirred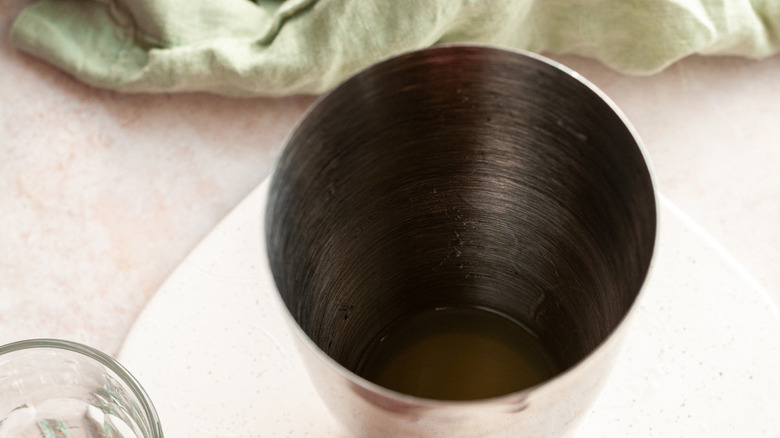 Christina Musgrave/Mashed
Combine the gin with the chartreuse and lime juice, then add a few ice cubes. Cover the cocktail shaker (or whatever other vessel you are using to mix your drink — if you're using a glass, you can just cover it with a larger plastic cup, or you could even shake the drink in a lidded jar). Once the cup, glass, or shaker feels cold, your drink, too, should have a ghostly chill.
You can dress up the drink to match its name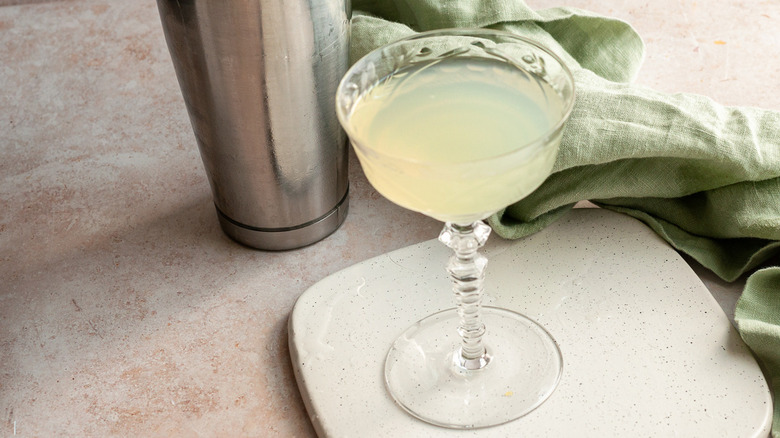 Christina Musgrave/Mashed
After you're done shaking, strain the Green Ghost into a glass –- Musgrave uses a stemmed champagne coupe, but a martini glass would work, too, or you could lean into the Halloween theme and break out the skull-shaped drinkware.
Green Ghost Cocktail Recipe
Despite its name, this drink was not created as a Halloween cocktail. Instead, it's a vintage libation that dates back to the 1930s.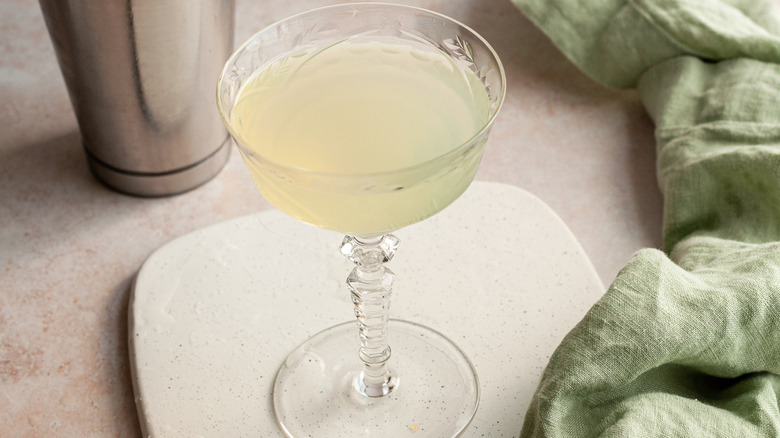 Ingredients
2 ounces gin
½ ounce green chartreuse
½ ounce fresh lime juice
Directions
Combine the gin, green chartreuse, and lime juice in a cocktail shaker.
Add a few ice cubes and shake until the drink is chilled.
Strain the drink into a coupe or similar glass.
Nutrition
| | |
| --- | --- |
| Calories per Serving | 196 |
| Total Fat | 0.1 g |
| Saturated Fat | 0.0 g |
| Trans Fat | 0.0 |
| Cholesterol | 0.0 mg |
| | |
| --- | --- |
| Total Carbohydrates | 5.8 g |
| Dietary Fiber | 0.1 g |
| Total Sugars | 4.8 g |
| Sodium | 2.6 mg |
| Protein | 0.1 g |