The Pumpkin Spice Sauce That's Giving TikTok Serious Fall Vibes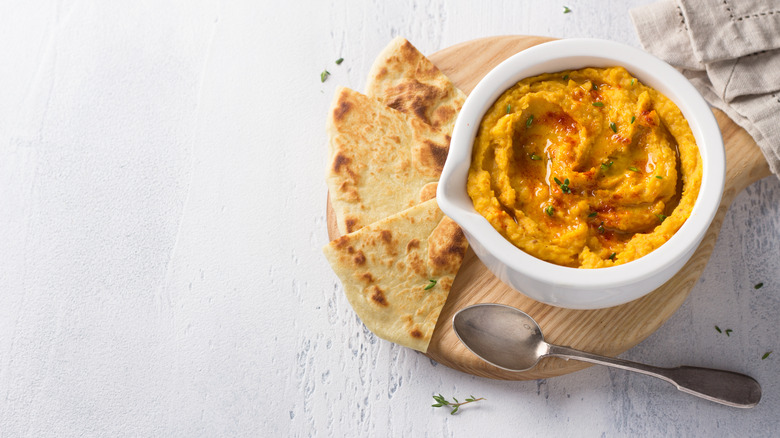 olepeshkina/Shutterstock
Pumpkin spice season is in full swing, and that means all things cinnamon sugar are in style as well. Over the years, there have been so many variations of the classic PSL, including pumpkin pie smoothies and Starbucks' iconic pumpkin cream cold brew. The latter may cause autumn lovers to think that pumpkin spice is expensive, with the average Pumpkin Spice Latte at Starbucks averaging between $5.45 to $5.95 per cup, according to KITV.
But little do these people know, pumpkin spice can easily be made at home. Most of the time, the heavenly mix doesn't even contain pumpkin — it's actually a blend of cinnamon, nutmeg, cloves, and ginger (via The Pioneer Woman). But this TikTok recipe for a pumpkin spice sauce is made with the real deal — it has actual pumpkin purée. And with the video having over 160,000 likes, it seriously inspired viewers to make their own Pumpkin Spice Latte at home.
The sauce's versatility drew fans in
This viral recipe video was posted by @thethriftwitch, an account focusing on recipes and aesthetic coffee TikToks. This particular sauce featured the use of pumpkin puree, pumpkin spice, and water above a boiling stove. Once combined and warmed, the instructions are to have the mixture simmer for three minutes. When the liquid is cooled, it can then be poured into a glass for storage.
Pumpkin spice fans went wild in the comments. "Omg I have all these ingredients....excuse me while I go make it!!!" One user wrote. Commenters also included ideas of what they would use the sauce for. Another commenter wrote, "I bet that sauce would be amazing on a sweet potato."
For further inspiration on how to put the liquid to use, the user's page features a variety of different pumpkin spice drinks where the mixture can be used — including a pumpkin cream cold brew and a pumpkin spice shaken espresso. Yum!