The Colorful World Of Mexican Breakfast Meals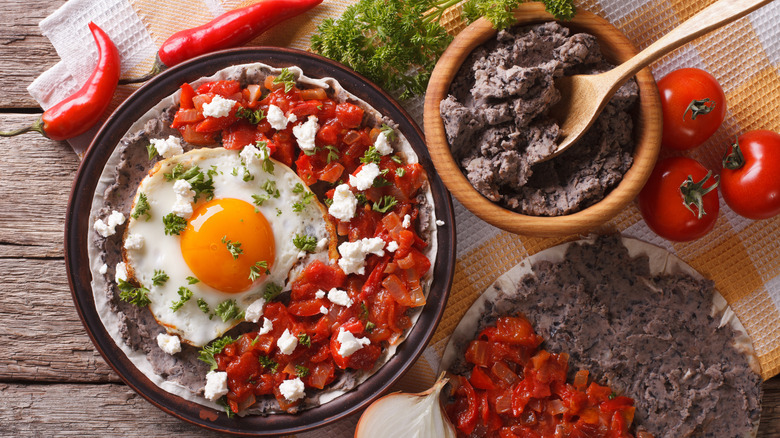 Sergii Koval/Shutterstock
Everyone knows that breakfast is the most important meal of the day. How else would we get the energy and nutrients needed to get us through the day? Food For Net revealed a list of the most popular breakfast meals in the U.S., and you probably know most of these morning classics. From bagels with cream cheese, breakfast burritos, and cinnamon rolls, over French toast and hash browns, to smoothies and eggs prepared in a wide array of combinations, there's a huge selection of breakfast options to choose from. And it's really important to have breakfast — it helps to control weight, reduces the risk of illness, and boosts our energy levels (via Better Health). 
Although breakfast foods in the U.S. are delicious and there are many options to choose from, the best breakfast meals in the world might just be across the border, in beautiful Mexico. Mexican breakfast foods are just as colorful as the country itself, so it can be concluded that Mexico's bright and vivid colors are reflected in its cuisine as well. If you visit Mexico, you'll find out that breakfast is called desayuno, and it's usually enjoyed moments after waking up (per Trip Savvy). So let's find out all about the colorful world of Mexican breakfast meals — just make sure you're not reading with an empty stomach because these dishes are likely to make everyone very hungry.
Mexican breakfasts include huevos rancheros, chilaquiles, and tamales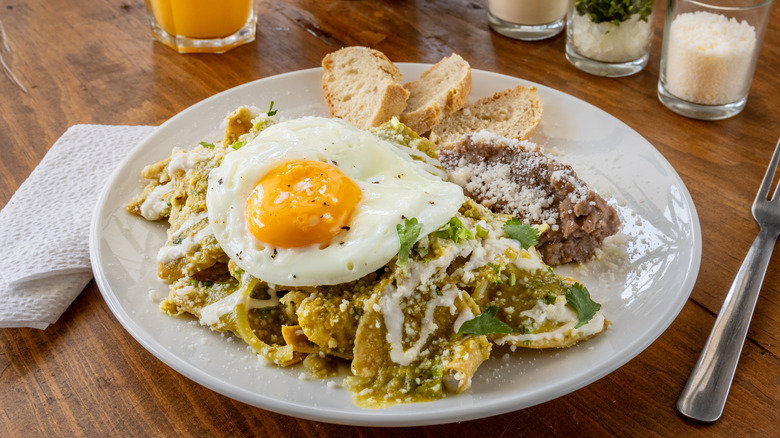 Gener Vazquez/Shutterstock
Just like the colorful Mexican festivals, such as Dia de Muertos and vibrant carnivals, Mexican breakfast meals are cheerful, appetizing, and very nutritious (via Travel Triangle). Who could choose only one? 
One of the most popular breakfast meals in Mexico is called huevos rancheros (rancher's eggs), consisting of fried eggs, corn tortillas, spicy salsa, and additional ingredients, such as onions and avocado slices (via SBS). The dish is also popular across the border in the U.S., and it's easy to see why. Those opting for lighter meals should try the authentic Mexican tamales, consisting of different ingredients wrapped in corn masa and then steamed in corn husks until tender. And hungry diners that have had a rough night can go for menudo, a typical Mexican hangover cure. This hearty stew is made with beef, tripe, onions, coriander, and a spicy hot pepper-based sauce. 
Tortilla fans would probably love chilaquiles, made with quartered corn tortillas that are fried and topped with salsa, eggs, cheese, and sometimes shredded chicken. And if nothing satisfies you, street food is a great option where you can choose from enchiladas and corn on the cob to delicious tacos and a variety of mole sauces (per BBC). There's a tasty breakfast meal for everyone in Mexico, and we're already thinking about packing our bags and booking a bed-and-breakfast.