Trader Joe's New Granola Has A Breakfast-Inspired Twist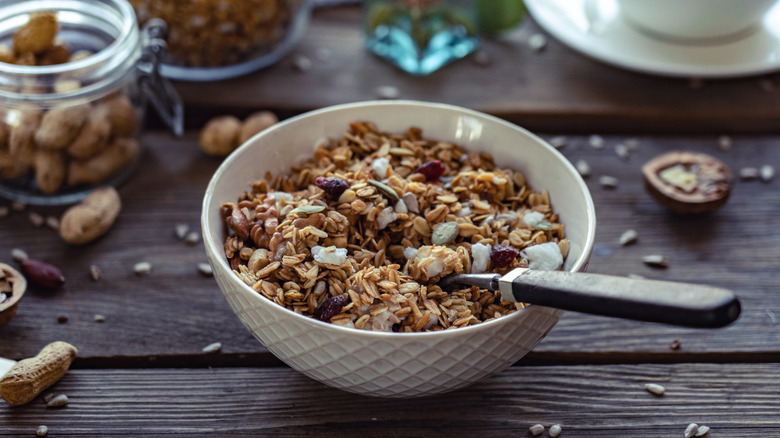 Ground Picture/Shutterstock
Whether you're looking for something lighter than a big stack of pancakes or you need something quick and easy on a busy weekday morning, granola is a very popular breakfast choice. As for whether it's a healthy meal (or snack), it depends. According to Healthline, if people choose a kind of granola with little to no added sugar and one that's high in protein and fiber, it can be nutritious. Depending on the ingredients, it can also be a good source of iron, magnesium, and other vitamins and antioxidants.
You can make homemade granola or snag it at the grocery store. There are tons of popular brands, from Bear Naked to Kind to Nature Valley, and even more flavors available. Even Trader Joe's has its fair share of granola varieties. Recently, the grocery retailer came out with a new type of granola inspired by a favorite breakfast treat that has Instagram abuzz. Here's what you need to know about the Trader Joe's Cinnamon Roll Drizzled Granola.
It's supposed to taste like a cinnamon roll
Trader Joe's Cinnamon Roll Drizzled Granola appears to be geared toward fans of cinnamon rolls. Not only is pouring it out of the bag faster than whipping up a batch of homemade cinnamon rolls, but it's also potentially a little more nutritious than pre-made icing-slathered buns. According to the package — which fan account @traderjoeslist posted a photo of on Instagram — the granola is "cinnamon roll inspired baked oat clusters with a sweet yogurt flavored drizzle." Each 11-ounce package contains about five ½-cup servings, each of which has 250 calories, 4 grams of protein, 3 grams of fiber, and 18 grams of sugar. (A classic Cinnabon roll packs 880 calories, 12 grams of protein, 2 grams of fiber, and 61 grams of sugar, per the company's nutrition guide.)
People on social media generally seem excited about the new release. While some balked at the use of canola oil as an ingredient, a number of people who have already tried it gave it high marks. "Got this today and I love it," one person wrote on Instagram, while another agreed, "It's sooooo good!" On Reddit, another Trader Joe's shopper said, "I think it's pretty tasty. It's very sweet from the drizzle."