Instagram Has Heart Eyes For Whole Foods' Discount Gouda Guide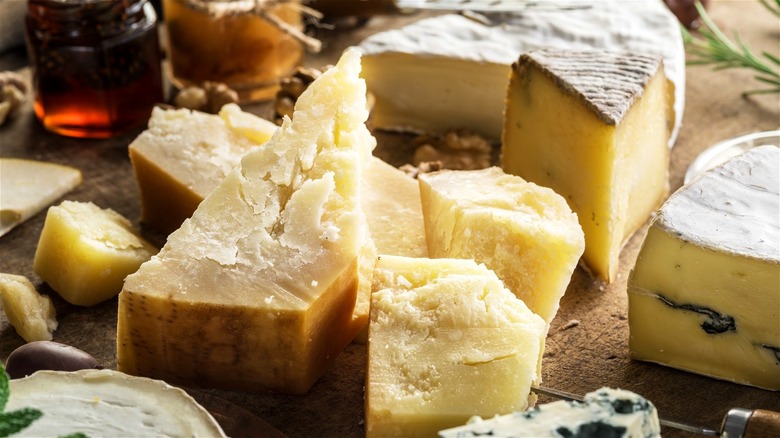 Valentyn Volkov/Shutterstock
We may receive a commission on purchases made from links.
With holidays around the corner, more people are going to be looking for ways to brighten up their usual fare, especially when guests are involved, and luckily, Whole Foods has your cheese needs covered. What better way to celebrate fall than with an autumn-inspired charcuterie board? However, when it comes to finding the perfect cheeses to pair with those fresh in-season figs and apples, the process can be a tricky one if you're not a cheese professional. While you could take the cheese advice of select TikTok users, why not go to the grocer directly?
What you may not know about Whole Foods is that the company allows you to taste test practically anything you'd like before committing to buy (via Whole Foods Market). Having that tip in your back pocket makes perusing the large selection of cheeses a little less overwhelming. According to the company website, the brand also has over 300 certified cheese professionals who provide real educated suggestions regarding your needs.
If you're still on the fence about heading off to your nearest Whole Foods, a few clicks on the internet should help in your decision-making process. Not only have social media users loved watching Whole Foods on TikTok cut open a giant wheel of parmesan cheese, but the brand just released an exclusive guide to purchasing Gouda on Instagram, with a special money-saving cheese sale to peak your interest.
The internet loves specialty cheeses from Whole Foods
A few days ago Whole Foods posted a mini guide to purchasing Gouda cheese on Instagram with the end of the video announcing the brand's sale for all Gouda varieties. In the Instagram reel, four different types of Gouda are described, including the Cypress Grove Midnight Moon Creamery's "goat cheese Gouda" and Kmare Melk Gouda Truffle Raw's "robust-truffle-laced" variety. Many Instagrammers posted heart-eye emojis in response to the video, with one claiming, "The truffle Gouda is so good." Instagram is not the only platform that approves of the Truffle Gouda, Whole Foods employed Reddit users also sign off on the flavor.
According to the Whole Foods Market website, all 18 Gouda varieties will be 20% off from September 26th through October 4th and the best part is Prime members get an additional 10% off. If you don't have time to swing by Whole Foods before October 4th, don't fret. If the past is any indication of the future, Whole Foods should also be offering a holiday cheese sale you won't want to miss this coming December.