Giada De Laurentiis' Easiest Pasta Sauce Of All Time
With a smile that seems bigger than her entire petite frame, Giada De Laurentiis has inspired many home cooks by demonstrating her ease in the kitchen on Food Network's "Everyday Italian" and her other popular cooking shows. After plenty of requests on Twitter, she's now sharing what she calls her "easiest pasta sauce recipe" on her website, Giadzy. It's none other than a basic pomodoro, or tomato, sauce.
While there are many ways to use a fresh tomato — such as adding color to your salad, enhancing your sandwich with vitamin C, or bolstering your salsa — for this sauce, De Laurentiis uses her favorite canned pomodorini, or cherry tomatoes that are super sweet in flavor. San Marzano tomatoes would also work, she explains, saying that "the resulting sauce may not be quite as sweet, but it will be just as tasty." Like any traditional pomodoro sauce, this one has garlic, extra virgin olive oil, and basil in addition to the tomatoes — plus two ingredients you might not expect.
Carrots and Parmesan rinds add layers of flavor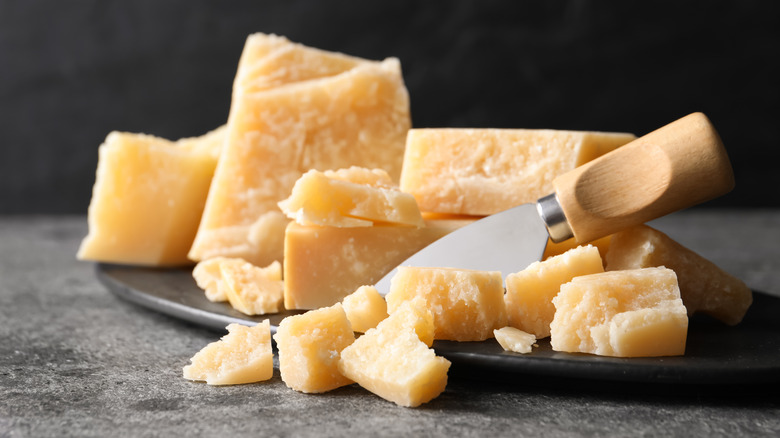 New Africa/Shutterstock
De Laurentiis' pomodoro sauce also includes two unusual ingredients that are cooked in the sauce but removed before serving: carrots and cheese rind. The "Giada at Home" host typically uses carrots to sweeten pasta sauce, which balance out the acidity from the tomatoes without adding a sugary taste. The other ingredient is one of the two essential food byproducts that Italian chefs never throw away: the starchy water left behind after your pasta cooks, and the rinds from Parmesan cheese. "The rind is the secret here," De Laurentiis says on Giadzy. "It takes the sauce to the next level!"
Instead of throwing out the hard outside of a Parmesan wedge, De Laurentiis always stores it in the freezer until needed. The rind must come from cheese made in authorized Parmigiano Reggiano-producing regions of Italy in order to be considered authentic. Parmesan made in the United States is not the same, the Emmy Award-winning chef and cookbook author told Today. 
After simmering the carrot and Parmesan rind with the tomatoes, De Laurentiis removes them before pureeing the sauce and serving it with pasta and grated Parmesan. This is the same sauce De Laurentiis once made in an episode of "Giada in Italy," when she highlighted some of her favorite childhood dishes.