Guy Fieri's Heart-Wrenching Birthday Tribute To His Late Sister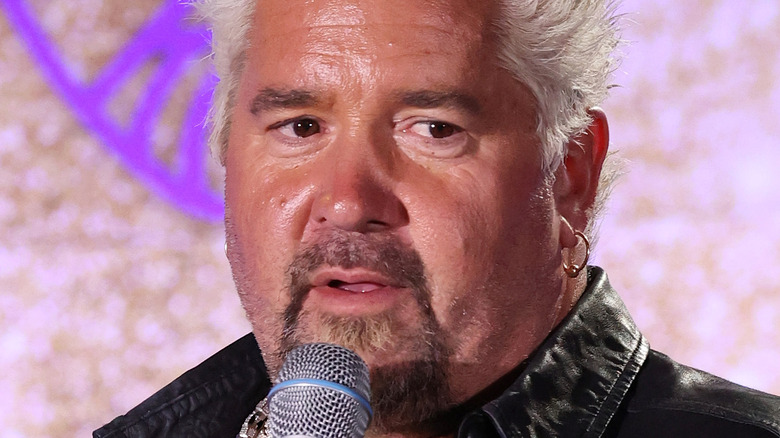 Jesse Grant/Getty Images for Tyler Robinson Foundation
Guy Fieri has always been family oriented. He often features his older son, Hunter Fieri, on his Food Network shows, and he even premiered a TV special featuring his whole family traveling across the United States. That's why when Fieri lost his younger sister, Morgan, it changed his life.
Fieri's sister's tragic death was the result of cancer: metastatic melanoma. Fieri and his family learned of Morgan's cancer diagnosis when she was just 38. After a yearlong battle with the disease, Morgan died in 2011. Since then, he's made it his mission to live better and to honor her in as many ways as possible.
Fieri's sister was a member of the LGBTQ+ community, and four years after her death, he officiated 101 gay weddings in her memory. According to Showbiz Cheat Sheet, Fieri wore a purple tuxedo to the event, and his longtime Food Network friend Duff Goldman created a massive wedding cake. Fieri still remembers his sister fondly, and on September 27, 2022, he posted a touching tribute to her for her birthday.
Guy Fieri remembers his sister on her birthday
On what would have been Morgan Fieri's 50th birthday, big brother Guy Fieri paid her a heartfelt tribute on Instagram. "My lil sis Morgan's 50th bday is today," he wrote underneath a photo of the two. On individual lines, he followed it with, "Love you," "Miss you," and "Celebrate you," before ending it with "Namaste" in all caps and signing it, "Big bro."
The photo appeared to be from an old magazine article, where Fieri was quoted talking about how Morgan's death changed his life. He said it's "one of the reasons I live the way I live. I'm not going to waste today."
Plenty of fans and chefs alike sent their well-wishes on the post, with Ree Drummond writing, "Sending you love, buddy," with plenty of hearts. Alex Guarnaschelli also commented with a heart emoji and a sad face. Fieri regularly honors his sister's memory on social media; he posted another tribute to her on Instagram on February 19, 2022, to honor her 11th death anniversary.