Why Coolio Described Himself As 'The Black Rachael Ray'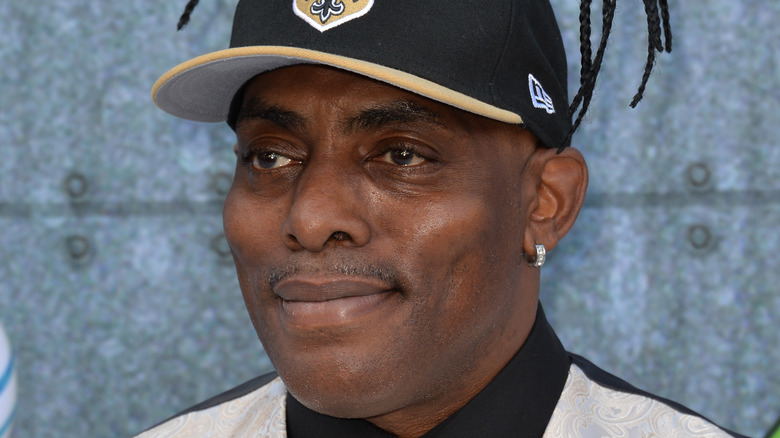 Jaguar PS/Shutterstock
The culinary world suffered yet another blow from the loss of rapper-turned-cookbook-author Coolio on Wednesday, September 28. According to Billboard, Coolio was only 59 years old when first responders found him unresponsive at his friend's house in L.A.
Coolio is perhaps best known for his 1990s hip-hop stardom, selling more than 4.8 million album copies throughout his career, per The New York Times. However, Coolio quickly became so much more than just a rapper. In 1996, he partnered with the Red Hot Foundation to spread awareness of the HIV/AIDS epidemic, particularly within the black community (via Business Insider). He also worked with the Asthma and Allergy Foundation of America, per Coolio's official website.
In the early 2000s, the rapper jumped into the food industry when Coolio had his own cooking show, "Cookin' with Coolio." He later published a cookbook of the same name, packed with quick and easy recipes described as "Ghetto Gourmet" (via Goodreads).
Cooking with Coolio: healthy meals at home
According to Brooklyn Magazine, Coolio claimed himself to be "the ghetto Martha Stewart, the black Rachael Ray." Although this may initially seem like an odd statement, it couldn't be closer to the truth. Despite getting his start in the music industry, Coolio spent most of the 2000s entrenched in the culinary world.
After launching "Cookin' with Coolio," he dove headfirst into reimagining recipes his mother used to make. Just like Rachael Ray, Coolio wanted to make home cooking easy and healthy. Through his web series and his cookbook, he wanted to show people that it's possible to eat healthy on a budget. "Cooking isn't just for the starched-stiff elite," he wrote on his website. "Everyone should know how to cook something."
Coolio later appeared on several Food Network shows, including "Celebrity Chopped" and "Celebrity Cook Off" (via CNN). Despite not being a professionally trained chef, he certainly had an impact on American cuisine, and for that, we will always be thankful.