The World's Largest Fish And Chips Has To Be Seen To Be Believed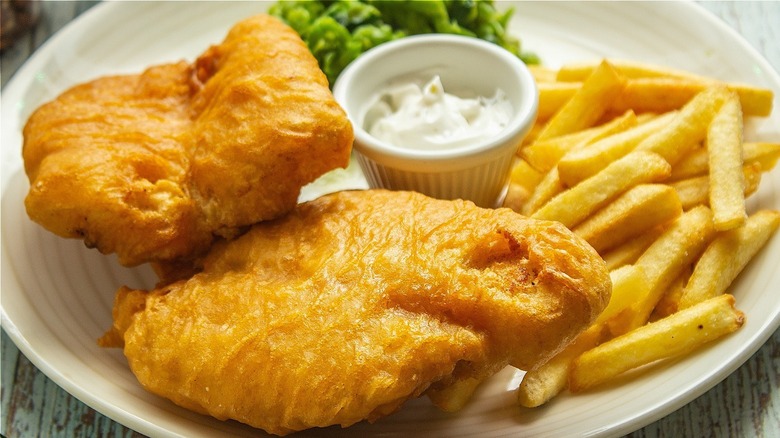 bhaskar deb/Shutterstock
Few British foods hold the same significance as traditional fish and chips. According to the U.K's National Federation of Fish Friers, the average Brit consumes at least six portions of fish and chips each year.
In case you are a fish and chips noob, "chips" are thick french fries served with battered and deep-fried fish. Many debate the type of fish that works best, but top contenders include white fish, like cod or haddock. It's all topped with malt vinegar and salt.
Chippies are restaurants or food carts that specialize in fish and chips. The first chippie opened in the early 1800s though the exact origins are widely debated. During the industrial revolution and both World Wars, they grew in significance as working people sought the delicious convenience of a take-out meal. In fact, the tradition of eating fish and chips on Friday nights dates back to a Roman Catholic tradition of not eating other meats on Fridays.
Modern Chippies use over 10% of potatoes and 30% of white fish sold in the U.K. In addition to chippies, you can find fish and chips in pubs, cafes, and even resorts like the record-setting Resorts World Birmingham, U.K.
Setting the record
Bigger isn't always better, except when you want to set the world's record for the largest portion of fish and chips. Chef Cristian Genete at Resorts World Birmingham, U.K., set a Guinness World Record for the world's largest serving of fish and chips.
When it comes to the delicious flakiness with that salty vinegar tang, is there such a thing as too much of a good thing? We don't think so! And apparently, neither did Chef Genete, so he searched for the right ingredients.
He told the Guinness World Records that he called every fish market: "I said to them, I have a dream. I need a big fish. Can you help me?" 
Three months later, one of his vendors found a fish that weighed more than 189 pounds. The resort held its record-breaking event where Chef Genete and his team prepared the extra-large serving of fish and chips. The uncooked filet weighed a whopping 60 pounds, while the traditional batter and chips weighed over 121 pounds. 
It took nearly two hours to cook the fish thoroughly, and Resorts World Birmingham, U.K., now holds the record with a 121-pound, 3-ounce serving of fish and chips. 
Don't worry, all that fish didn't go to waste. Guests from the resort and five local charities enjoyed the meal.
More record breaking fish and chips milestones
The Canadian Broadcasting Corporation (CBC) reported that Canadian culinary school instructor D'Arcy Butler wants to break Chef Genete's Guinness World Record. However, he faces one big challenge—he must first find an even larger piece of fish exceeding 64-pounds 4-oz.
After all, everyone has standards, including the folks at the Guinness World Records. First, the chef must use a single piece of fish, and the chips may only weigh up to twice the weight of the fish. Finally, only traditional battered British fish and chips will do. Whether Chef Butler breaks the record remains to be seen. However, Guinness World Records recognizes other world records for fish and chips.
In 2017, Tariq Siddique of Cardiff's Albany Fish Bar set the world record for being the fastest person to wrap five portions of chips. It only took him 48.17 seconds, barely beating the previous 50.08-second record. The event celebrated Albany Fish Bar's 50th anniversary and raised money for cancer research.
Not one to be outdone, in 2021, competitive eater Leah Shutkever influenced 331 of her social media followers to help her set a record for the most people to simultaneously eat a fish and chips dinner together online.