Instagram Is Loving This Creative Spin On Ina Garten's 'Favorite' Tart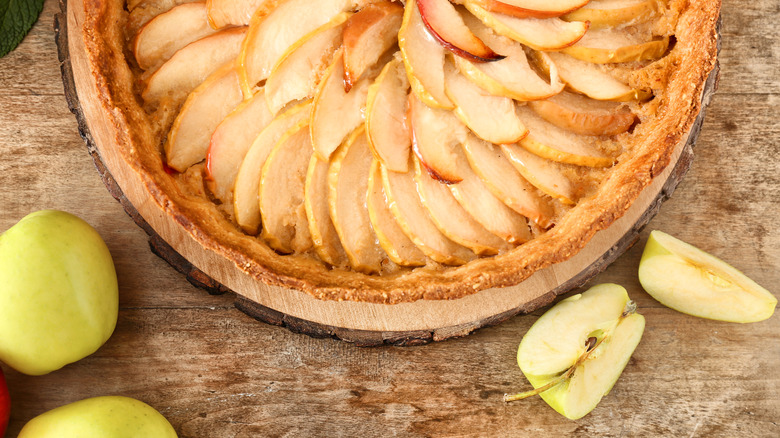 Pixel-Shot/Shutterstock
For many, mentioning Ina Garten brings to mind simple but elegant home cooking. A self-taught cook, Garten entered the culinary world when she purchased her specialty foods store, the Barefoot Contessa. She later wrote a cookbook with the same name, and in 2002, Garten launched her own Food Network show "The Barefoot Contessa."
Despite her rapid rise to fame, Gartner remains humble and down to earth and encourages countless others. Recently, an Instagram artist took inspiration from one of Garten's recipes, a sweet French apple tart dessert.
According to her Instagram, Jessie Kanelos Weiner is both a visual artist and an illustrator for The New Yorker, Vogue, and The Wall Street Journal. Her page is filled with food-themed art pieces, and Ina Garten's apple tart is no less special. In fact, Garten reposted Weiner's creation, applauding her talent and thanking her. Needless to say, this apple tart is a true work of art. 
This Ina Garten-inspired apple tart is just too good to eat
Mere hours after artist Jessie Kanelos Weiner posted her take on Ina Garten's French apple tart, the culinary star found the video and shared it on her own Instagram page. She captioned the post as "[her] favorite of all [her] desserts." However, this particular apple tart isn't for eating — it's made of paper. Weiner uses scraps of paper and watercolor paints to give the illusion of foods being cut, combined, and cooked into a lovely little apple tart.
More than 18k people liked the post, with hundreds saying how "beautiful" and "fun" the presentation is. Others labeled it "the most perfect recipe," and posted green apple emojis, because Granny Smiths are obviously the best type of apple for baking. As if Weiner's work wasn't already brilliant enough, one person suggested, "You should collaborate on a fun pop-up book for one of [Garten's] cookbooks." Yes, please. Without a doubt, this could be the best Ina Garten cookbook yet.