Duff Goldman's Disguised Cakes Are Blowing Instagram's Mind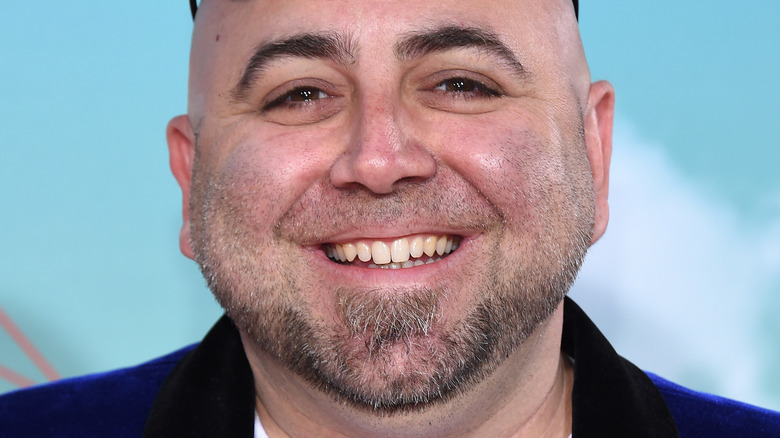 DFree/Shutterstock
There's no denying that disguised cakes — a.k.a. cakes that don't actually look like cakes — are trending. There are countless TikTok videos in which knives are poised over objects as viewers try to guess whether the item is actually a cake before the individual in the clip slices down to reveal the truth. Then, of course, there's the simply titled Netflix show "Is It Cake?" that launched this year, as per IMDb, in which cake artists craft disguised cakes designed to fool judges. There's just something about the sweet illusions that has captivated the general public.
It only makes sense that Duff Goldman would get in on the disguised cakes game, given his expertise on the sweet side of the culinary spectrum. While Goldman isn't a judge on "Is It Cake?" — perhaps he's too busy with all his other shows, such as "Holiday Baking Championship" and "Spring Baking Championship" — he definitely has the ability to guide others in this realm, as a recent Instagram post demonstrated.
Even for someone as skilled as Goldman, making a massive batch of disguised cakes is a tough feat, so he drew on the skills of the talented staff at Charm City Cakes to create some truly show-stopping treats that were served up at the International Baking Industry Exposition, as he referenced in the caption of the post.
Incredible cakes — and major reactions
Duff Goldman was so thrilled with the creative cakes that in his Instagram post he didn't just share one photo or even one video — he treated his 741,000 Instagram followers to a slide show that included countless cakes made for the occasion. There was a huge variety of cakes that were made to look like other pastries, from pies to croissants to loaves of bread. And then, the bakers branched out into other types of objects, from a teapot and teacup filled with tea to a globe, all of course made of cake.
Goldman gave his team a shout-out in the caption of the post, and the comments section soon filled with fans praising the sweet treats in disguise. One fan seemed completely shocked by the fact that they were all cakes, leaving a comment punctuated with three mind-blown emojis. The Charm City Cakes team shared a behind-the-scenes glimpse into the creation of the disguised cakes on their Instagram, from the dough being carefully scored to a spray gun painting color onto the cake exterior to create a certain appearance and texture.
While Goldman was quick to credit his team, as the International Baking Industry Exposition revealed on their own Instagram page, he was a big part of this year's event — he not only held a meet and greet for fans, but also brought his bass skills to the main stage playing with his band, Foie Grock.