Pumpkin Spice Ravioli Just Might Be The Fall Trend's Underdog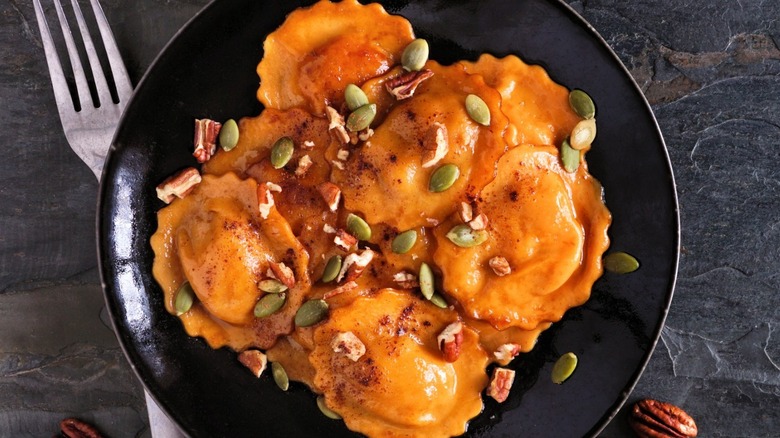 JeniFoto/Shutterstock
McCormick created pumpkin spice in 1934, but the flavor didn't skyrocket until Starbucks created the first Pumpkin Spice Latte in 2003 (via All Recipes). Surprisingly, the Starbucks latte is not actually made with pumpkin spice; its ingredients include pumpkin puree, sugar, milk, espresso, and whipped cream. The "pumpkin spice" that tops the beverage contains cinnamon, ginger, nutmeg, and clove.
The inauthenticity of the pumpkin spice didn't stop the flavor from gaining major success, and for better or for worse, many food companies have started offering a pumpkin spice version in the fall. In 2012, Pringles released a pumpkin pie spice chip variation, according to HuffPost. Many of the publication's employees tried them, though they explained that they "weren't a slam dunk." A pumpkin pie Twinkies flavor was dubbed "surprisingly tasty" by a Reddit thread. Last year, pumpkin spice was integrated into a pasta dish that you might have never seen coming.
The reviews were mostly good
In the fall of 2021, Rana Pumpkin Spice Ravioli was introduced to Sam's Club at $8.98 per two 18-ounce packs, according to Simple Most. The ravioli is stuffed with pumpkin, cheese, and cream. For the best results, the company recommends adding butter and pecan crumbles. The item is listed on the Sam's Club website, where many posters left reviews of the product. Many commenters admitted that they were wary at first but ended up loving it in the end. "I wasn't sure about these but I made a pumpkin Alfredo sauce and they were AMAZING!" one comment read. Another poster wrote, "Delicious. Such a mildly sweet and delicate flavor!" At the time of writing, the product has 4.6 stars on the company website.
On Reddit, one thread claimed that the "pumpkin spice thing is getting a little out of hand," but one poster who tried the product was quick to defend it. "It's poor branding, Pumpkin ravioli is fantastic," they wrote. Others seemed to knock it before even trying it, but it's hard to blame them given how obscure the item appears. Despite that, it has many more positive reviews than negative ones, so it might just be the up-and-comer folks will never suspect.