Why Pete Davidson Is Apologizing On Behalf Of Taco Bell's Breakfast Menu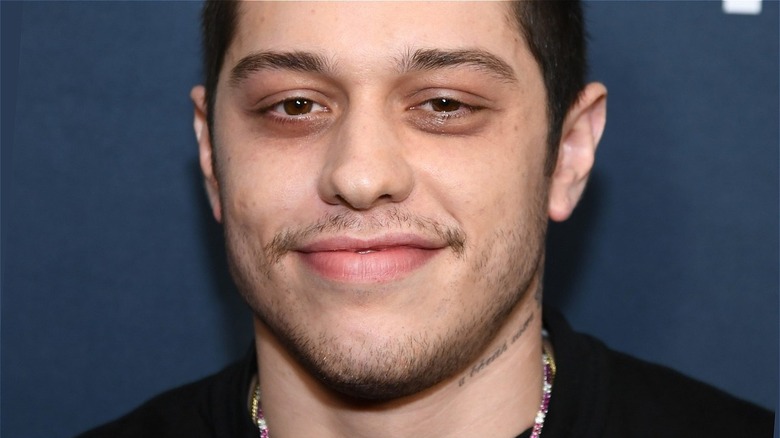 Dimitrios Kambouris/Getty
When you think of breakfast, Taco Bell might not be the first that comes to mind. However, the popular taco chain has earned itself quite the reputation over the years for its innovation of Mexican-style breakfast. According to Forbes, Taco Bell's breakfast launch in 2014 actually marked the chain's largest marketing campaign ever, racking in estimated profit margins of approximately 21%. With its doors opened to taco lovers as early as 7 a.m., Taco Bell serves up quite the breakfast offerings for those looking for their taco fix in the morning. The overwhelming menu boasts a large selection of breakfast selections, from the famed Bell Breakfast Box, Cheesy Toasted Breakfast Burritos, Grande Toasted Breakfast Burritos, Breakfast Quesadillas, Breakfast Crunchwraps, and coffee to their Mountain Dew breakfast soda. With its success in the morning, the chain hasn't been modest in its attempt to innovate breakfast, having rolled out the Naked Egg Taco and Waffle Taco that inevitably failed.
But what happens when people are flooded with an overload of options and some of them just don't make sense? And what happened to just a traditional breakfast sandwich to make it easier for us to eat breakfast in the morning without the excess options to choose from? Thankfully, Pete Davidson has our back.
Pete Davidson apologizes on behalf on Taco Bell's overwhelming breakfast menu
In a pledge to tone down its overwhelming breakfast antics, Taco Bell is teaming up with Pete Davidson. In an ad titled, "The Apology," as well as 30-second commercial, Davidson is seen enjoying Taco Bell's Breakfast Crunchwrap — or what he calls the "Breakfast Crunch Thing" — which focuses on the comforts of everything breakfast: Fluffy eggs, melted cheese, sausage, and hash browns in a tortilla.
"I like to think I might be the muse behind Live Más, which is probably why they brought me on to apologize for their maybe-too-extreme innovations in the mornings," said Davidson. "Taco Bell got too caught up with today's hustle and forgot people like to ease into their morning with tasty, simple food. Here to stay are delicious burritos and Crunch-things or Crunchwraps or whatever they're called."
In efforts to convey its apology, Taco Bell will be transforming three restaurants across the United States into limited-time pop-ups throughout the month of October for people to enjoy a simple — yet perfect — Breakfast Crunchwrap in the middle of the day or night (via a press release). The Bell Breakfast Taco locations will appear on the Las Vegas strip, Wrigleyville in Chicago, and Times Square in New York City. 
Of course, you can still enjoy a Breakfast Crunchwrap at your local Taco Bell during their regular breakfast hours of 7 a.m. to 11 a.m.