Why Jamie Foxx Is Teaming Up With TGI Fridays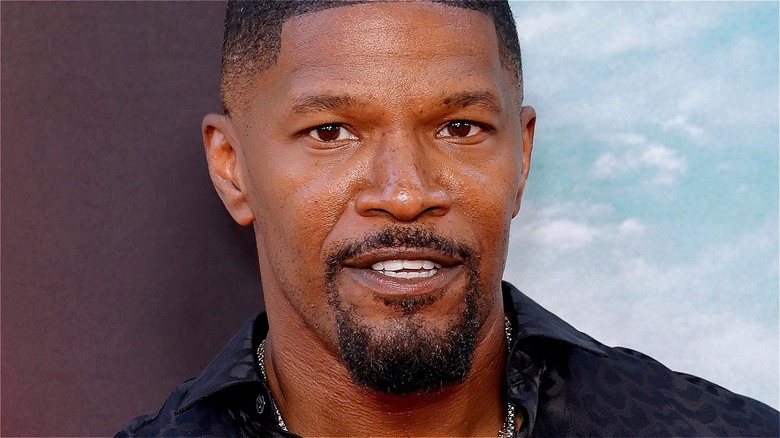 Frazer Harrison/Getty
Academy Award-winning actor, comedian, and singer Jamie Foxx is one of the greatest entertainers of all time. From movies like "Ray," where the actor plays blind blues musician Ray Charles, to Quentin Tarantino's "Django Unchained" and his recent casting as Electro in Tom Holland's "Spider-Man" series, Foxx is a versatile performer whose distinguished work is never short of extraordinary (per IMDB). In addition to his work on screen, Foxx is also a purveyor of fine alcoholic beverages.
Like other famous celebrities who have tapped into the booze industry, including Bryan Cranston and Aaron Paul via Dos Hombres tequila, Foxx announced ownership of whiskey company Brown Sugar Bourbon (BSB), which cuts the bitterness of traditional bourbon with the sweet warmth of brown sugar and cinnamon, back in 2021. Although the Washington-based company was originally founded in 2016, according to Rolling Stone, Foxx's acquisition was the beginning of a company re-launch.
As part of the company's re-launch efforts, Foxx is partnering with American food chain TGI Fridays to offer customers a BSB-infused sauce and cocktails.
Jamie Foxx is a long-time Fridays customer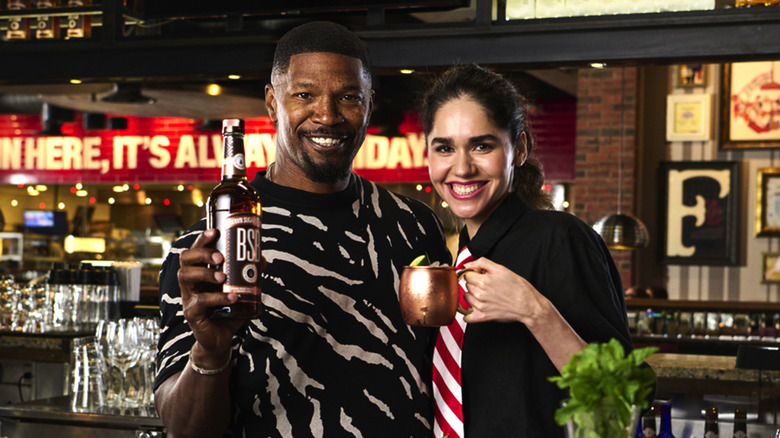 TGI Fridays
The restaurant, celebrated for its iconic loaded potato skins, has been in business since 1965, making it older than other casual American fare chains like Chilis, Applebees, and Ruby Tuesday (Per TGI Fridays). Foxx's decision to team up with TGI Fridays is no random decision. According to a heartfelt statement shared in a press release, Foxx said, "I've been going to TGI Fridays my whole life. I have so many great memories — from trips with my mom to celebrate special occasions as a kid to post-show celebrations with friends and family after my comedy shows."
Together, Foxx and TGI Fridays have crafted a specially-made barbecue sauce infused with BSB bourbon and inspired by Foxx's favorite flavors. Alongside other new autumnal menu additions, TGI Fridays will now offer three dishes featuring the sauce — Fridays Big Ribs, Bucket of Bones, and the Wings Roulette Platter. Of course, what's a good meal without something to wash it down? The restaurant will also begin stocking the delectable liquor behind its bar for its new specialty cocktail aptly titled Foxxy Mule.
Next time you're craving some fall flavors, head down to your local TGI Fridays and enjoy the cozy flavors of Foxx's BSB bourbon.