The Vintage Reba McEntire Dish With A Dangerous Edge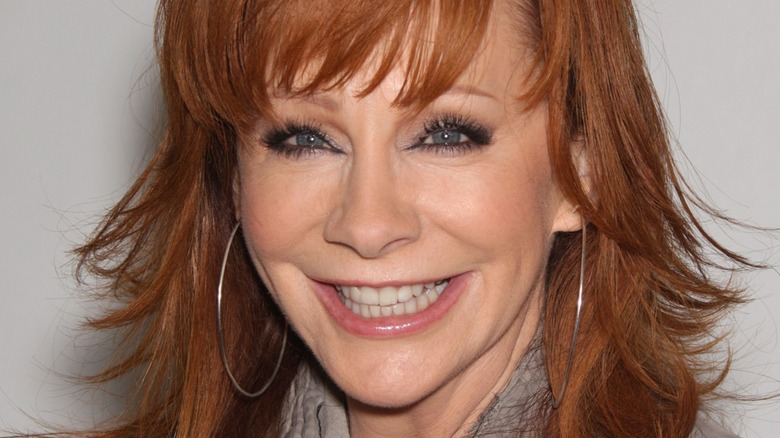 Kathy Hutchins/Shutterstock
Country music star and all-American cowgirl Reba McEntire is a matriarchal figure to southern women across the nation. Celebrated for her warm, signature twang in hit songs like "Does He Love You" and "Consider Me Gone," the singer-songwriter has earned 15 American Music Awards, seven CMAs, two Grammy Awards, and many more. The star of her own show, "Reba," from 2001 to 2007, McEntire is a multi-talented entertainer who puts the spirit of the south in everything she touches.
A product of the '80s, McEntire has sported some iconic looks in the past. From puffy sleeves to pixie cuts, the artist has some quintessential throwback get-ups, per People. In 1986, for example, the country music maven flaunted dazzling sequins and teased curls for a spot in the celebrity cookbook "Cooking with Country Music Stars," Eater reports. Perhaps more surprisingly, though, she also contributed a recipe to the collection of retro recipes from some of country music's greatest performers: her "poke salad." But if you're thinking of fresh Hawaiian fish, sushi rice, and spicy mayo, think again — McEntire's dish is far more dangerous than your average poke bowl.
Reba McEntire's poke salad delight is made with poisonous greens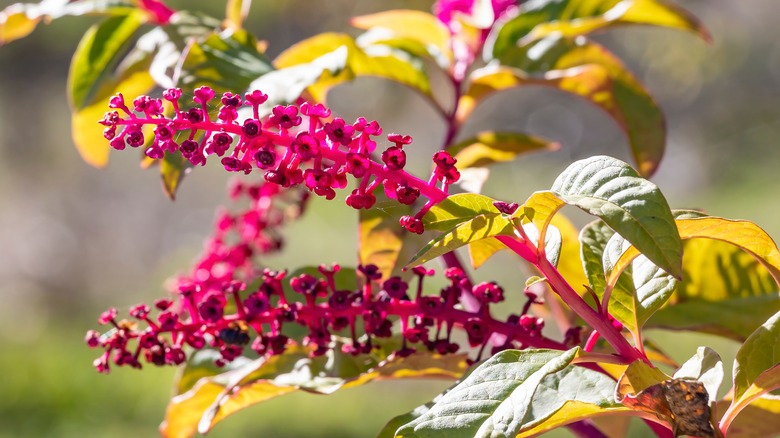 agsaz/Shutterstock
A family woman both on set and in real life, McEntire learned to cook for her own while she was growing up on an Oklahoma ranch. From Mexican cornbread to good ol' fashioned red beans and rice, her taste is simple and timeless (via Eater). Her poke salad, however, has less to do with fish and more with the poisonous pokeweed that grows wild across North America. It's commonly eaten not only for its flavor, but also for the belief that it fights infections, inflammation, and cancer, which has not been sufficiently backed by research. When not cooked properly, the plant can cause a slurry of unpleasant symptoms ranging from dehydration to headaches and even seizures, according to the Vanderbilt University Medical Center.
In order to avoid pokeweed poisoning, VUMC says you should boil the leaves for five minutes, drain them, and boil them a second time in a new pot of water to fully eliminate the plant's toxins. Likened to the taste of other cooked greens, pokeweed is an, er, adventurous alternative to collard and mustard greens. To that end, it's safe to say that fierce country women like Reba McEntire really are built different.