Aldi Customers Are Baffled By These Fall Ice Cream Sandwiches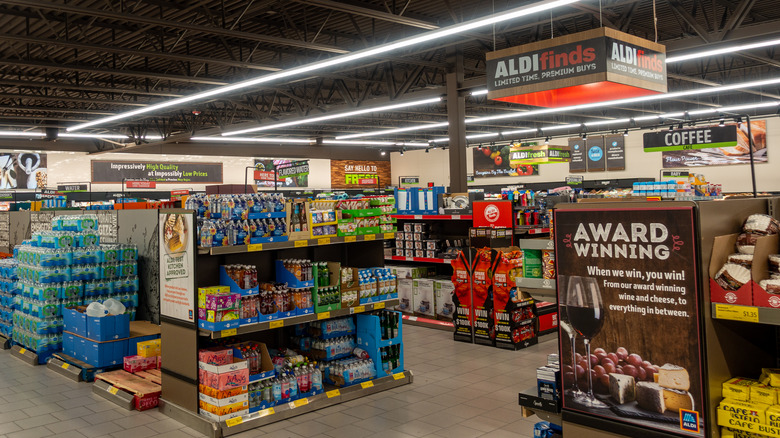 Joni Hanebutt/Shutterstock
There's no escaping the many flavors of fall. It seems that wherever you go, grocery stores are stocked with the latest pumpkin spice, apple cider, cinnamon, and maple flavored foods and treats to bring home. According to a survey conducted by Honey Baked Ham and OnePoll, 69% of consumers also agree that fall has the best seasonal flavors (via Fona). While you can find a lot of great fall offerings just about anywhere, Aldi has been a place to never let us down when it comes to seasonal foods. After Aldi teased its fall food lineup on Twitter, the popular grocery store chain has continued to launch a number of delicious seasonal offerings, including fall-shaped pasta, autumn trail mix, Benton's Maple Leaf Crème Cookies, and more.
Although ice cream may not initially come to mind as the best fall dessert, you may want to think again after Aldi stocked up on fall ice cream sandwiches.
Mini pumpkin spice ice cream cookie sandwiches
According to a recent Reddit thread, "Pumpkin season is here" and thriving at Aldi. The grocery store chain has added a delicious new fall dessert to its fall food lineup: Mad Minis Pumpkin Spice Ice Cream Cookie Sandwiches. The package comes in a pack of 12 vanilla cookies with pumpkin flavored ice cream. The front of the box also states, "No junk!" it appears the product is made with real cane sugar and has little preservatives and additives. Each ice cream cookie sandwich contains 60 calories. 
"I want to look for these tomorrow. I initially thought this was the trader joe's sub," commented one Reddit user. "I saw these over the weekend and resisted the urge. I may have to go back for them," said another person. "60 calories is pretty low, what are the other nutritional facts? Or are these two bite ice creams sandwiches? Ngl, I want them lol," said another user.
Fans seem to be thankful that Aldi packaged their favorite pumpkin spice flavor into little bite-sized ice cream cookie sandwiches.