The First Dish Rachael Ray Ever Cooked On The Food Network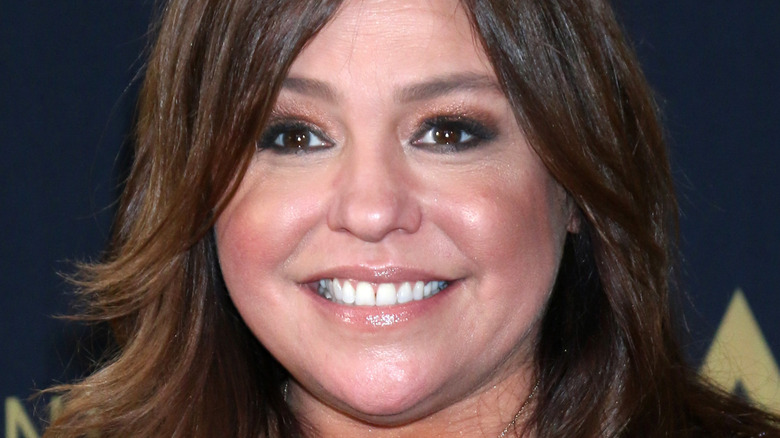 Kathy Hutchins/Shutterstock
With fame sometimes comes fortune, and food celebrity Rachael Ray has become one wealthy TV personality. Ray's 26 cookbooks (per Rachaelray.com), TV shows, and spinoff projects, like an extensive line of kitchenware and home design goods, allow a luxurious lifestyle that includes an Italian dream home. She sure doesn't have to think "$40 a Day" these days, as her estimated net worth is about $100 million (per Celebrity Net Worth). But let's not forget the food world superstar has a humble backstory peppered with hard work.
Ray grew up in the Adirondack Mountains of upstate New York, where her mother managed area restaurants and came home to cook for her family (per ABC News). The future TV personality learned by watching her mother and working in restaurants and might be the first to tell you she rose to Food Network fame minus a chef's toque and culinary school degree. While working as a food buyer for a gourmet market in Albany, Ray introduced "30-Minute Mediterranean Meals" classes that caught on with time-challenged customers and paved the way for a regular cooking segment on the local CBS affiliate's evening newscast (per Food Network). A book of quick and easy recipes followed, and it somehow got the attention of "Today" show host Al Roker. The Food Network liked the "30-Minute Meals" concept and soon came courting the then-darling of local TV.
Ray's Food Network debut featured one of her mother's shrimp recipes
It was a moment defined by memories. Rachael Ray told Food Network, "My first vivid memory is watching my mom in a restaurant kitchen." When people first watched Ray cook the network, she used one of her mother's recipes: shrimp stuffed with fresh sage leaves. The shrimp is wrapped in pancetta and fried, then finished with a lemony butter sauce spiked with vermouth. No problem, right? Wrong. She nearly went down in flames (per Rachael Ray Show).
Ray wasn't new to cooking on camera, but she decided to do a recipe test in the kitchen of host Emeril Lagasse. While she was speaking with directors and producers, her crew preheated the pan she would use to cook her dish. It was apparently on the burner for a while, because when Ray added oil to the pan, "10-foot flames shot right up to the ceiling." You could call that a fiery start to a dish and to a long-lasting Food Network career.
When the celebrity cookbook author remade the dish on the "Rachael Ray Show," there was no need to grab a fire extinguisher. Ray noted the dish is made with a "fortified stock" using the head and peels of the shrimp, along with wine and store-bought stock, for added flavor. After the shrimp cooks, Ray adds vermouth to the pan and lets it evaporate before, in the words of her mother, "glossing the sauce" with butter.