Brandi Carlile Inspired Courteney Cox To Change Her GOAT Steak Recipe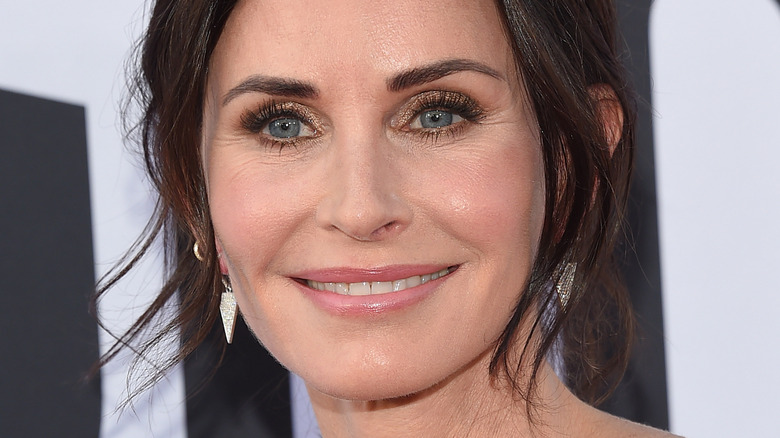 DFree/Shutterstock
When most people think of Courteney Cox and cooking, their minds might immediately jump to the character Monica Geller, a chef that Cox played on the hit sitcom "Friends." Cox inhabited the role of Monica for 10 seasons of "Friends" until it went off the air in 2004, but lately, it seems like the actor has been channeling Monica in the kitchen on a regular basis yet again.
Cox is an avid kickboxer, usually eats a ton of veggies, and tries to keep things low-carb in the kitchen (via Women's Health Magazine). But that doesn't mean that she's afraid to have fun with food. In the past, she's shared recipes on Instagram for things like "Alabama Sushi" (a turkey and cheese deli roll seasoned with condiments and Fritos), and her 4-ingredient lemon pasta recipe was published in EatingWell. But the steak recipe Cox recently posted to Instagram might be her greatest yet, and it's all thanks to a surprising inspiration. No, not Monica Geller — country music star Brandi Carlile.
Carlile's secret ingredient is coffee
Courteney Cox just shared a steak recipe on Instagram that she says was given to her by singer Brandi Carlile, and the actor swears up and down that Carlile's recipe is so good, she started using it instead of her previous GOAT recipe. How did this unlikely duo even start collaborating in the kitchen? The two first became friends after Cox shared a video of herself singing Carlile's "The Joker" on social media, which impressed Carlile enough to reach out (via Entertainment Weekly). Now, Carlile has shared her secret ingredient for great steaks with Cox: freshly ground coffee and brown sugar.
Cox puts her own spin on the recipe, too, using truffle-flavored olive oil on the steaks before coating them in the coffee and brown sugar. The steaks cook up in minutes on the grill, or you could try what some call the best way to cook steak, the "reverse sear" method. Whichever preparation you choose, the coffee-steak flavor combo is one that professional chefs also love. Bobby Flay's Mesa Grill recipe for coffee-rubbed steak appeared in Bon Appétit, and Reader's Digest even called coffee the unexpected ingredient that will change your steak forever. Thankfully, Carlile and Cox are doing their part to spread the gospel of coffee and steak even further, so we can all enjoy the fruits of their knowledge the next time we have a hankering for beef.