Courteney Cox's 'Alabama Sushi' Recipe Isn't What You Think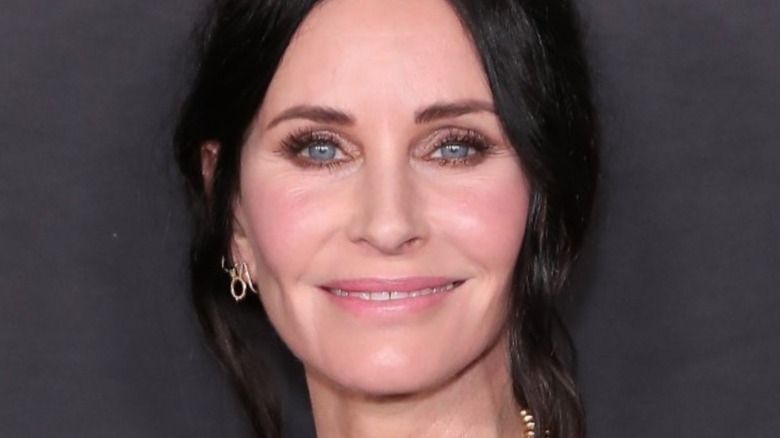 Leon Bennett/Getty
Courteney Cox is perhaps best known for her "Friends" role as Monica, the wound-too-tight chef whose culinary creations included addictive Christmas candy, unenthusiastically received birthday flan, and lots and lots of lasagna. So is Cox a real-world foodie? Well, her fitness routine may not allow her much leeway to exercise her inner Monica these days, as she admitted to New You a few years back that she's adopted a mostly low-carb diet that's heavy on stuff like kale, broccoli, and asparagus.
Cox's carb-shunning ways still permit her to eat lots of meat, though, something that allowed her to appear on a recent wing-filled episode of "Hot Ones." Apparently she acquitted herself fairly well, making it to the Last Dab while barely pausing the flow of chitchat about her life, iconic sitcom role, and upcoming projects. She also shared with the "Hot Ones" crew a recipe they posted on the First We Feast Instagram. It wasn't for anything particularly hot, but was instead for an, umm, interesting regional specialty she calls "Alabama sushi." Spoiler: There's no fish in it, raw or otherwise.
Instagrammers were kind of grossed out by Cox's share
To make Cox's "sushi," you start with a few slices of deli turkey (she uses honey maple bought from Ralphs). Squirt it with some yellow mustard and mayo, top the condiments with a small piece of havarti cheese, add an avocado slice if you're feeling particularly millennial, and then add some Fritos for the crunch factor. Roll up the turkey, then slice the faux-shi into pinwheels.
What would Monica think? We can only imagine, since her scriptwriters have long since moved on, but real-life Instagram users weren't too impressed with the recipe. One person called it "prison food," while another suggested the dish might have found favor with Snoop Dogg. Someone from Alabama said "it would take many beers before this seemed like a decent idea," while another user, familiar with the dish, said, "People get stoned to the bone and make this all the time and have the sense to not call it sushi." Yeah, even if you hit this with some of that zillion-on-the-Scoville-scale sauce, we think we'll give this not-so-special specialty a pass.