Pizza Hut Taiwan Is At It Again With Its Halloween Pizza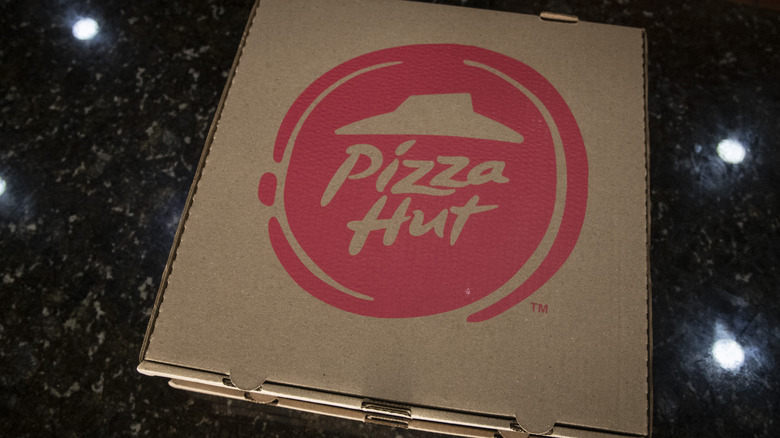 Carlos Becerra/Getty Images
Those of us who love pizza really don't need science to explain our passion for this delectable meal, but we'll get science to explain anyway. Per The Washington Post, our love of pizza can actually be broken down with the help of food chemistry. First, there is the way pizza toppings — which can include cheese, pepperoni, sausage, and tomato — are filled with a substance known as glutamate, which can act as a trigger that will make our mouths happy. Then there is the way a pizza is cooked. A fully baked pizza is caramelized and has come alive thanks to the Maillard reaction, which causes cheese to become brown, crisp, and melty, adopting not just a new flavor but also a different mouthfeel (per Steel City Pizza).
But what happens when a pizza isn't quite done up the way we expect? Instead of the usual pepperoni, cheese, and tomato sauce, what if it's topped with clams, garlic, chicken, as well as a sesame-filled mochi known in Taiwan as a tangyuan? It's probably a sign that something is cooking in Taiwan, where global chain Pizza Hut has debuted some of its most unusual flavors and toppings to date.
Pizza Hut Taiwan's latest limited time offer is an eye-popper
In a tribute to Halloween this year, Pizza Hut Taiwan has decided to debut a sweet-and-savory pie combo that's shaped like a spider web and decorated with a black garlic mousse to mimic the strands of a web. Along the pointed edges of the "web" are sweet, whole sesame mochi, dotted with black spots which are meant to resemble eyes (per Facebook).
Taiwan News says the pie can boast of flavors that are used as amulets against evil — whether it's "the salt used in the clam chicken soup to the garlic, to the glutenous rice used to make tangyuan [sesame mochi]," because the flavors are associated with different mythical ways to dispatch evil creatures. And because this is Pizza Hut Taiwan, know that this is not the first time it has come up with an otherworldly flavor to mark Halloween; last year's creation was made with curry sauce, Japanese tonkatsu, and mashed potato.
Pizza Hut Taiwan is known for its unusual pies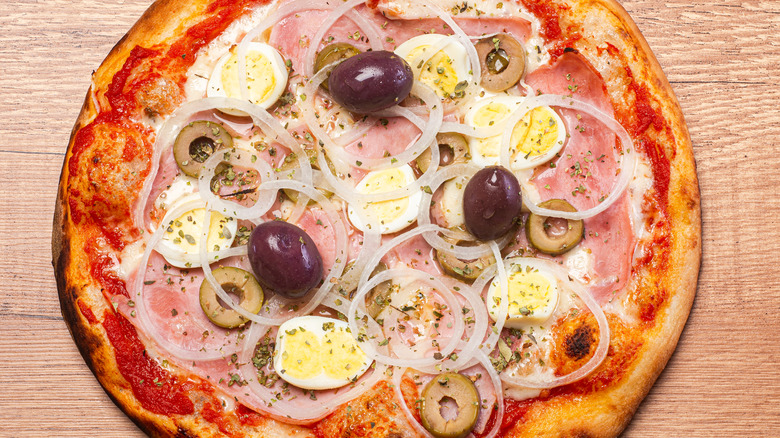 BY BRAZIL/Shutterstock
None of this should come as a surprise to customers who are accustomed to enjoying pizzas topped with cilantro, century egg, and pig blood cake, or the "king of fruit" known as durian and Taiwan took to Facebook to declare how much they were looking forward to trying the new flavor. Some even took to Facebook to say the seasonal flavor was tasty, while another user pointedly asked for a reason why Italy shouldn't go to war with Taiwan, presumably over the way it desecrated the classic Italian dish.
But yet again, Pizza Hut's latest offer stays true to the chain's marketing strategy, which general manager Antony Leung describes as "leverag[ing] social listening to understand customers' preferences. Online data also told us that Taiwan customers value local flavors and a food sensation," per Bloomberg. This is why we shouldn't expect Pizza Hut Taiwan to come up with a plain vanilla, seasonal pizza anytime soon — unless vanilla can be dressed up in an out-of-the-world way and which manages to turn heads on social media, that is.