Why Halloween Baking Championship Added An Unexpected Rule
"Halloween Baking Championship," the creepy-crawly sibling of "Holiday Baking Championship," has thrown a proverbial wrench in the works this season with an unexpected rule change.
Season 8 premiered on September 12, 2022, and featured returning judges Carla Hall, Zac Young, and Stephanie Boswell. Comedian John Henson returned as host, and a fresh batch of 12 bakers entered the Hotel Henson. Over the seasons, the show has seen a rotation of judges and hosts, but one mainstay has been Hall, who has judged each season of the show. Judges Young and Boswell have been with the show since season 6.
Not only must bakers' creations taste delicious, but they should also look the part. Over the seasons, bakers have created creepy nurseries, haunted gingerbread houses, and creepy clown desserts. Some of the results are stomach-turningly realistic — so realistic that the show comes with its own warning label. In fact, one contestant's final product was so convincing that Hall "had such a hard time disassociating" a chocolate cockroach from the real thing (per The Wrap).
But getting to the end with their realistic, Halloween-themed bakes all depends on how well the bakers can navigate the new rule that dictates gameplay.
The new rule that changes the competition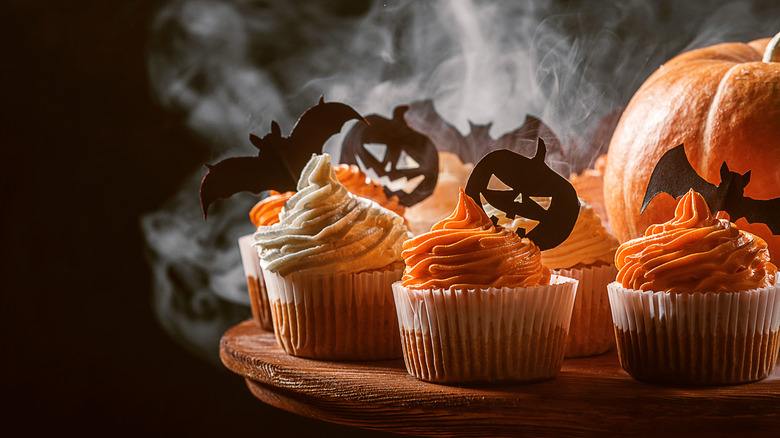 Mikhaylovskiy/Shutterstock
Before the rule change in the spooky Halloween cooking show, it operated much the same as any other cooking competition. Bakers went through the first round, called the "thriller," where they are set a small task and a time limit. The winner of the thriller round gets an advantage in round two, called the "killer." The tasks are larger and more elaborate and time-consuming. The worst-performing baker is eliminated at the end of the episode. 
However, the new rule, which was introduced in the second episode of this season, employs a sudden death bake-off. The baker with the least impressive bake in the thriller sits out the killer round. Then, they'll face the last place baker from round two head to head. This bake-off will determine who goes home (per Food Sided).
It's an interesting rule change, which will hopefully see bakers put more effort into their first-round bakes rather than crossing their fingers for a good outcome. However, some Redditors don't care for the rule change, seeing it as a waste of time for the baker who isn't competing in round two.
We'll be watching to see how this rule will influence the baker's strategies going forward.