Best Masticating Juicers Of 2022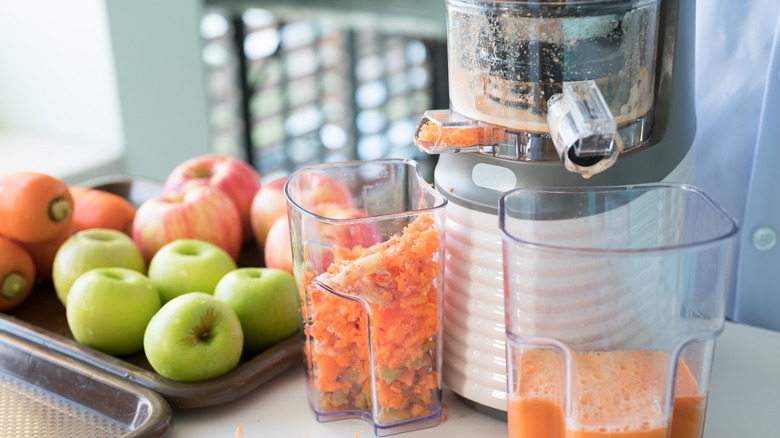 Komsan Loonprom/Shutterstock
We may receive a commission on purchases made from links.
If you're wondering what a masticating juicer is, and what separates it from the rest of the pack, look no further. Both centrifugal and masticating juicers force the produce (like apples, carrots, or cucumbers) against a sharp mesh screen to extract all the nutritious juices. Centrifugal juicers — or "fast juicers" — are the more popular of the two, because they work quickly and efficiently and are relatively inexpensive (via Good Nature). Their motor runs around 6,000 to 14,000 RPM, or more. These high-powered motors don't last too long and typically come with a 1-year warranty.
Masticating juicers — also known as "slow, gear, or auger juicers" — crush produce at a much slower speed than their centrifugal cousin (around 80 to 100 RPM). The produce is then pressed against a filtering screen that makes clean, more nutrient-dense juice, according to Extreme Wellness Supply. They work well with all types of produce, including leafy greens and some wheatgrass. Masticating juicers also yield more produce than their high-speed counterparts.
Masticating juicers are frequently called "cold press juicers," but they technically aren't. While the two are pretty similar in what they create, a cold press juicer works in two steps: grinding (or chopping) the produce, and then pressing the salsa-like remnants under extreme pressure.
How we chose the following masticating juicers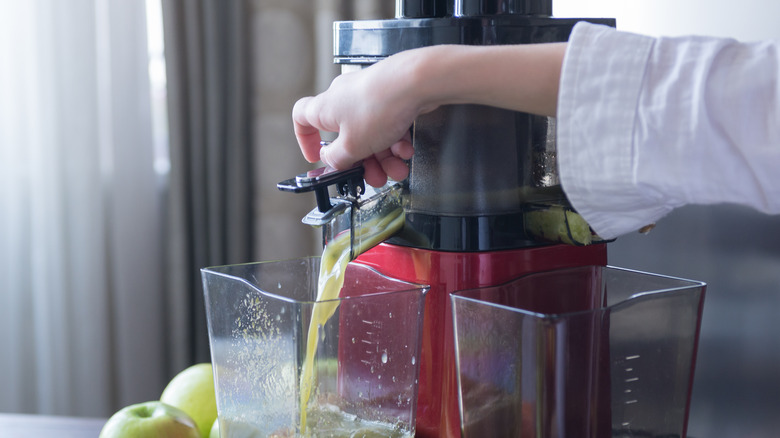 ElenaMorozova/Shutterstock
Masticating juicers come in all shapes and sizes, so there's a lot to take into consideration when searching for the one that's right for you. In addition to reviews from trusted sources — including, but not limited to, input from everyday consumers on global merchant websites like Amazon and Wayfair — we also sought out commentary from trusted authority figures and small businesses websites that specialize in all things related to juicing and kitchen gadgetry.
Auger juicers are available in two different orientations (vertical and horizontal), and obviously also come in different sizes. The dimensions vary based on the power and speed that the internal motor runs at (the RPM). Some slow juicers also have little bonus features, like a reverse function to prevent clogging, a drip tray, or a pulp separator, which we also took into account when creating this best of list. Price always plays a part in determining which juicer makes the cut, but also how easy it is to assemble, disassemble, and clean. Because, let's face it — if you've ever owned a juicer, you know that cleaning it can be a chore. (A very necessary chore.)
Best overall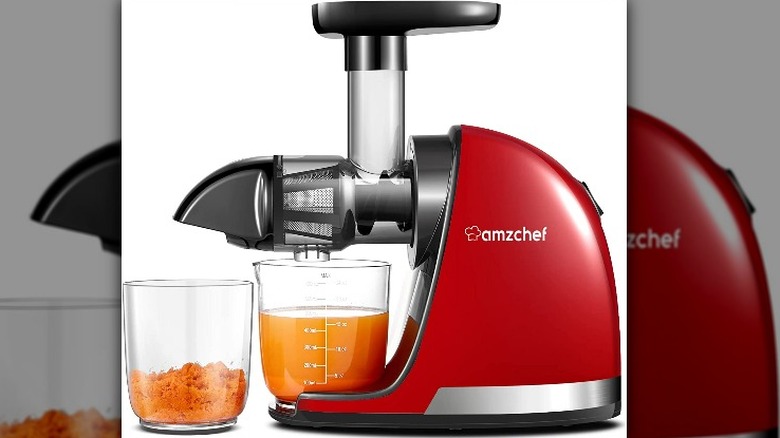 Amazon
With over 6,450 reviews, and 70% of customer rating it five out of five stars on Amazon, the AMZCHEF Masticating Juicer places best overall on this particular list. This cold juicer uses a 7-spiral system to break down produce, which makes the end product more nutrient-dense and pulp-free, and also provides a much higher yield (when compared to other auger-centric juicers). Though home goods review blog Veranda Interiors notes that the AMZCHEF Masticating Juicer also produces more foam than some of the other auger juicers on the market, they note that it's incredibly quiet (80 RPM). Amazon reviewers confirm that this powerful slow juicer won't make you cringe when you operate it, especially when compared to a centrifugal juicer, and that it's also easy to disassemble and clean.
Tech and gadget blog Tech Radar totes that, although there's no drip tray, and the feeding chute is a bit on the small side, the AMZCHEF Masticating Juicer is easy to clean and is overall a good value for its lower price. The juicer can also be used to slice, grate, and dice cheeses and meats, and also works as a meat grinder (the attachments are sold separately). It's available in 10 different colors.
If you're looking for a sturdy, high-yield auger juicer that's also beginner-friendly, the AMZCHEF Masticating Juicer is available on Amazon, starting at around $130.
Best budget
The Bonsenkitchen Masticating Juicer earns the best budget spot because we know that not everyone wants to throw down a substantial amount of money on a piece of kitchen juicing gadgetry right off the bat. This juicer rates a solid four out of five on Wayfair, with customers mentioning that it's simple to assemble, and lightweight, but incredibly durable (especially for its small size). Amazon reviewers confirm that it's a user-friendly juicer, with this first-time user stating that the Bonsenkitchen Juicer produced incredibly dry pulp, with other Amazon reviewers loving that it makes pulp and skin-free, super-smooth juice. When it comes to cleaning this gear juicer, it seems like a split decision — some Amazon buyers are befuddled by disassembling and cleaning, while others find it easy to clean.
Reviews blog Best Views Reviews rates the Bonsenkitchen Masticating Juicer seven out of 10, citing that it's easy to use and does a good job at producing a clean, pulp-free product, but that there are a few issues when it comes to breaking it down for cleaning.
If you're looking for a quiet, lightweight, and small footprint auger juicer that won't break the bank (but still excels at its job), the Bonsenkitchen Masticating Juicer starts at only $39 on Amazon, as of October 2022.
Best for beginners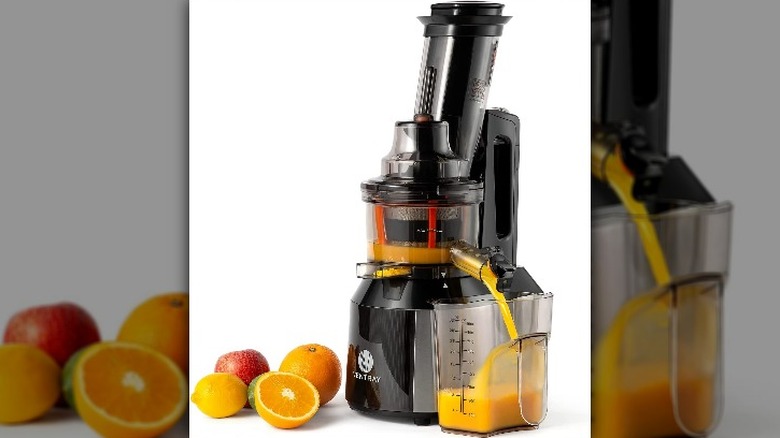 Amazon
One of the best features of the Ventray 809 Masticating Juicer is that it has a wide feeding chute, which makes it great if you hate having to break down your fruits and veggies before juicing. The Mommy Chronicles also notes that it has an improved seed and pulp strainer, which yields a smoother and cleaner finished product. If you want to add a bit of pulp, the Ventray 809 also has a rubber stopper that gives you more control over the amount of pulp you may (or may not) want to add.
Though this particular reviewer on the Ventray website notes that it was difficult to assemble and was rather heavy and not user-friendly, this Amazon reviewer states the opposite — that this particular cold juicer was easy to disassemble (though not necessarily easy to clean). Overall, customers on the 'Zon give favorable marks to the Ventray 809 Masticating Juicer, rating it 4.3 out of 5 stars, and like the fact that it doesn't take up much countertop real estate.
If you're looking for a powerful, quiet, and space-saving vertical juicer that also removes the produce prepping step, check out the Ventray 809 Masticating Juicer on Amazon, staring at $229.
Best splurge
With a 75% five-star rating on Amazon, a specialized twin-gear design to squeeze more juice from your leafy greens, and an impressive 12-year warranty, the Tribest Greenstar Masticating Extractor is perfect for experienced juicers (or those with cash to burn). This beefy horizontal juicer is not for those who have limited kitchen space (it's over 18-inches wide and 12-inches tall), and weighs in at a little over 17 pounds, as reported by Tom's Guide. But with size comes power — and super dry pulp, according to multiple Amazon reviewers — and The Best Juicer Guide states that Tribest Greenstar's Masticating Juicer will give you the highest capacity and best yield, when compared to other auger juicers in this price point.
The twin-gear design utilizes specialized magnetic and bioceramic augers that help reduce oxidation and produce more nutrient-rich juice, which Amazon buyers love because the juice lasts substantially longer. While The Best Juicer Guide points out that it is much more expensive than other auger juicers — and some reviewers claim it's not very intuitive — the Tribest Greenstar Masticating Juicer is overall easy to assemble and disassemble, clean, and ultimately saves you money in the long run. 
If you have some extra money from your rainy day fund, consider yourself to be a juicing aficionado, and also have room to spare, Amazon has the Tribest Greenstar Masticating Juicer for the wallet-busting starting price of $599.
Best for tight spaces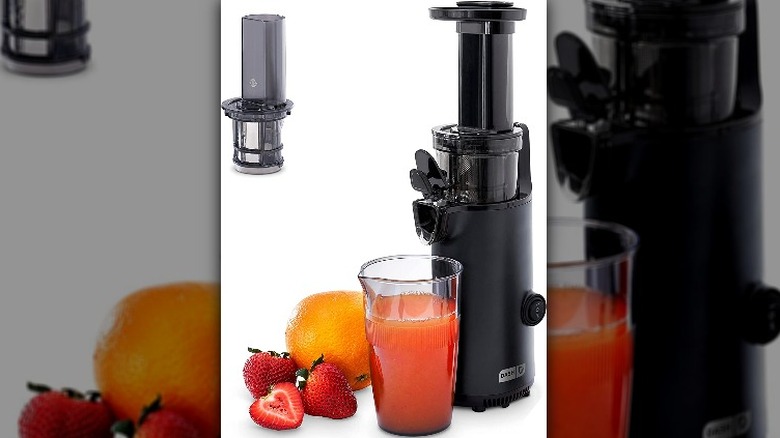 Amazon
Sometimes you want a high-powered juicer, but you just don't have the space. That's okay because the DASH Deluxe Compact Masticating Juicer has a diameter of 4.5 inches and tops off at 14 inches tall. Independent review blog Juicing Journal states that it's an affordable, space-saving option for those who enjoy high-quality juices and nut milks, but don't mind doing a little bit of fruit and vegetable prep work beforehand. Juicer Hack — another independent blog — explains that the feeder chute is a little less than 1.5 inches, but that doesn't stop it from producing high-quality juice.
Amazon reviewers note that the DASH Deluxe Compact Masticating Juicer also includes an attachment that allows you to make frozen sorbet, which is an extra plus that separates this little auger-juicer from its competitors. Other reviewers appreciate that it also has a reverse switch to prevent clogging, and that it's incredibly easy to clean. That being said, some Amazon customers warn that despite the reverse function, the DASH Deluxe Compact Masticating Juicer still clogs easily.
If you're low on space, but still love the idea of owning a high-quality, affordable, and easy-to-use juicer, you can find the DASH Deluxe Compact Masticating Juicer on Amazon starting at around $100, as of October 2022.
Best for nut milks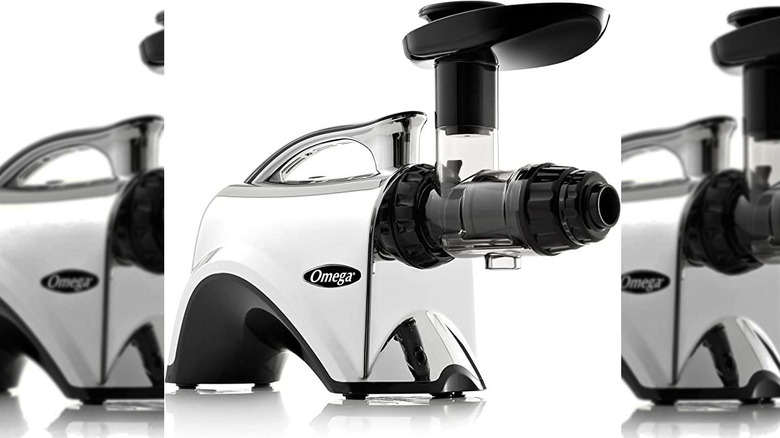 Amazon
If you're a fan of homemade nut milks, then it's time you checked out the Omega Nutrition Center. Not only is it a masticating juicer, but it excels in the world of nut milks, too. In general, the Omega brand is held in high regard when it comes to the world of juicers, as noted by the blog Viva Flavor. This particular model has a larger feeding chute (compared with previous generations) which eliminates the need to majorly prep your produce before sending it down the chute. It also boasts an impressive 15-year warranty. Juicing Journal also gives the Omega Nutrition Center high marks for its relatively quiet operation, as well as its ability to process food, grind coffee and spices, and make fresh pasta ... (and so much more!) 
Eighty-four percent of Amazon reviewers give it five stars, claiming that it's super easy to use, easy to clean, is incredibly durable, and also makes ice cream. On the flip side, some customers are a little hesitant to use the Omega Nutrition Center because it's not only a beast of a machine — roughly 13 pounds — but a majority of it is made of BPA-free plastic.
If you're looking for a juicer that excels at making juice (and pasta, and nut butter, and ice cream), but will also be your BFF when you're making your fresh Brazil or almond milks, this juicer has you covered.
At the time of this writing, the Omega Nutrition Center juicer is available on Amazon for $349.
Best for leafy greens and hard veggies
In general, masticating juicers are supposed to process pretty much all types of fruits and/or vegetables. That being said, some work more efficiently on cruciferous, leafy greens while others prefer roots. The Aobosi Slow Juicer plays with both, but truly shines when you show it a head of romaine or spinach. Juicing Journal notes that it's incredibly easy to use, as well as clean. It also totes an 80 RPM motor, which means it's relatively quiet, provides a high juice yield, and squeezes out a majority of the moisture, leaving bone-dry pulp.
The Juice Authority calls the Aobosi Slow Juicer a highly affordable and ultra-quiet masticating juicer, and also mentions that it comes with a two-year warranty. That being said, they also warn that you're going to have to do some produce prep work because of a smaller feeding chute, and that the Aobosi Slow Juicer can sometimes wobble if the pieces of produce are too big. With over 2,900 reviews rating it 4.5 out of 5 stars on Amazon, the Aobosi Slow Juicer is praised for its ability to process and pulverize greenery, and is an all-around great deal for the price.
If you're looking for a masticating juicer that enjoys chomping down on greens, without you shelling out too much green, then the Aobosi Slow Juicer should be your next purchase. It's available on Amazon starting at $130.
Best multipurpose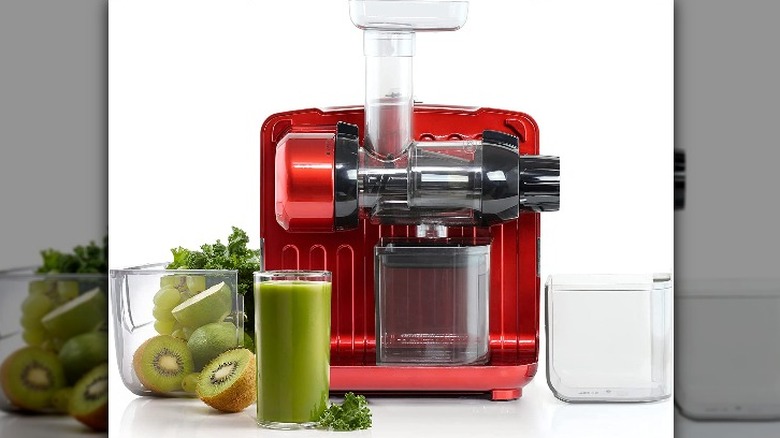 Amazon
The Omega Juice Cube was created for those who want one machine that can perform many talents. This isn't just a "it slices, it dices," gadget, either. The Omega Juice Cube, according to Juicing Journal, can perform seven different functions: it can grind coffee and spices, make pasta, nut milks, nut butters, sorbets, baby food, and can also process both soft foods and harder produce. It's also incredibly quiet, and even though it weighs in at around 14 pounds, has an incredibly small footprint. Additionally, it can also act as a food processor and meat grinder (attachment sold separately).
The Omega Juice Cube ranks 8.6 out of 10 on Don't Waste Your Money, citing that it still excels as a juicer, even though it wears many hats. However, they warn that the feeder chute is a bit small, so expect to do some food prep. Amazon reviewers love that it's compact and easy to clean. But some Amazonians warn that soft fruits can cause clogging.
If you're looking for a multipurpose juicer that can work with nearly all food groups, takes up only a small plot of kitchen counter real estate, and is easy to use and clean, this juicer should be on your radar. 
 As of October 2022, Omega Juice Cube is available on Amazon, starting at around $419.95.
Best for pulp control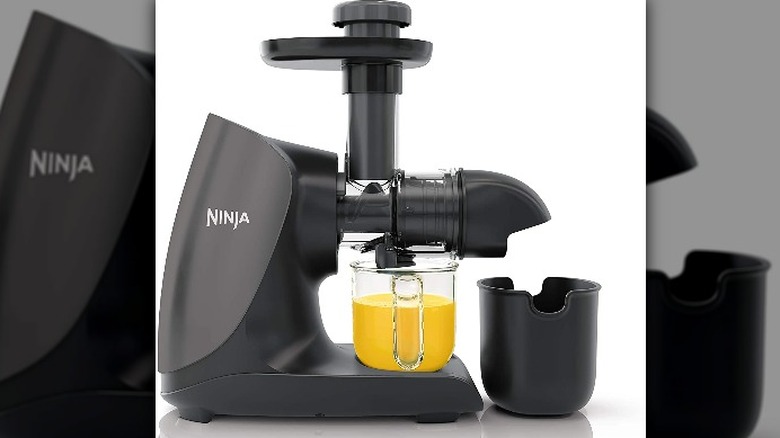 Amazon
The Ninja Cold Press Pro is, according to Homes and Gardens, a budget-friendly slow-juicer that's easy to use and clean (most of the pieces are dishwasher safe). The Juicing Journals notes that what separates this particular masticating juicer apart from the competition is that it comes with an interchangeable auger and three pulp filters, so that you can be in control of how much (or how little) pulp you want in your juice. That being said, it's worth mentioning that the feeder chute on the Ninja Cold Press Pro is a bit narrow, so expect to do some prep work before you actually begin your juicing journey.
CNN also notes that the Ninja Cold Press Pro is great for making juice for a few — it can process about 16 fl oz at a time. The news outlet also states that it's a bit of a chore to disassemble (but easy to clean, as previously mentioned). At almost 14 inches in length and 14.5 inches tall, the Ninja Cold Press Pro is a bit on the bulky side (it's a horizontal juicer), so if you're short on cabinet space (like one particular Amazon reviewer), then you might want to sit on this before taking the proverbial plunge.
If you're looking for a slow juicer that has power, gives you full control over your pulp levels, and is wallet-friendly, then check out the Ninja Cold Press Pro on Amazon, where you can purchase it starting at around $100.
Best for whole produce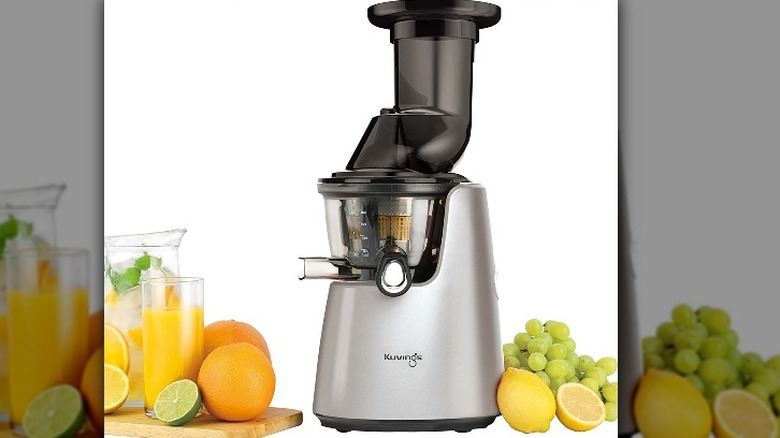 Amazon
The Kuvings Whole Slow Juicer Elite has been created for those of you who don't have time to sit and chop your produce. With a feeding chute that's big enough to process whole apples, Plant Based Pros also totes that this particular masticating juicer can also make smoothies and sorbets. It also comes with an unbelievable 10-year warranty. (That basically translates to "built to last.") The Juicing Journal praises the Kuvings Whole Slow Juicer Elite not just because of its 60 RPM (read: silent) motor, but that it also has a built-in cooling system to prevent it from overheating ... and an auto clean function.
That being said, the above independent review blogs all mention the same major issue: it's an investment appliance. (This is also echoed by multiple reviewers on Amazon.) Although the Kuvings Whole Slow Juicer Elite is a bit on the pricier side, the juice yield is substantial, and it processes produce quickly, especially for a slow juicer.
If you're looking for a fast, efficient, and high-yield cold juicer, and don't mind investing a little more money (especially with a 20-year warranty), then your Kuvings Whole Slow Juicer Elite is waiting for you on Amazon, with a starting price of around $450.