Heinz Just One-Upped Its Blood Ketchup With This Scary New UK Offering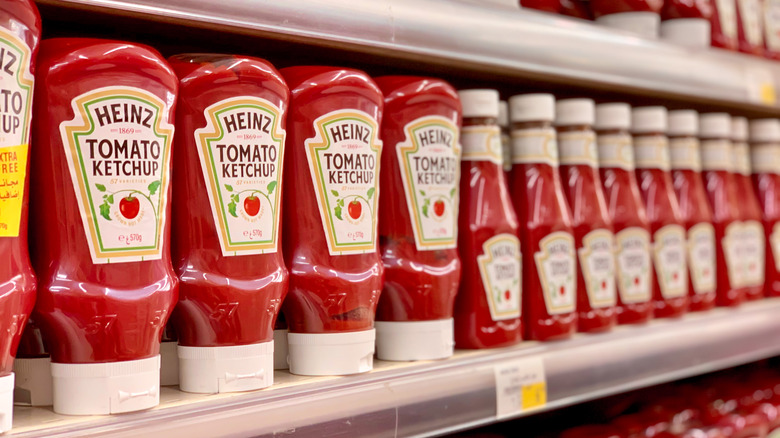 ChebanenkoAnn/Shutterstock
Scaring yourself with your favorite horror movies, getting dressed up in your favorite costumes, eating piles of delicious candy... There's no denying that Halloween is one of the most fun holidays of the year. With all the entertaining activities and delicious treats to enjoy during the month of October, we can't exactly blame Heinz Ketchup for wanting to get in on the fun this time of year.
Two years ago, the company launched its limited-edition Tomato Blood Ketchup, which just returned to store shelves just in time for trick or treat, according to a press release on Business Wire. This "creepy condiment" comes in a special Halloween-themed "tomato blood" bottle that will only be available in stores during spooky season. However, that's not the only treat Heinz has up its sleeve this autumn. The condiment company has just announced it will also be launching a new special-edition Scarily Good Black Garlic Mayo this Halloween season, according to Brand Eating. The only downside is this condiment won't be available on this side of the pond.
Heinz's Scarily Good Black Garlic Mayo is completely vegan
Heinz's new Scarily Good Black Garlic Mayo will be hitting shelves at selected ASDA stores across the United Kingdom just in time for Halloween, Wales Online reported. But this is no ordinary mayo. Unlike traditional mayo, which is made with eggs or egg yolks, along with oil and vinegar, this Black Garlic Mayo is made with a completely vegan recipe, meaning just about everyone can enjoy this spread, no matter what their dietary preferences may be.
This spooky sauce features Heinz's vegan mayo blend, seasoned with savory black garlic for an extra flavorful kick. As a finishing touch, the mayo is colored black as night, making it the perfect sauce for all your Halloween dips and snacks. This "scarily good" black mayo will be sold in three different Halloween-themed bottles bearing either a purple ghoul, orange pumpkin, or white skeleton on the label, according to Brand Eating. But unfortunately for vegan Halloween fans in the United States, the Scarily Good Black Garlic Mayo will only be available for a limited time exclusively in the United Kingdom, so Americans will just have to make do with Tomato Blood Ketchup as part of their Halloween condiment line up, at least this year.