The Unexpected Ingredient In Lidia Bastianich's Tuna Salad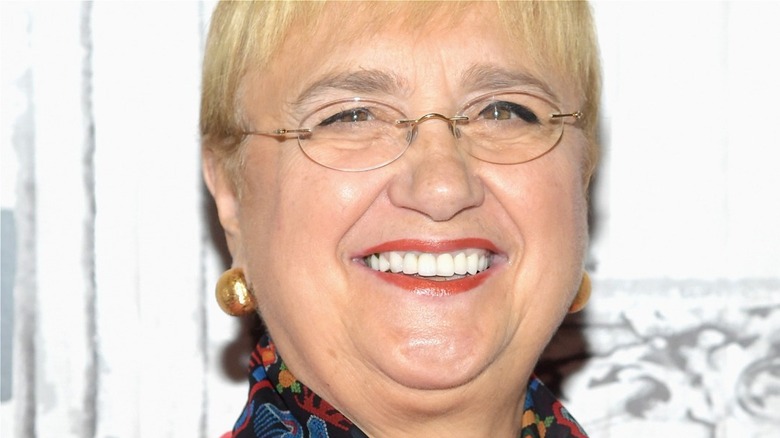 Ben Gabbe/Getty
Interestingly enough, the history of tuna salad is intricately woven into women's independence in the U.S. As middle-class women at the end of the 19th century began venturing out of the home more, restaurants started to cater to them, per Smithsonian Magazine. With more women entering the workforce, lunch counters began placing fish salads (popular among ladies) between two slices of bread to make lunch portable, accommodating a quick break.
Although fish salads were initially made with the scraps of leftover cooked fish, the convenient canned fish of the early 1900s ushered in the popularity of tuna fish salad. How you like your tuna salad is likely based on how Mom prepared it. Whether mixed with mayonnaise or dressed with vinegar, processed to a paste or combined with celery or red onion for crunch, Americans are divided on how they like this humble dish. (Can we at least all agree that a tuna melt is delicious, though?)
While many popular canned tuna brands in the U.S. are packed in water and double cooked — resulting in a dry product, according to Andrew Zimmern — European tuna or conservas are packed in oil and are therefore more flavorful. This is the preferred tuna of Italian chef Lidia Bastianich, whose tuna salad recipe incorporates other quality ingredients to create a dish bursting with texture, flavor, and freshness.
Bastianich's tuna salad has potatoes and other fresh ingredients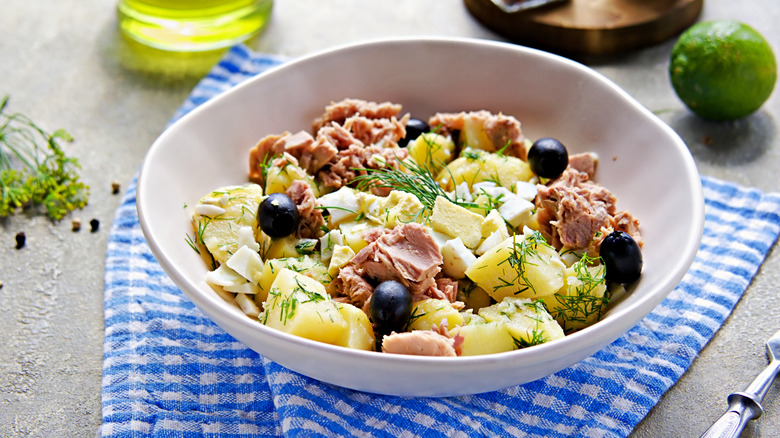 Natallya Naumava/Shutterstock
In her newest cookbook, "Lidia's a Pot, a Pan, and a Bowl," Bastianich shares her twist on classic tuna salad. According to Showbiz Cheat Sheet, the author's tuna salad combines the best elements of tuna, egg, and potato salads into one delicious dish.
Using oil-packed tuna, Bastianich adds bite-sized wedges of creamy, warm Yukon Gold potatoes and slices of hard-boiled eggs to create the "meat" of the salad. Flavored thoroughly with capers, red onion, sliced celery, and fresh parsley, the dish forgoes mayonnaise for a dressing of high-quality olive oil and red wine vinegar instead. According to Bastianich, the robust salad takes under 30 minutes to throw together, and it uses a single pot to boil the potatoes and eggs.
Italian salads often contain more aromatics than American versions and use a vinaigrette instead of mayonnaise. Food Network's recipe for Italian tuna salad also combines oil-packed tuna, parsley, and capers. Similarly, Italian-style potato salad is lighter than the Stateside dish, adding barely cooked, blanched green beans and a zesty vinaigrette to the mix.
These recipes are rustic, hearty, and meant to fill you up for hours, not just to have a supporting role on your plate. While Mom's tuna salad will always make us feel cozy, chefs today are upgrading tuna salad with fresher additions, and our local markets now offer all the ingredients to duplicate their recipes at home.