Mussels In White Wine Broth Recipe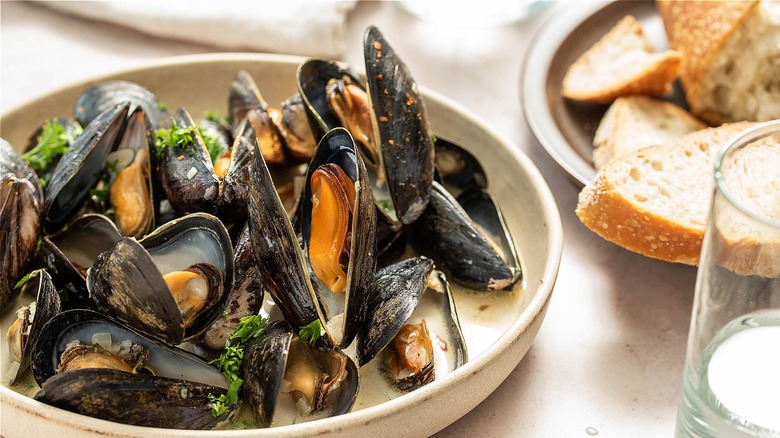 Michelle McGlinn/Mashed
In the bistros of Paris where mussels are a regional specialty, you'll see large bowls of mussels served with french fries, crusty bread, and a side of mayonnaise. The most popular variation of French "moules frites" is a rich and creamy white wine broth, used to steam the mussels and serve as a dipping sauce to the bread. It is fragrant and velvety and deceptively easy to cook at home in less than 20 minutes, making it a perfect meal for any day of the week!
Below, recipe developer Michelle McGlinn shares her easy recipe for mussels in white wine broth, inspired by one of her favorite Parisian meals enjoyed with a hearty helping of fries in a bistro in Montparnasse. Her secret is using clam juice to elevate the mussels' salty flavor and balance the fragrance of the wine. While your kitchen table may not be as luxurious as a Paris café, this dish will help bring the flavors of France home.
Gather the ingredients for this mussels in white wine broth recipe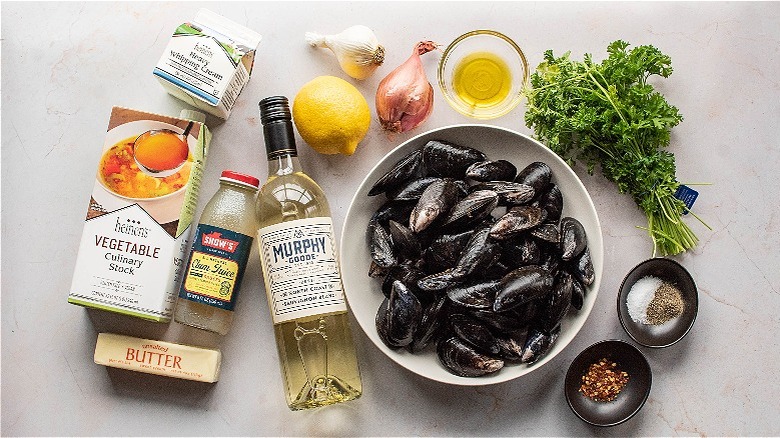 Michelle McGlinn/Mashed
Besides fresh mussels and white wine, you'll need a few key ingredients to make this delicious broth, starting with shallot and garlic. Shallot is the perfect delicate flavor for this broth, but you can use a sweet or yellow onion in a pinch. Add a dry white wine like sauvignon blanc or chardonnay, clam juice, lemon juice, and broth. We use clam juice in this recipe to add a salty, briney depth to the creamy sauce. You can find clam juice by the bottle near the canned tuna in the grocery store, or in Italian aisles or markets. You can also use canned clams and their juices for an especially fishy dish, or omit entirely if clams just aren't your thing.
After creating the base of the broth, add a few pats of butter, cream, and red pepper flakes to finish up the creamy sauce, sprinkling with fresh parsley for a colorful garnish.
Prepare the mussels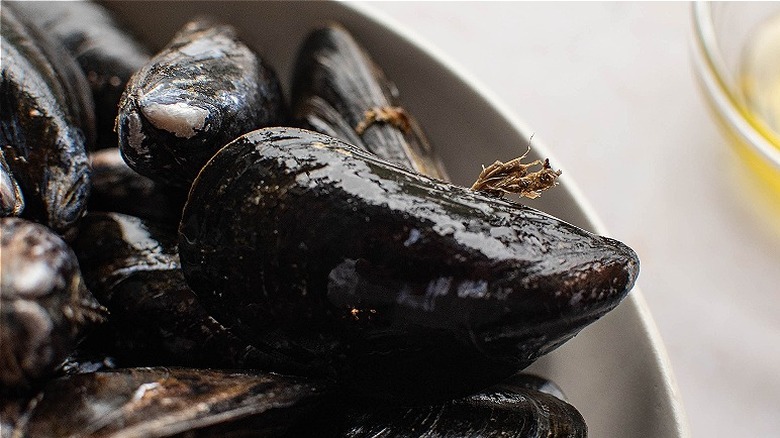 Michelle McGlinn/Mashed
Before starting the recipe, make sure your mussels are clean and ready to use. Buy good quality, fresh-smelling live mussels and use within a day to avoid spoilage. If you've bought a bag of mussels from the fishmonger, it is likely they are already clean and mostly debearded. Rinse the mussels and brush away any remaining sandy dirt, and pull away any remaining beards by pulling the hairy clump towards the shell's hinge until it breaks free. If any shells are open, tap them against the side of a bowl until they close — and if they don't close, discard the spoiled mussel.
Create the broth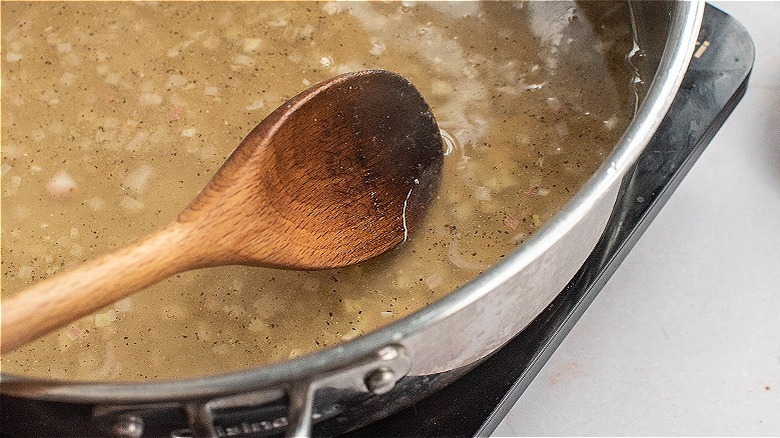 Michelle McGlinn/Mashed
Sauté the shallot and garlic until softened and fragrant, then add the wine, scraping any browned shallot from the bottom of the pot. Let the wine simmer until the liquid is reduced in half, then add the lemon juice, clam juice, and broth. You can use vegetable broth to keep this recipe pescatarian, or swap for chicken broth if preferred. Bring all the liquids to a simmer and season with salt and pepper.
Steam the mussels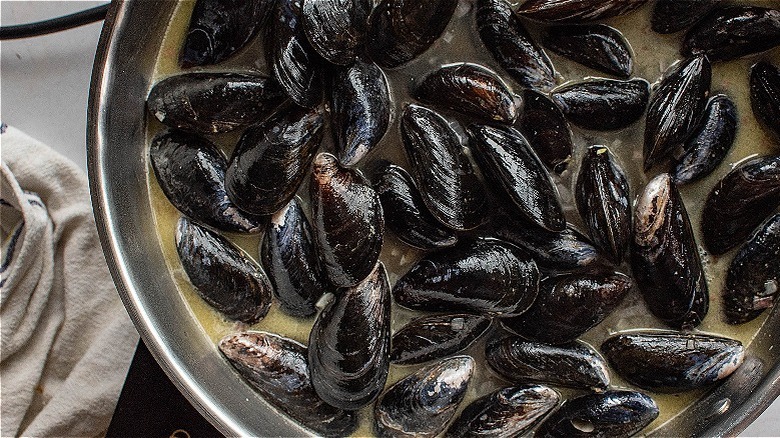 Michelle McGlinn/Mashed
Carefully add the cleaned mussels to the pot and cover. Steam until most mussels are opened; begin checking around 5 minutes and keep checking every 2 minutes until most mussels look done. Most batches will only have 1 or 2 unopened mussels, which you can still eat by prying open the shell once cooked. If after 5 minutes, none of the mussels are opened, try turning the heat up slightly.
Add cream and serve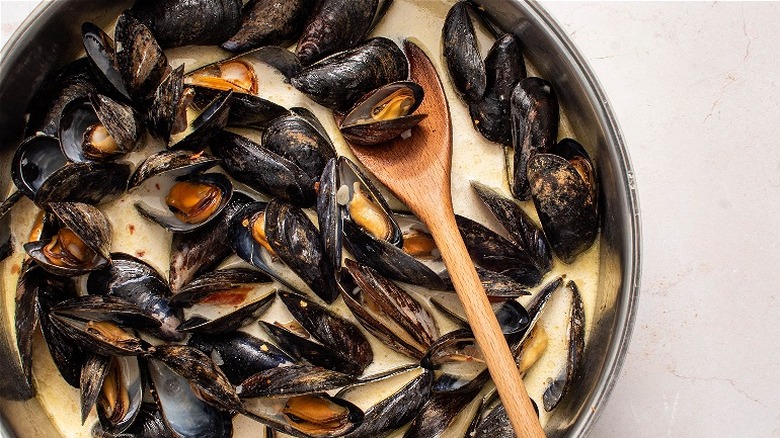 Michelle McGlinn/Mashed
You can serve the mussels as-is, or turn the broth creamy by adding a splash of heavy cream. Gently stir the cream in between the mussels and remove from the heat. Sprinkle red pepper flakes and parsley over top, and serve with crusty bread to mop up the delicious cream broth. You can also serve this with arugula salads and roasted vegetables, or toss pasta into the broth for a light and easy pasta dish.
Leftovers aren't as hard to keep as you'd think: Save the mussels in their shells or remove them for easier storage. Reheat in the broth gently on the stove or in the microwave until warm. Leftovers keep in the refrigerator for 2 to 3 days.
Mussels In White Wine Broth Recipe
The clam juice in the broth heighten the mussels' salty flavor and complement the flavors of the white wine, making this a decadent dish for your seafood feast.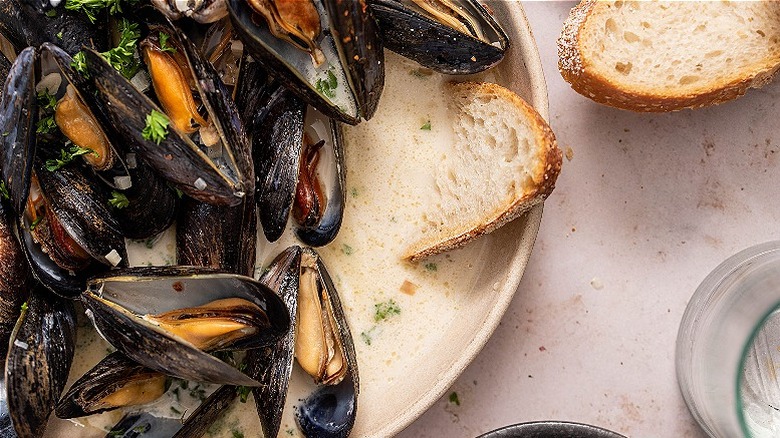 Ingredients
1 pound mussels, cleaned and debearded
¼ cup olive oil
1 shallot, finely chopped; about ¼ cup chopped
3-4 garlic cloves, minced
1 cup dry white wine
¼ cup clam juice
Juice from half a lemon; about 2 tablespoons
1 cup vegetable or chicken broth
3 tablespoons butter
½ teaspoon salt
½ teaspoon pepper
½ cup heavy whipping cream
1 tablespoon red pepper flakes
¼ cup chopped parsley
Directions
Heat olive oil in a deep pot or skillet over medium heat. Sauté the shallot and garlic until softened, about 2 minutes. Onions may start browning on the bottom of the skillet.
Pour wine into skillet, scraping any browned bits from the bottom of the pot. Bring to a simmer and reduce by half, about 5 minutes.
Once reduced, pour in the clam juice, lemon juice, and chicken broth. Bring to a simmer.
Add the butter and stir into the warmed broth until combined and glossy. Season with salt and pepper.
Add the mussels to the broth and cover. Steam until most mussels are opened, 5 to 10 minutes. Check after 5 minutes; if mussels are still closed, cover again and heat until mussels are mostly opened.
Stir in the heavy whipping cream and red pepper flakes. To serve, sprinkle with chopped parsley. Serve with crusty bread or pasta.
Nutrition
| | |
| --- | --- |
| Calories per Serving | 981 |
| Total Fat | 73.1 g |
| Saturated Fat | 29.8 g |
| Trans Fat | 0.7 g |
| Cholesterol | 194.4 mg |
| | |
| --- | --- |
| Total Carbohydrates | 27.1 g |
| Dietary Fiber | 2.2 g |
| Total Sugars | 8.0 g |
| Sodium | 1,532.8 mg |
| Protein | 35.0 g |