The Best Cheap Sparkling Drinks To Order At A Bar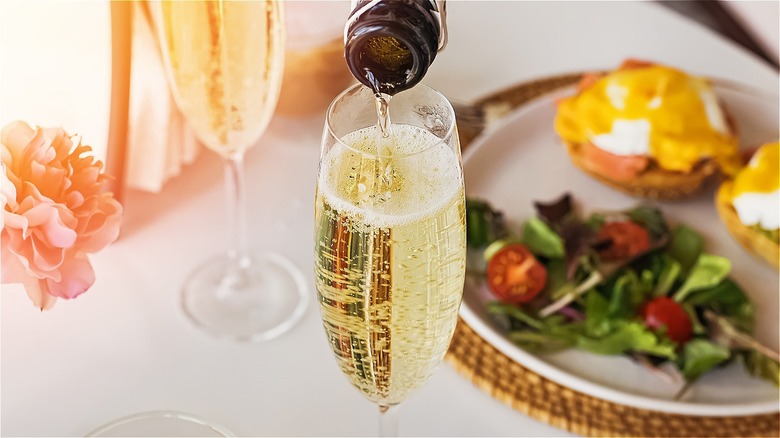 Chiociolla/Shutterstock
If you're like Christie Brinkley, you just may agree that "life is too short to not have oysters and Champagne sometimes" (via Quote Fancy). Though a celebratory occasion isn't necessary to enjoy a glass of chilled Champagne, it may be the first drink many reach for after getting a promotion at work or when ringing in the new year. According to Bottled Prices, however, it isn't the least expensive option by any means, with prices for Champagne starting at $40 per bottle.
Luckily, there are cheaper alternatives for when you want to imbibe in something a little bubbly. For those looking to go the sans-alcohol route, one option is sparkling cider. Back in 2015, The Washington Post did a taste test of several affordable non-alcoholic sparkling ciders, revealing that R.W. Knudsen Family Sparkling Crisp Apple Cider was the judges' preferred cider, with one evaluator describing it as having a "decent sweet-tart balance." 
But for anyone looking for something sparkling that contains alcohol but is cheaper than Champagne, a different drink may be in order.
According to an expert, some sparkling wines are a bargain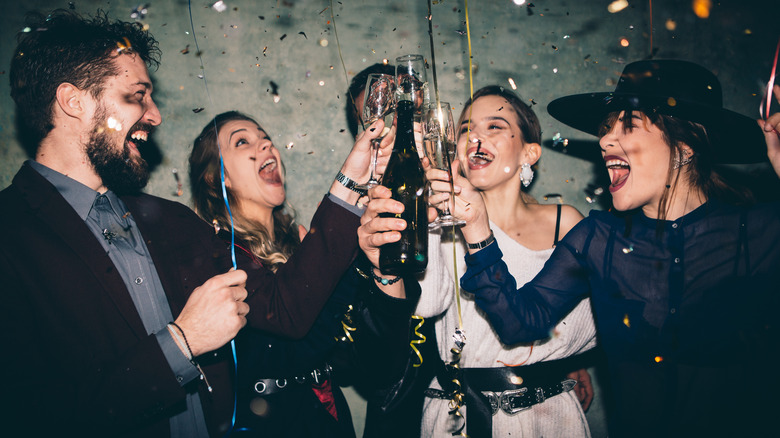 astarot/Shutterstock
The fact that Champagne is costly isn't lost on Joseph Boroski, creator of the "Ask the Bartender" podcast. "Champagne is expensive. And this is more true now than it's ever been. But Champagne, although the original, is far from the only sparkling wine available," Boroski says. Having created hundreds of bar menus all over the world, the man behind J.Boroski bars and their "no-menu" concept obviously knows a thing or two about drink costs.
The bartender, who owns three J.Boroski cocktail bars in Asia, suggests looking to wines from places other than the Champagne wine region of France if you're looking to save money. "Although prices on other types of sparkling wine have been steadily increasing recently, there are still some bargains to be found in California sparkling wines, cava, prosecco, and sparkling wines from Australia, New Zealand, and elsewhere," he says. "Sparkling sake is another option that may end up affordable, depending on the specific brand and the bar selling it." (If you're unfamiliar with sparkling sake, it has bubbles and a lower alcohol content than regular sake, according to Sake-Talk.)
According to Vine Pair, Champagne's high costs are caused by a variety of factors, including climate and production. But if you look beyond Champagne, there are plenty of other sparkling wine options. Now, if someone could just point us in the right direction for less-expensive oysters, we'll be all set to enjoy life like Christie Brinkley.