What Does A Full Scottish Breakfast Look Like?
In the United Kingdom, breakfast is king, per The Spruce Eats. Most countries, and even some region, have their version of a traditional breakfast. But the famous full English breakfast consists of black pudding, beans, potatoes, and cabbage. Similar to the UK, a special breakfast prepared in Scotland is known as a full Scottish. If you thought that Scotland was only famous for its tartan kilts, whisky, beautiful lakes, and bagpipes, think again, as Scottish food is not something that anyone should miss out on (via Hey Explorer). 
And there's much more to Scottish food than haggis, the country's national dish consisting of sheep innards stuffed with oatmeal, suet, onions, herbs, and seasonings. CIE Tours made a list of traditional Scottish food, such as neeps and tatties (potatoes and turnips), stovies (meat, potatoes, ground meat, and sausages), and the uniquely Scottish deep-fried Mars bars. Yes, there's hearty food for everyone in Scotland, but let's get back to breakfast — what does a full Scottish breakfast consist of anyway?
A full Scottish breakfast includes more than just eggs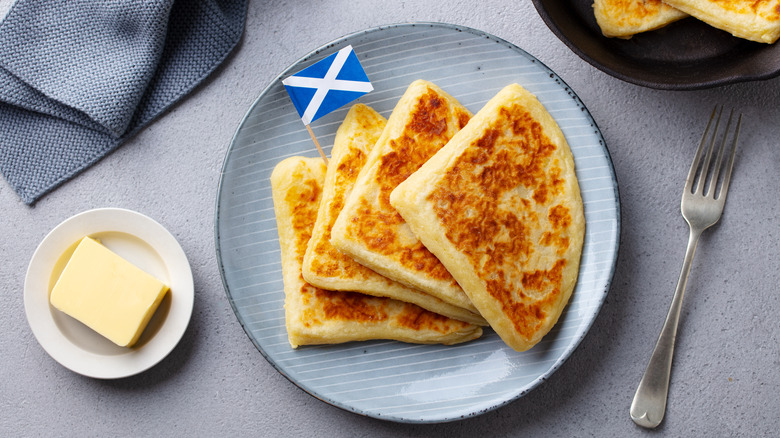 Anna_Pustynnikova/Shutterstock
There's not much difference between a full English and a full Scottish breakfast, especially when referring to common foods such as tomatoes, fried eggs, bacon, and mushrooms (per Highland Titles). So what makes a full Scottish breakfast different from the rest? They're traditional Scottish foods, like tattie scone, also known as a potato scone. It consists of mashed potatoes and flour that are mixed and griddled until done. Most times, they are even spread with butter. 
Another typical Scottish item is the square-shaped Lorne sausage, made with beef, pork, or both, along with spices and ground rusk. It may not be everybody's favorite, but black pudding is also commonly seen as a part of the full Scottish, which is a blood sausage that is sliced and fried before serving (via Scottish Scran). Additionally, many people like to add oatcakes to their breakfast, but only as a substitute for toast, according to City Explorers Tours. In fact, they're usually paired with cheese, jam, or butter. 
And last but not least, be sure to look forward to the porridge oats that are boiled in water or milk, and served in wooden bowls. In the end, a full Scottish breakfast doesn't have a set list of foods, but when all of these foods are mixed and matched in the morning, anyone can find something for themselves.