We Tried The New West Coast Burger From California Pizza Kitchen. Here's How It Went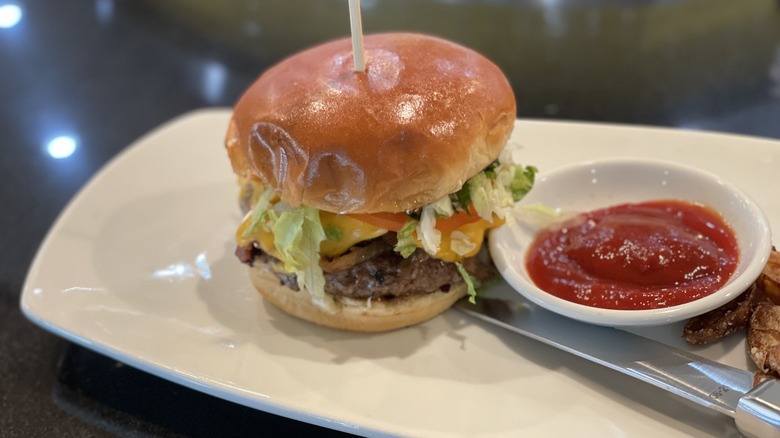 Steven John/Mashed
There's something new at CPK, as California Pizza Kitchen is oft known: The WCB. That's shorthand for West Coast Burger, and CPK is hoping the new WCB is soon as popular as its classic pizzas The Original BBQ Chicken Pizza, the California Club Pizza, or "The Works." Really, the chain is hoping its new burger becomes as popular as its many non-pizza offerings, like its Sedona Tortilla soup, Spinach Artichoke Dip, Thai Crunch salad, or Chicken Piccata. 
According to a press release shared by CPK, more than 65% of the chain's sales come from non-pizza menu items, and by adding the WCB to the mix, California Pizza Kitchen has a new entrée option that will entice the non-pizza enthusiasts out there. Granted, that's a decidedly small sliver of the population, but they exist — and even pizza lovers need to change things up sometimes.
And according to numbers from the first few days that burger has been on the menu, this change-up is one customers are loving. Drew Labohm, GM of a CPK in Huntington Station, New York told Mashed: "It's been a great seller, we're moving so many of these burgers every day." But is it just interest in something new? Is it the fact that, for the month of October 2022, diners who don't order a pizza when dining at CPK can get a free seven-inch pizza voucher added to their CPK Rewards account? Or is the WCB really that good? We tried it to find out.
What's in California Pizza Kitchen's new West Coast Burger?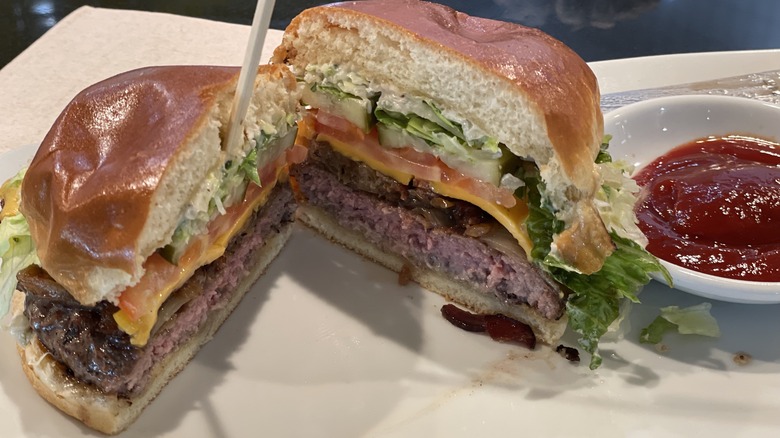 Steven John/Mashed
What will you find on California Pizza Kitchen's new West Coast Burger? Well, there's definitely a lot of meat in there, let's start with that. In fact, we were pretty impressed with the size of this burger, but we'll get to that later. The burger patty features a blend of Wagyu beef, chuck beef, and brisket, and it's a hefty patty at that. You'll also find a slab of American cheese, rashers of Nueske's applewood smoked bacon (yes, pieces of bacon are properly called "rashers," for the record), caramelized onions, sliced pickles, tomato, lettuce, a "housemade burger sauce," and a thick, buttery brioche bun to stick everything between. 
The burger also comes with a side of fries which the CPK menu describes as "crispy potatoes," which was not entirely an accurate description in our experience — they were not very crispy, but we're actually quite excellent, regardless. Just more of a large steakhouse-style fry than a crispy potato, which calls to mind, y'know, potato chips. Which do not go well with ketchup. These thick-cut fries and the West Coast Burger just beg for the classic condiment, though. And one pro tip for you: in true California style, adding a bit of hot sauce to the burger is also a wise move. (Then again, adding a bit of hot sauce is almost always a wise move with any food. Except for maybe ice cream or fruit.)
How much does the new West Coast Burger cost?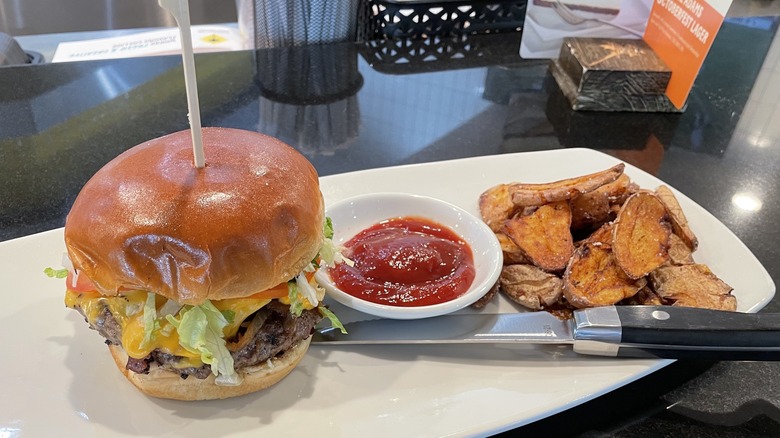 Steven John/Mashed
So ... this is a pretty expensive burger, this new West Coast Burger. We checked around at several different locations in several different states (California, because of course, this is CPK after all, New York, and Florida, for reference) and found the same price at all locations where the burger is available, and that price is $17.99 That price means the WCB is more expensive than about half of the other non-pizza entrée options on the California Pizza Kitchen menu, like Kung Pao Spaghetti ($16.49), Garlic Cream Fettuccine ($16.99), or the Oven-Roasted Turkey and Brie Sandwich ($15.74). It also, however, means that the West Coast Burger costs less than almost every pizza on the CPK menu, with only a Margherita Pizza, a Traditional Cheese, or a Five Cheese and Fresh Tomato costing less at last check.
On the other hand, we get it: inflation is running pretty rampant right now, so $17.99 for a restaurant burger is hardly highway robbery. For a frame of reference, right now at TGI Friday's, a chain with a half dozen burgers on the menu, only two burgers are priced lower than CPK's West Coast Burger, while several cost more. (If you're craving a burger that costs a lot less, you can still get a Big Mac for less than five bucks in most states right now, according to the site Real Menu Prices. No "crispy potatoes" will accompany it, though.)
How long will the new WCB be available?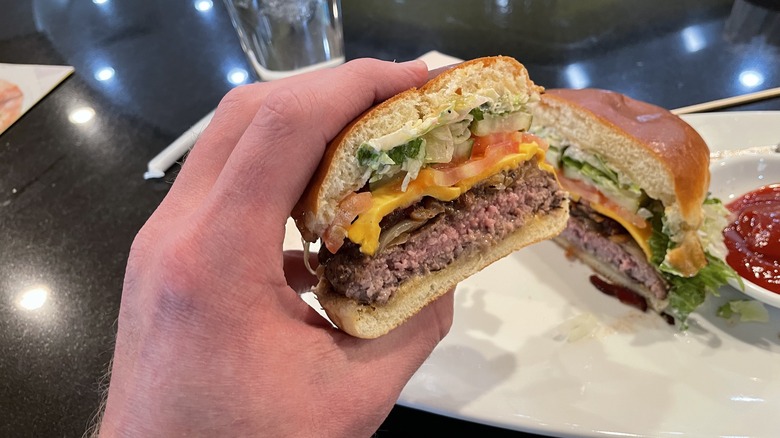 Steven John/Mashed
This new burger is here to stay — at least, it's here to stay assuming it continues to sell well. Per Drew Labohm, the New York CPK general manager mentioned earlier, this is a permanent menu item for California Pizza Kitchen, and per the company's press release, the West Coast Burger has been added to the menu of all company-owned locations as of early October 2022. Now, there is one catch to note here: a number of California Pizza Kitchen locations are owned by franchisees and don't have to have a menu that is identical to the larger corporate chain.
According to the data collection company ScrapeHero, there are currently 145 California Pizza Kitchen locations in America, with California having by far the greater share of them. It's not clear just what percent of CPK restaurants are franchise-owned, but from our research, quite a number of locations are, because we could not find the West Coast Burger on the menu at CPK units in multiple states, including California and Florida. (And yes, the WCB is available at other locations in the same states.) 
Long story short, if you want to try a new West Coast Burger, time is on your side, but the nearest CPK restaurant to you may not be, so to speak, so call or check the website before you head on over. Granted, franchisees may add the WCB to the menu later, but right now it is conspicuously absent from many locations.
How does the WCB compare to other California Pizza Kitchen menu items?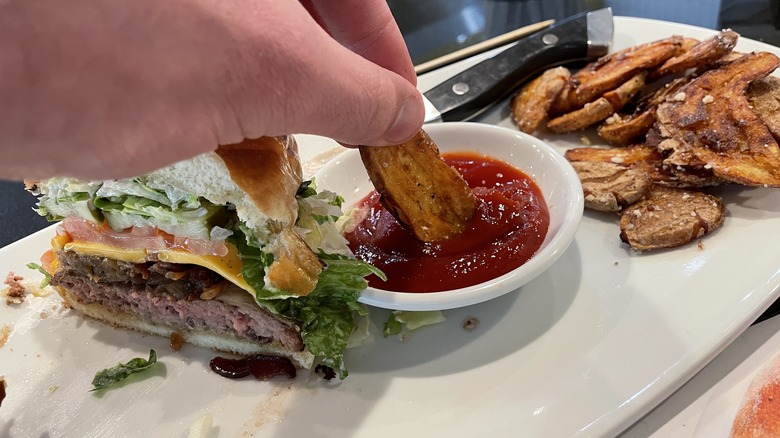 Steven John/Mashed
The West Coast Burger really can't be compared to anything else on the California Pizza Kitchen menu — this is truly beyond a new menu item for a CPK, but an entirely new menu category, as different as when a chain like Buffalo Wild Wings added pizza to its menu, for comparison. The only thing on the existing California Pizza Kitchen menu that was even remotely comparable to the new burger would be the Catalina Chicken Sandwich, as at least it's a slab of meat served between pieces of bread, but that sandwich uses a focaccia-style bread and comes with a salad, not with fries. (Which can't even be ordered on their own, by the way, as they only come as part of the meal you get with the West Coast burger.)
The fact that the WCB is so different from the rest of the offerings at CPK isn't surprising; it's the entire point here. Since first opening up almost 40 years ago (CPK was founded in Beverly Hills, California in 1985), pizza has been the anchor of the menu at this restaurant, so a burger represents a marked departure from the norm, burgers being the mainstay foodstuff of an entirely different category of restaurants. It's safe to assume you won't soon see CPK offering multiple different burgers, but it's refreshing to see the chain try something new and different with this one non-pizza menu option.
What's the West Coast Burger's nutrition information?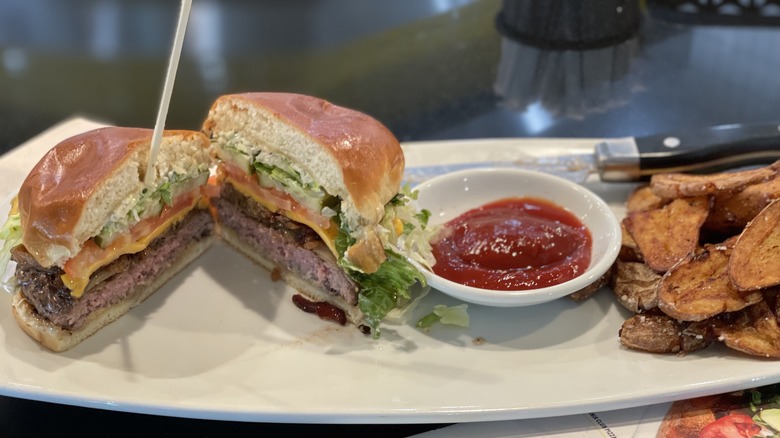 Steven John/Mashed
If you're watching your calorie count or fat intake, you'll want to think twice before eating this new cheeseburger and fries meal from California Pizza Kitchen, we have to say. Likewise, it's probably a good idea to pass on the WCB if you are worried about consuming too much sodium. And as for the saturated fat, we'd rather not even think about it, but it comes with the job, so let's dive into it all. A West Coast Burger contains, per the company's site, 1,980 calories. It packs in 136 grams of fat, including 37 grams of saturated fat, which is roughly three times as much as you should consume in an entire day, per the American Heart Association's recommendations. The WCB has 3,520 milligrams of sodium, which is 1,200-plus more milligrams than you should consume daily, per the FDA. At least the West Coast Burger does offer up a hefty 60 grams of protein, but overall, this new menu item is not at all a healthy menu item.
For a frame of reference, if you consume an entire CPK Original BBQ Chicken Pizza, you'll be getting 1,140 calories, a mere 30 grams of fat (and 15 grams of saturated fat, which is a hefty portion), 2,880 milligrams of sodium (not good), and even more protein, at 66 grams of that nutrient found in the six-slice pizza. (FYI, the Original BBQ Chicken Chopped Salad is way lower in calories and fat.
Did we like the new West Coast Burger from California Pizza Kitchen?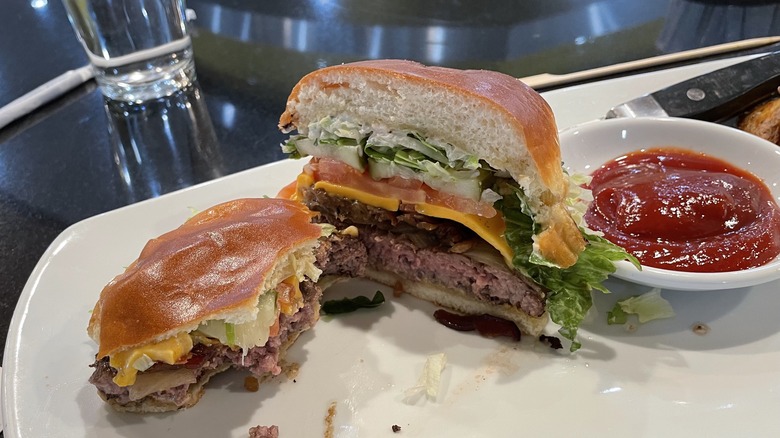 Steven John/Mashed
Yes! We thoroughly enjoyed the new West Coast Burger from California Pizza Kitchen and definitely recommend you try it. Now, to be candid, once we had read up on the nutrition information of the WCB, we were a bit less enthused and were glad that knowledge came after the taste test meal, as finishing this burger (and most of the fries) would have been harder to do with a clean conscience. As it was, our (almost) clean plate experience eating this burger was a satisfying one. The patty is thick and well-constructed and the beef blend is juicy and flavorful. The bacon flavor comes through loud and clear, but it bolsters the other ingredients, rather than overpowering them. The pickles add some crunch and saltiness, while the lettuce, tomato, and cheese are classic burger fare. And the brioche bun and sauce get a chef's kiss, too.
As for the fries  — we're still not okay with that crispy potato terminology the chain chose — they were surprisingly good for a place that's been focused on pizza, soup, and salad for all these years. They were thick and even and had a lovely mouthfeel. All told, this is a satisfying meal that's well worth trying at least once and enjoying every now and then, though you'll want to stick with nothing but kale, long grain brown rice, and lean proteins for the week or so following your West Coast Burger consumption.