The Jimmy Kimmel Live! Audience Booed Mila Kunis For Her NYC Pizza Views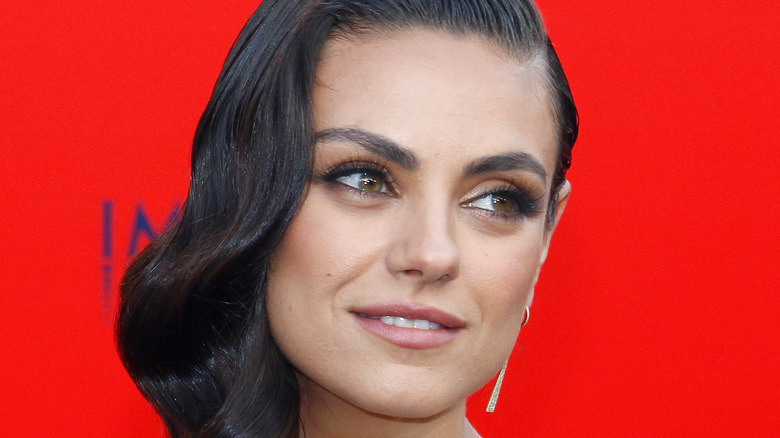 Tinseltown/Shutterstock
New York-style pizza is the stuff of legend and lore, so naturally serious New Yorkers feel some type of way about it. Modern-day New York-style pies are made to mimic the original pizzas of Naples, Italy, says Eater New York. This form of pizza is hallmarked by a crust that's thinner than many other versions and topped with "low moisture mozzarella" instead of fresh.
For whatever reason, wannabe pizza chefs in other areas just can't seem to accurately copy the taste and consistency of authentic New York pizza. The most widespread theory is that the water in New York is superior to most other places. Since it's used to make the dough, this allegedly makes a big difference. However, Food Republic says that this is likely a myth and that the crust quality of true New York pizza is more likely due to the old-school deck ovens that the most beloved pizzerias use. The outlet likens these older ovens to a cast-iron skillet, so "the oven absorbs the decades' worth of cheese and sauce vapor," which reflects the flavor right into the fresh pizzas.
No matter what gets the credit for these tasty pies, many people love, appreciate, and salivate over them. Except for actress Mila Kunis, apparently.
Here's why Mila Kunis doesn't like New York pizza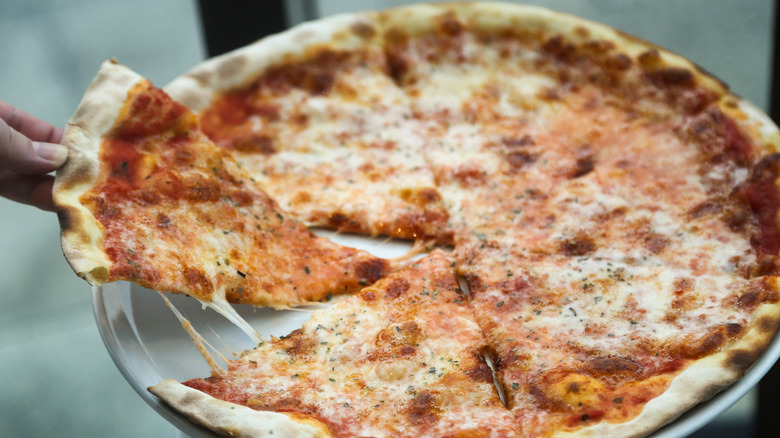 MariaKovaleva/Shutterstock
It's not that Mila Kunis doesn't like New York pizza, per se. It's that she doesn't care for pizza, in general. This is due to the whole "too much of a good thing," problem. You see, Ukrainian-born Kunis emigrated to the United States as a child. She told late-night host Jimmy Kimmel while appearing as a guest on his show that she wound up in Los Angeles, where her father worked as a Domino's pizza delivery person (he was a mechanical engineer in Ukraine, per Haaretz). Since they were pretty poor post-immigration, the Kunis family ate a lot of pizza, "every day for a year, possibly more. It was too much."
Prior to telling that sympathy-inducing tale, however, she told the host (and his audience full of New Yorkers) that she did not try a slice of New York pizza when she originally emigrated through the city, which earned her a chorus of boos. Perhaps she should have assured the audience that she has indeed eaten pizza in New York before. In 2012, the Daily Mail published multiple photos of the actress eating slices on the set of "The Angriest Man in Brooklyn." So perhaps she doesn't always dislike pizza.
But even that might not have stopped one of Kimmel's seemingly angry audience members in Brooklyn from booing Kunis when she revealed that she was not from New York originally. Apparently, it was disappointing news.