White Bean And Kale Soup Recipe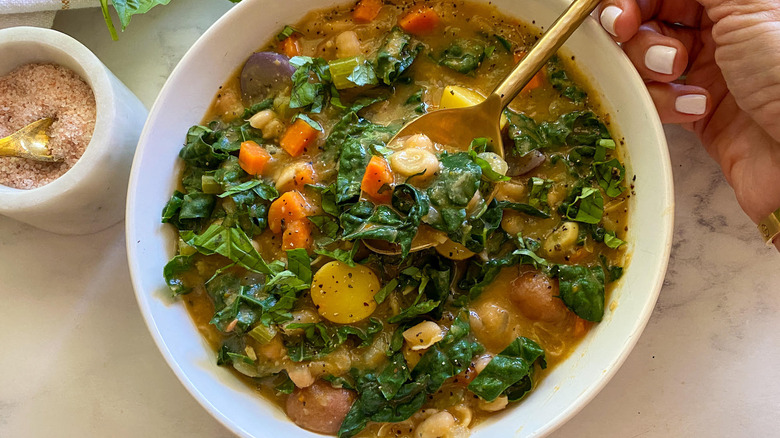 Miriam Hahn/Mashed
Kale, a type of greenery once so little-regarded that it was used to decorate Pizza Hut's salad bars, has risen to dizzying heights in recent years due to being hailed as a superfood, but not everyone's enamored of its somewhat bitter flavor and a texture that can make it tough to chew. When kale is partnered with white beans in a flavorful soup, however, even non-fans might be surprised at how tasty this vegetable can be. Recipe developer and wellness coach Miriam Hahn describes this white bean and kale soup recipe as "hearty, savory and delicious," noting that it's also "super healthy."
One thing you're sure to love about this soup is how rich and smooth it is. This is due to a technique Hahn uses where she removes some of the cooked soup from the pot and purees it in the blender. When it's stirred back into the soup, this not only thickens it but gives it what she calls "a silky, creamy texture." This recipe is vegan, although if you're not averse to animal-based protein Hahn does say, "You can, of course, use chicken broth if you prefer."
Assemble the ingredients for the white bean and kale soup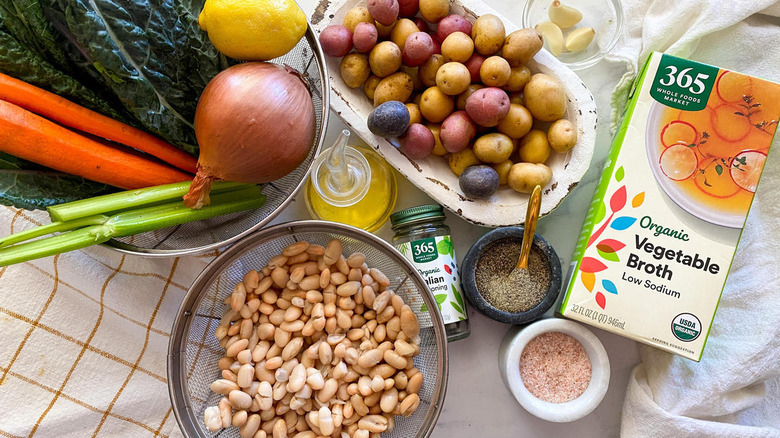 Miriam Hahn/Mashed
To make this soup, you'll not only need kale and white beans (the latter being of the canned variety), but a number of other types of produce, as well: an onion, carrots, celery, garlic, potatoes, and the juice from a lemon. You'll also need some cooking oil (Hahn recommends olive or avocado), broth, Italian seasoning, salt, and pepper.
While Hahn herself favors using dinosaur kale as she finds it to be "less bitter and a bit more delicate" than the curly kind, she does say that any kind of kale will work. She also notes that baby potatoes may be hard to find, so you can dice up any other kind of potatoes, instead. The amount called for here is about 1 ½ cups in all, but you can add more (or less) if you wish. As Hahn explains, "Soup recipes are very forgiving, so the measurement does not have to be exact."
Prepare the produce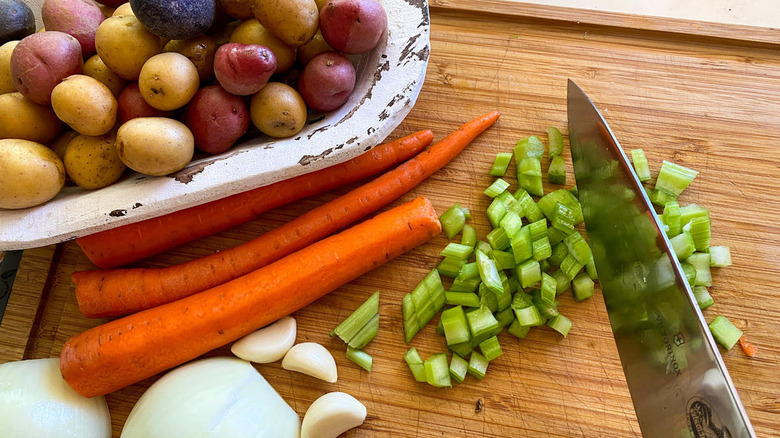 Miriam Hahn/Mashed
Before you can begin making the soup, there's a certain amount of prep work involving the vegetables. The onions, carrots, and garlic will all need to be peeled and chopped, and the celery will need chopping as well. Even if you're using baby potatoes, you'll still need to cut them in half, although the potatoes don't have to be peeled. For the kale, strip the greenery off the stems and then chop it up in thin strips.
If you want to swap out or add in any other vegetables, Hahn suggests that "red [bell] pepper is a nice addition" and says it can be sauteed along with the onions, garlic, celery, and carrots. If you want to add broccoli, however, you'll need to cut it up small and toss it into the pot about 3 minutes before adding the kale.
Sauté and simmer the vegetables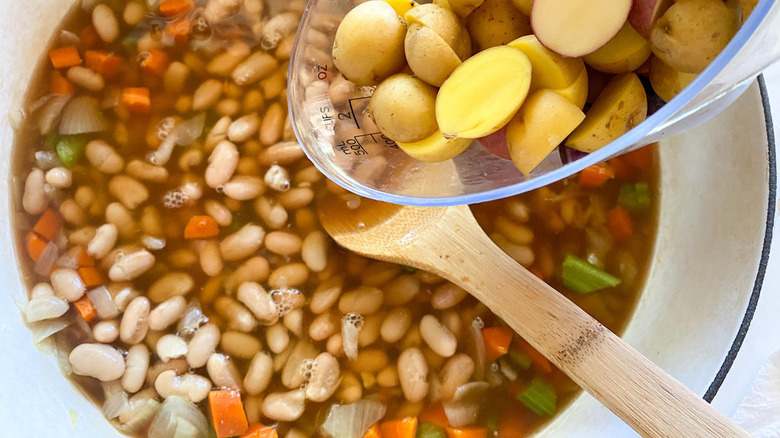 Miriam Hahn/Mashed
Heat the oil to medium-high, then cook the onion, carrots, celery, and garlic for about 5 minutes, stirring every so often. Add the potatoes, broth, and beans, then simmer the soup for 10 to 15 minutes. At this point, the potato chunks should be fork-tender but not mushy.
Puree a portion of the soup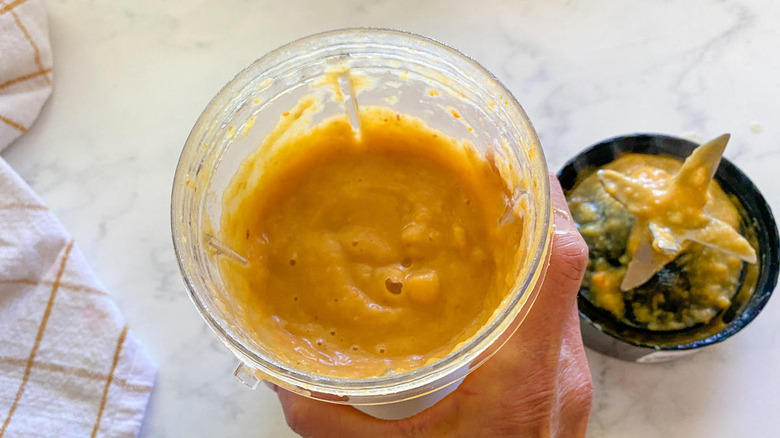 Miriam Hahn/Mashed
Turn the heat down to low, then scoop out 2 cups of the soup and put it in a blender. Caution: to avoid a mess, you may want to let it cool down for just a moment or two before you start blending. Once the soup is pureed, return it to the pot and stir it in as a thickener.
Finish off the soup with the final ingredients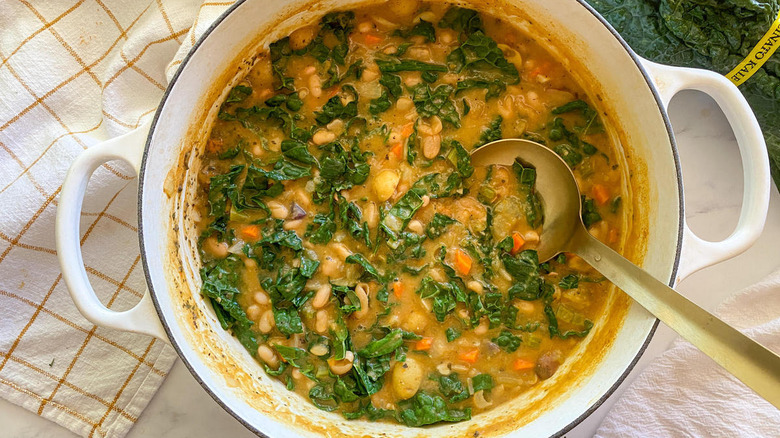 Miriam Hahn/Mashed
Add the seasonings, kale, and lemon juice to the soup, then cook it, stirring, for about 3 minutes or until the kale wilts. If you wish, you can sprinkle the soup with some chopped fresh basil as a garnish.
As Hahn informs us, "This soup will last great all week in a sealed container in the fridge," a quality that makes it ideal for solo diners who might not be able to polish off the pot in a single sitting. You can also freeze the leftovers, although if you do so, she advises letting them cool to room temperature first and then allowing about 2 inches of empty space at the top of a freezer-proof container to allow for expansion.
White Bean And Kale Soup Recipe
Just in time for colder months, this white bean and kale soup will warm you right up.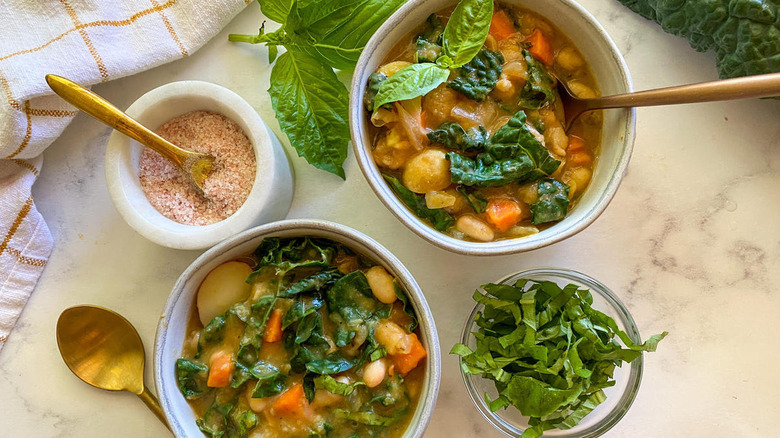 Ingredients
1 onion
3 small carrots
1 stalk celery
3 cloves garlic
2 cups baby potatoes
1 tablespoon olive or avocado oil
1 bunch dinosaur kale
4 cups vegetable broth
2 cans white beans, rinsed and drained
1 teaspoon Italian seasoning
1 teaspoon salt
½ teaspoon pepper
juice of 1 lemon
Optional Ingredients
Directions
Dice the onion, carrots, and celery. Mince the garlic and halve the potatoes.
Add the oil to a large stock pot over medium-high heat. Then add the onion, carrots, celery, and garlic. Sauté for 5 minutes, stirring occasionally.
Meanwhile, strip the kale from the stems and cut into thin slices.
Add the potatoes, broth, and white beans to the pot and cook on medium-high for 10-15 minutes, until the potatoes are tender, but not mushy.
Reduce the heat to low and scoop out 2 cups of the soup and blend in a blender until smooth. This will thicken the soup.
Return the blended soup to the pot. Add the Italian seasoning, salt, pepper, kale, and lemon juice.
Stir for 3 minutes, or until the kale is wilted, and serve.
Nutrition
| | |
| --- | --- |
| Calories per Serving | 289 |
| Total Fat | 3.4 g |
| Saturated Fat | 0.5 g |
| Trans Fat | 0.0 g |
| Cholesterol | 0.0 mg |
| | |
| --- | --- |
| Total Carbohydrates | 52.8 g |
| Dietary Fiber | 11.8 g |
| Total Sugars | 4.1 g |
| Sodium | 459.5 mg |
| Protein | 15.1 g |