Bourbon Pecan Praline Recipe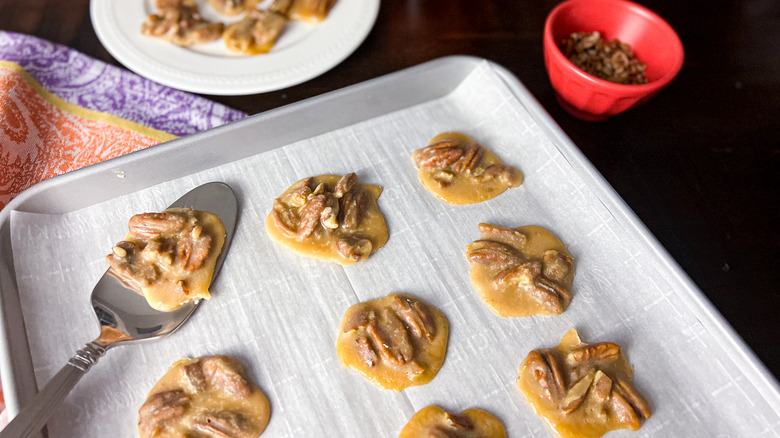 Erin Johnson/Mashed
Some flavors just go together perfectly, like coffee and donuts, peas and carrots, or ketchup and fries. Looking for one more duo to add to that list? Why not take it from Erin Johnson of Probably in the Kitchen, the recipe developer behind these bourbon pecan pralines, when she says: "Bourbon and pecans are two of my favorite flavors and these combined make for a delicious treat!" Considering you can make them with all of 5 minutes of hands-on work and 20 minutes of cook time, they are a treat you can pretty much whip up any time. Not that you have to reveal that fact to the folks enjoying your tasty handiwork.
These pralines require a few ingredients that you might not have on hand, but once you taste them chances are you're going to make a change and keep the few items required in stock at all times — they really are that good. So let's make 'em!
Gather your ingredients for these bourbon pecan pralines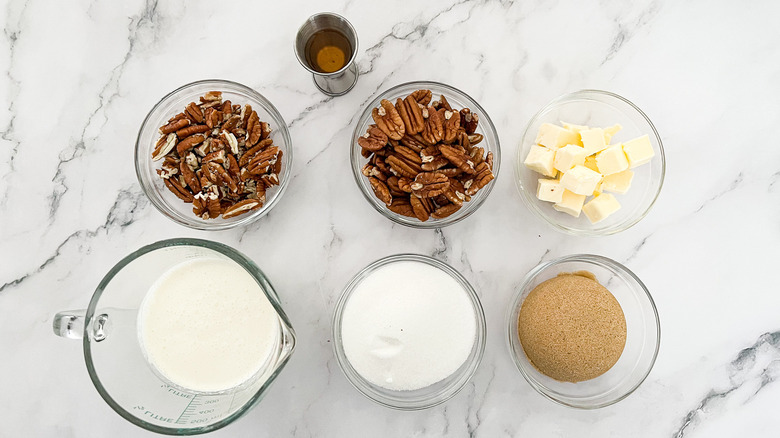 Erin Johnson/Mashed
To make these pralines, you'll need salted butter, brown sugar, granulated sugar, heavy cream, pecans (both halved and chopped), and some bourbon. Don't worry if you want to eschew the booze as the flavor will still endure. "If you don't want to use bourbon, you can substitute 1 teaspoon of vanilla extract," Johnson suggests.
Combine the sugars and dairy ingredients over heat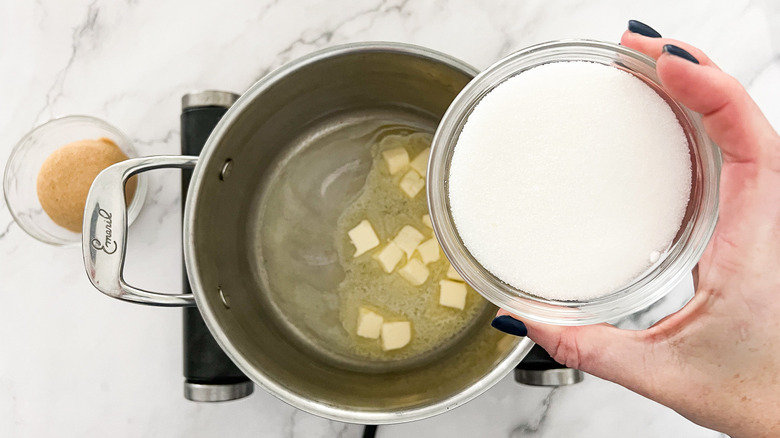 Erin Johnson/Mashed
To begin, get a medium-sized saucepan and add in the butter, both types of sugar, and the heavy cream. Place the pan on a stove burner at medium heat, warming the mixture until the liquid begins to boil and the butter has melted.
Bring the mixture to the right temperature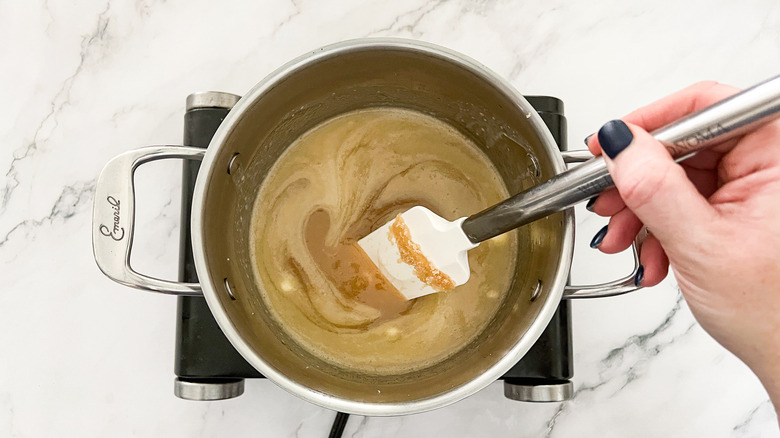 Erin Johnson/Mashed
As soon as the liquid begins to bubble, stir it occasionally as the pan sits on the hot burner. Using a candy thermometer, keep track of the temperature until the sweet mixture reaches 235 F.
"It is essential that you use a thermometer to ensure that your sugar hits the right temperature," Johnson says and adds: You're essentially making candy with this recipe, and your pralines will not set if they don't reach 235 degrees."
Add the bourbon and pecans, then form the pralines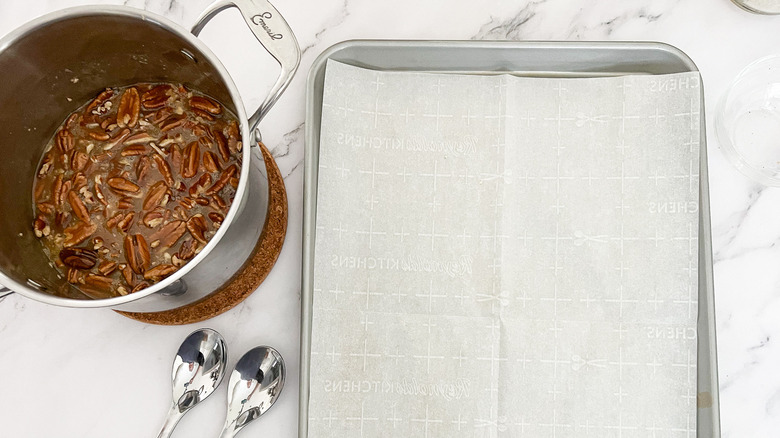 Erin Johnson/Mashed
Once the mixture hits that 235 F mark, pour in the bourbon, mix in the pecans, and take the saucepan off the heat. Then, dole out spoonfuls of the finished blend onto a baking sheet lined with parchment paper. Give the pralines time to fully cool down and harden.
"The exact number of pralines you get from the recipe depends on how large you make them," Johnson says and comments that she prefers smaller pralines.
What are pralines, anyway?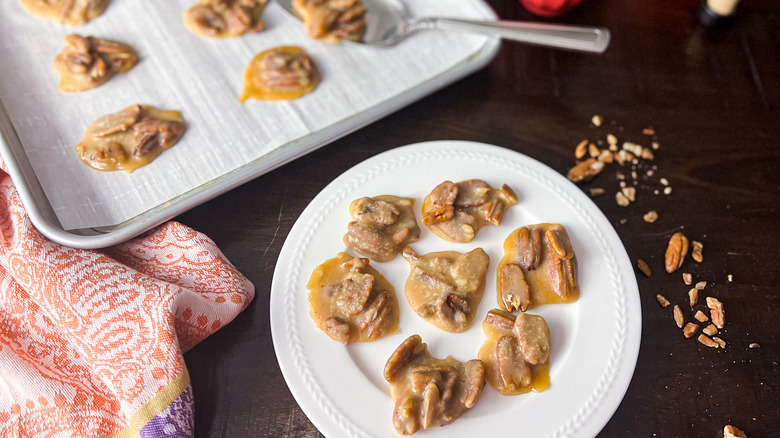 Erin Johnson/Mashed
Okay, you're all done! But what did you just make, exactly? What are pralines? Here's a hint: They're not cookies. "I love to make pralines for cookie exchanges and hostess gifts because they are unexpected and unique," Johnson says, adding: "Technically, they are a candy not a cookie, but trust me when I tell you that no one will mind."
Somewhere between a fudge and a cookie, pralines may be a bit hard to define, but they will always be welcome in any dessert lineup.
Bourbon Pecan Praline Recipe
This sweet crunchy bourbon pecan praline recipe offers a perfect combination of flavors. You'll want to keep the ingredients stocked to make these any time.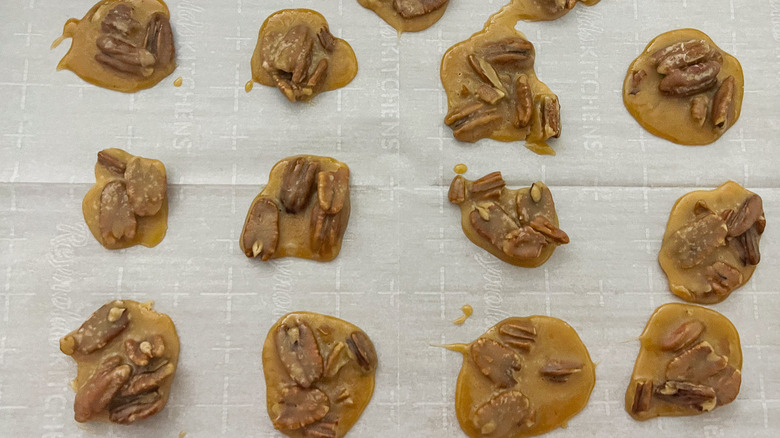 Ingredients
¼ cup salted butter
½ cup brown sugar, packed
½ cup granulated sugar
¾ cup heavy cream
1 cup pecan halves
½ cup pecans, chopped
1 to 2 tablespoons bourbon
Directions
In a heavy saucepan, combine the butter, brown and white sugars, and heavy cream.
Heat the contents until they come to a boil.
Stir occasionally as you heat the mixture until it reaches 235 F.
Add the bourbon and pecans then remove the pan from the heat.
Spoon the mixture onto parchment-lined cookie sheets and allow it to cool completely.
Nutrition
| | |
| --- | --- |
| Calories per Serving | 123 |
| Total Fat | 9.3 g |
| Saturated Fat | 3.3 g |
| Trans Fat | 0.1 g |
| Cholesterol | 15.3 mg |
| | |
| --- | --- |
| Total Carbohydrates | 9.8 g |
| Dietary Fiber | 0.6 g |
| Total Sugars | 9.1 g |
| Sodium | 19.4 mg |
| Protein | 0.8 g |